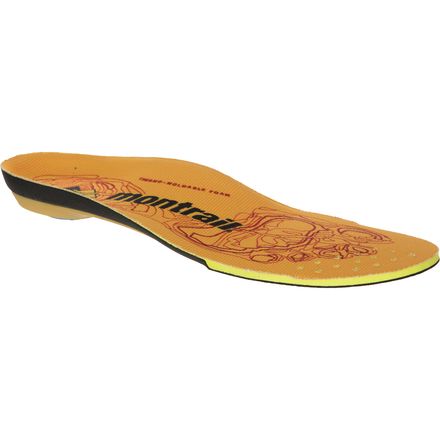 Description
Don't miss the sights because of sore feet.
Normal insoles take up half of the inside space in your shoe, but you know that a comfy footbed would help on your Euro tour or day hike. The Montrail Enduro Sole LP Footbed has a low-volume design that works well for low-profile shoes. Thermo-moldable foam molds to the shape of each foot for custom comfort, and the medial arch supports your, you know, arch.
Squeak squeak squeak
Familiarity:

I've put it through the wringer

Fit:

Runs small
This little piggy went squeak squeak squeak all the way home. Even after cutting these insoles down, my shoes still squeak when I am walking. And I don't want to cut them anymore as they already are just slightly shorter than the front of my shoe after cutting them this one more time to try to get rid of the sound.

Besides that I can't complain, but are they really better than cheaper insoles? I really can't say, even after using them everyday all day for the last two months.

Size up though if you are going to purchase these, especially if you have a wider foot, or else your feet will spill over the sides.
Montrail Enduro Sole LP Footbed
Familiarity:

I've put it through the wringer

Fit:

True to size
These are awesome, I wear them in my size 11 Men's Nike SB Lunar Rod's while barbacking at the club I work at. They really absorb a lot of the impact I put me feet through, and I feel a noticeable difference in how great my back and knees feel. I have two pairs of these, the first pair I heat molded and they got kind of weird and warped, so be careful when you do this (I thought I followed the instructions but apparently not). Probably the best bang for your buck for a semi-custom, moldable at home footbed. Bonus: the orange/yellow color looks really cool! Highly recommend.
Heat carefully
Familiarity:

I've put it through the wringer
Nice footbeds. The top sheet came unglued when I heated them up (followed instructions exactly) so had to glue them back down and kind of messed up but still work. Just be careful and underheat.
Got another pair! They are awesome!
Familiarity:

I've put it through the wringer

Fit:

True to size
I needed another pair of these insoles, as the older ones ran out of gas. These are pretty amazing and it is hard to go to another shoe without these in them. If you want go support around your arch you need these!
Easy to fit
Familiarity:

I've used it once or twice and have initial impressions

Fit:

True to size
Easy to follow directions for warming and fitting. I did and immediately took a walk around the neighborhood to get the fit. I am anxious to go on a real hike and try them out.
I have super high arches and get sore heels and knees hiking far in my Merrell shoes... would these be a good pair for that?
A lower volume sibling to the Enduro-Sole, this moldable and removable footbed will enhance the performance of your favorite footwear. Designed for lower volume shoes and/or higher volume feet, they are great for replacing worn out insoles or customizing the fit of new footwear.



The tried and true Enduro-Sole™ combines custom molding with flexible arch support. Perfect for medium to high volume arches and high volume footwear.



If you are looking for a lower volume footbed, this would be an awesome choice. For medium to high volume, check out the regular Enduro.
Here's another option for medium to high arches!

http://www.backcountry.com/superfeet-trim-to-fit-green-insole?ti=U2VhcmNoIFJlc3VsdHM6c3VwZXJmZWV0OjE6MTE6c3VwZXJmZWV0&skid=SFT0003-GN-AS254WS1352JR
Great Insoles!
Familiarity:

I've put it through the wringer

Fit:

True to size
This is the first pair of insoles I've bought for a pair of shoes. These were recommended to me by a backcountry gear head and I'm glad I went with them. The stock insoles on my Merrell Moab GTX shoes were good, but after putting these in they were a game changer. They give great support and my feet don't feel worn out after a day in them. I highly recommend them if you are looking for a good pair of insoles for hiking, working, or just casual use. They are true to size and I din't have any fitting issues. Great product and thanks to the backcountry team for recommending them!
Better than expeced
Familiarity:

I've put it through the wringer

Fit:

True to size
These have been great and have excellent cushion in the heel.
love
Familiarity:

I've used it several times

Fit:

True to size
I am using these in my TLT5 Mtn boots. Planning on getting a few more pairs for my other boots and shoes. slapped them in the oven for a few minutes and then slipped them in the boots. Molded up really well and fit like a glove. Huge upgrade from my last footbeds. Fits my foot shape much better than superfeet or sole. also takes up less room which is huge in a low profile boot like a TLT5.
Update!
Familiarity:

I've put it through the wringer

Fit:

True to size
I have used these in my approach shoes in the past but I just put these in my hiking shoes (Scarpa Zen) & it feels like heaven! I can not say enough about these!
Such a good thing...
Familiarity:

I've put it through the wringer

Fit:

True to size
I purchased these for my Zamberlan Monster's & it was such a nice thing to do for my feet! The stock insoles in almost every approach/hiking boot is lacking & these Montrail insoles make your precious boots 100% perfect.



It pretty simple... Montrail Enduro Sole footbeds make your feet smile.
Best off the shelf footbed available
Gender:

Male

Familiarity:

I've put it through the wringer

Fit:

True to size
I've tried and extensively used every commonly available off the shelf insole/footbed available and the Montrail Enduro Sole LP footbed is by far the best aftermarket footbed I have ever used. I have 6 pairs of these in various footwear ranging from running shoes, Lange Ski Boots, approach shoes, you name it. I've been using this footbed for at least 2 years now. My feet and body have never been happier and the performance of the Montrail Enduro Sole LP footbed is as good as you can get. I won't use any other.
Great support with minimal break in time
Gender:

Male

Familiarity:

I've put it through the wringer
These will take time for those that are flat footed, but for those that have a medium to high arch this is the ticket. Very comfortable and really hold up under any condition!
Great once broken in.
Gender:

Female

Familiarity:

I've used it several times
The insoles work great. Though it took almost a week for my feet to adjust to them. After a week it didn't hurt to walk long distances or work out. There was also a significant decrease of pain in my knees and lower back.
After just a few days in new shoes with the Enduro footbed upgrade, it's like a custom shoe. I love these. A must-get with a set of new shoes. Also, FYI, the Backcountry sizing chart for these is spot on.
Footbeds are often the most overlooked part of any outdoor outing and often one of the most important. Your feet take you everywhere, why compromise with bad foot support? Most manufacturers provide the simplest or cheapest footbed in their shoes expecting most high end user to replace them with something more appropriate. Did you purchase those $350.00 boots and your feet still hurt, well maybe your footbed is to blame, not the boot itself. Replace those cheap inserts with something more suited for carrying your weight and provide needed support. These are an excellent example of a great footbed at a great price and they are custom moldable!
Is the W7 the same size as a standard...
Is the W7 the same size as a standard women's size 7 for shoes?
That is the idea. You may end up cutting a bit to make them fit the shape of your shoes, but a 7 should fit in a 7.
Simply the best over the counter arch support / orthotic I've ever used. Been using these since Montrail first came out with them probably over a decade ago; not much has changed. Can't beat the price and comfort IMHO. The thermo-moldable sole isn't just a gimick it really works; just pop them in the oven for a couple of minutes and it makes the footbed very soft, simply stick them in your shoe and step into them allowing the footbed to conform to your foot shape and depth. OR don't bother with the oven customization and just let the adjustment happen simply by wearing them in you shoe; was what my wife always does and it works the same.

Rob Youngren
Wasatch Speed Goat Mountain Racing Team
do these have enough cushion for hiking...
do these have enough cushion for hiking boots? my boots are tight in height so i need the lower profile.
Matt. Both the LP's and the regular Enduro Soles will have enough cushion for hiking boots and are used in a variety of footwear from casual shoes, to hiking boots, to ski boots. They provide a huge upgrade for just about any footwear. Enjoy!
I'm starting to run again and wear Brooks...
I'm starting to run again and wear Brooks Beast with plastic orthotics. Which would be better the Montrail Enduro Sole or the Montrail Enduro Sole LP?

I'm running a 1/2 marthon in June after 13 years out of running so I want to get thru the training and make it thru the run without injury.

Thanks!

Ron Starkey
Ron. Are you planning on wearing your Brooks, your orthotics, and a Montrail Enduro Sole at once? If so, I would recommend using your orthotic with the basic insole the shoe comes with and not doubling up with an Enduro-Sole as well. This would be overkill. Keep it simple. But, if you want to try it and see how they feel... I would get the regular Enduro-Sole and not the Enduro-Sole LP (low profile.) If you do end up getting the Enduro-Sole... pull out your orthotic and the standard insole and try the Enduro-Sole by themselves. I am not suggesting they are orthotics but they do provide a lot of support and in combination with the Beast may be all you need to attain that injury free neutral gait we are all searching for! I would even suggest taking your shoes, orthotic, and enduro-sole to a running store with a treadmill and video camera and see which combination gives you the best results. I hope this info helps!