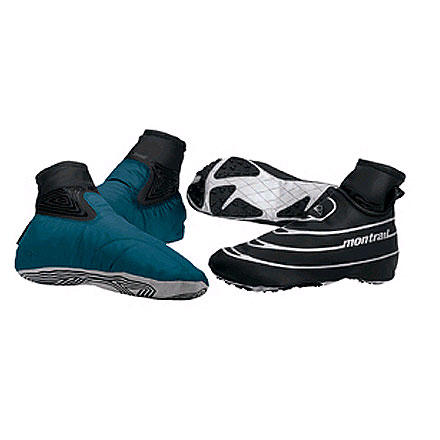 What do you think about this product?
Have questions about this product?
The waterproof over bootie is a nice design feature, however, if you're intending to use this bootie more for hut-based excursions or slipper-duty, the tight ankle seal makes getting up for the desperate 3am pee break a bit harrowing. If you're tent-based, and sleep in your booties and use the waterproof outer for outside the tent, this product is great. Overall good construction, good warranty.
My initial reason for purchasing these slippers was to have light, warm, versatile footwear for the camp/bivy. They have proven to meet all my expectations. They have kept me reasonably warm while in the DACKS (Adirondacks) in 10 above to -15 temps. The only drawbacks I have encountered were, the outer boots can be a bit difficult to get on especially when cold although with a little practice and persistence this is only a minor inconvenience. The second, which I see as becoming a major problem is the stitches. The inside stitches started to unravel from the first use. I am concerned that if this becomes worse the insulation will shift and leave the slippers unusable. I have only used these on three outings, hopefully they will not self destruct because in spite of these defects they fill the niche I had purchased them for.