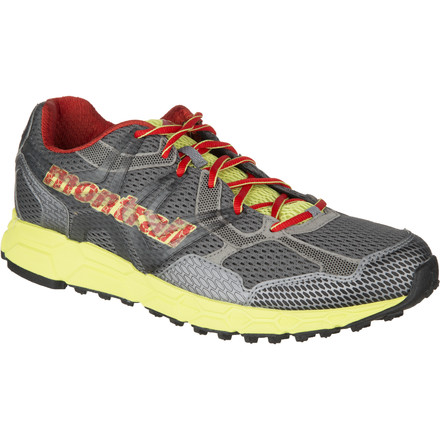 Detail Images

Community Images
Ditch the monotony of the road and head for the hills in the Montrail Bajada Trail Running Shoe. Designed for the neutral runner's stride, this off-road footwear welcomes the challenge of the incline.
Full-length compression-molded EVA midsole maintains a high cushioning-to-weight ratio
Forefoot flex grooves enhance flexibility
Articulated midfoot support frame combines with variable width lacing to provide the most customized fit possible
Gryptonite sole gains traction even on steep or slick surfaces
Grippy, but sloppy fit
Familiarity:

I've put it through the wringer

Fit:

Runs large
Nice shoe, Made to last what they say they are and not a mile further. Super sticky, I have enjoyed running on sand, rock, gravel, with no issues. I do think they fit somewhat wide in the toe area and about an inch-two inches back from there. I feel my toes bounce some on off camber routes. They stretched more than i thought and I have narrow feet
blown out in 22 days, on the CDT
In 22 days I killed a pair of these montrails which I a big fan of. For some reason mine blew apart and had several holes on both sides if each shoe. Near Winter Park, Co. I had to sew the one hole side back together, they had come from Durango, Co. So they did make it most of the Colorado Trail
Grippy, but more for crushed limestone
Familiarity:

I've put it through the wringer

Fit:

True to size
I love Montrail shoes because the last fits my foot perfectly and doesn't rub. I've always stuck with the mountain masochist's, which are my all time favorite trail shoe, but purchased these on a whim to see how other Montrail's stacked up.



These shoes are pretty light for trail runners and have a super grippy outsole. They are well cushioned, but don't have a ton of arch support. The insole is fairly flat. As for on trail and road performance, I've used them for both and find they shine when on relatively even surfaces such as crushed limestone, fire roads, etc. The way the shoe is constructed makes my ankle tend to roll quite easily when on more aggressive terrain like singletrack or rooty/rocky technical trails. As such, I wouldn't recommend this for hard core trail running.



Overall, I like the shoe, but it's my light-duty pavement/park trail shoe and I stick with the mountain masochist for more intense and technical trail running. This shoe doesn't have the stability or a thick enough toe bumper for it.
How does the cushioning on these compare...
How does the cushioning on these compare to the Montrail FluidFeel? Your website says that these Bajadas are road and trail worthy, but nowhere else states that, including the Montrail site. Are they really road worthy as well?
Best Answer
Honestly, no. The FluidFeel are more of a multi-terrain shoe because of the durable heel the can take more of a pounding on pavement. I think if you were to get these shoes it would really chew up the outsole if you were to take them to the road.
Great for Mixed USe
Familiarity:

I've used it several times

Fit:

True to size
I get in up to 10km per run amid my busy schedule, & my running route is a combi of paved roads & flat trails. What struck me first was how cushy (not too much off the ground, with just a right feel of terrain) these shoes feel, with a nice balance for someone with a high instep. Good grip as well on the downslopes. I usually wear a size US8 (snowboard boots, SPD shoes) but decided to order this in USD8.5 for more toe-room for longer runs, & it was a nice fit without being too overly loose. Comments on the treads & midsoles by other reviewers are a concern for me, but I doubt I put in distances as long as they do to wear the pair out too fast. I'm definitely looking forward to more runs with my Bajada!
good shoe
Gender:

Male

Fit:

True to size
I am a moderate trail runner. I run a lot of half marathons and a few marathons. Most of my weekly running consist of gratuitous hiking on rocky terrain and steep downhills. I had a pair of these for a year now and no complaints. Montrails fit my feet well and the durability has been good enough. I loved the rouge racer, the bajada feels really similar to me just slightly beefier.
How wide are these shoes??? Montrail...
How wide are these shoes???

Montrail Bajada Trail Running Shoe - Men's sz 13


This is a "D" or regular width shoe. We don't typically carry wide or narrow sizes unless specified otherwise in the drop down menu. On the Montrail website it appears that they only make one width for this particular model.
Love it, but should be more durable
I have to say, I love the Bajada. I am on my third pair. Just ran a 50 mile PR in them and I always choose them for recovery runs and most long runs. However, my complaint is the endurance of the shoe. I haven't had issues with the mesh, but do see the tread and midsole cushioning wear down more quickly than my other shoes. Glad to see Montrail is improving mesh strength. I hope that Jon can weigh in on whether the tread and mid-sole cushioning are also addressed in the S'13 model.
Good Shoe
Gender:

Male

Familiarity:

I've used it several times
Smooth shoe that works well with an efficient neutral stride over varied terrain. Just enough cushion to help off-set the impact of longer runs while not feeling too clunky.
Montrail Bajadas - great shoe
Very light weight and almost like a minimalist shoe. The knobbie soles have excellent grip in loose soil conditions as well as over rocks. Gotta shake them out good before you get in the car though, oops, but hey I'm on the dirt, so so what. Comfortable protection over most big gravels and loose rocks. Roomy toe box - nice. Very breathable and dry out quickly. Ran a 22 mile training run on technical terrain and feel comfortable with the idea of runnining in them up to a 50K. Beyond that and I will either need more conditioning or a more supportive shoe with thicker padding in the sole, but this is an excellent tool for the box.
Backcountry doesn't carry women's version, but my review for chick's version applies to men's as well, so here it goes. These shoes are overall pretty awesome. They fit well - toe box is roomy but doesn't feel overly so, and they've got a narrow heel to lock feet in. They are pretty light, enough that I can feel the difference between these and my Salomons. These make me feel like I'm flying on the trails. The ride feels cushy, and outsole is really grippy on steep and slippery downhills. A few things they need to improve. 1) they really need to attach the tongue to the shoe. The tongue right now is not attached at all - the whole thing shifts to the side and let in lots of dirt and small rocks, a lot more compared to any other trail shoes I own (Salomons, Brooks). And 2), the lace can really be better - I need to retie mine every few miles which is very annoying. Lastly, there are some semi-transparent "tendon" glued to the sides, and it feels that they would rip through the side mesh at some point. But I've only put 50 miles or so on those, so can't tell yet.

One more thing, while the outsole is super grippy, the lugs are placed very closely together. Compare these to Salomon SpeedCross which has more widely spaced lugs. The result is that the Bajadas tend to catch a lot more small rocks in between the lugs while that's not the case in the Salomons. I haven't taken these in mud, but I suspect it'll be very difficult to get the mud out.
Love the feel of the shoes. Hate that they don't last longer. Ripped through the mesh on both sides within about 300 miles. And I'm not sure that the midsole foam wasn't already cooked by that point anyway.