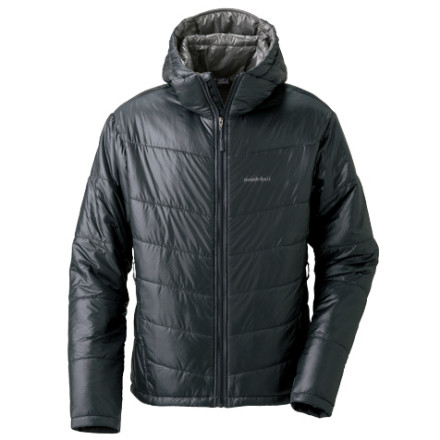 Detail Images

Community Images
Cold bivy ledges, windy backcountry lunch stops, and frigid nights in camp—the MontBell Men's Ultralight Thermawrap Parka is right at home. This jacket's feathery 15D ballistics shell fabric and compressible Exceloft synthetic insulation help it pack down ridiculously small when you're on the move and loft up big when a chill hits your body.
Exceloft synthetic insulation absorbs less than one percent of the water it comes in contact with and retains its warmth even when wet
DWR-coated Airlight nylon gives this jacket a durable outershell that sheds light precipitation and highly wind-resistant finish
Hood is adjustable and insulated to not only cover your head in adverse weather, but also keep it plenty warm
Hi, I am a 5'4 115 lb. female. Do you think...
Hi, I am a 5'4 115 lb. female. Do you think the men's small would fit me okay? I like things on the looser side, but I don't want it to be so big that it compromises the functionality/warmth of the jacket.
It would probably work well. This jacket is cut fairly slim. I usually wear a Large in most outdoor gear, but got the XL and it fits great. Normally I think a men's small would be a bit big for you, but with the way this is cut, it sounds like it would be perfect for you.
This goes in my pack almost every time I leave. Its great over just a t-shirt on cool evenings and works equally as well under a shell while skiing in the winter. Super light and compressible for synthetic insulation and doesn't feel stiff or restrictive. Awesome piece. I did have to size up - I'm 6'3 180 and went with a Large.
Hi I like the look of this Parka and...
Hi

I like the look of this Parka and wanted to know if it will be warm enough with a mid-layer for evenings and generally around the village and on hikes in Aspen in December (sorry I am from a warm climate so it's a dumb question for those in the know).

Looking for something stylish to wear around town but I can use it on a hike. I hate huge big bulky jackets.

I like travelling light so multi purpose is what I am after (plus I will have my luggage full with my ski gear).

I am 6"1 and 215 so I reckon the XL looks a go?
This is usually used as a mid layer. Under a hard or softshell jacket. It keeps me pretty warm. I would work alright for what you want, but it's not very wind resistant so to stay nice and warm you'll need that outer shell.
I have a MontBell and they run small (made in RC, think little asians) So at your size an XXL at least
Is the hood big enough to fit over a helmet?...
Is the hood big enough to fit over a helmet? Does it run big or small...or true to size??
I haven't tried it with a helmet, but it should fit. It's cut to work as a mid-layer, so fairly slim. I can fit a somewhat thick base layer below it, but not much more. I normally wear XL in most clothing, and the XL on this fits me perfect. It's a great parka.
fitted fit, nice and warm, hood, stuffs into a small bag for packing.. love it!
Is this hood helmet compatible? And if not...
Is this hood helmet compatible? And if not can you recommend a synthetic puffy that is, for alpine and big wall pursuits.
Best Answer
This is not helmet compatible, unless you have a smaller helmet with an up-sized parka. Now assuming that you're looking for the same type of puffy (synthetic insulation and highly compactible), I'd have to say go for the Arc'teryx Dually Belay Parka. It's pretty warm plus is tailored to have a helmet compatible hood. This jacket hits the compactible/compressible and synthetic insulation criteria as well.
What are the cuffs like? Are they elastic...
What are the cuffs like? Are they elastic like on the Arcteryc SV/LT? Or is it completely loose?
Best Answer
They're elastic, you can see in the third detail shot ("Chestnut Cuff"). Plus this jacket is fitted pretty slim anyway.
Thanks Angus, I was looking at the detail shot and wasn't sure of it was just tapered or there was actually elastic. Thanks for the heads up.
I love this jacket for its durable yet soft fabric, light weight, and heat trapping properties. It fits nicely as a midlayer or can pull duty as an alpine belay jacket. Beyond being warm, light, and comfy, the jacket also packs down to the size of a Nalgene in the included stuff sack. I'm 5'8", 135 and the small works really well.
When the next Ice Age terrorizes the planet, it will be the people with the MontBell U.L. Thermawrap that survive. It's that good...
Unanswered Question
Write your question here...Seeking a good...
Write your question here...Seeking a good comparison of Ultralight Thermawrap vs Ultralight Down Inner Parka. Trying to decide which one to purchase, any help would be definitely appreciated.
I was on a military field training exercise and it rained the entire weekend none stop. We had our mil standard Gortex jackets on but the water soaked right through on the first night. By the way, we slept on the ground with leaky poncho's and boots that we never got to change. 14 out of 46 came down with hypothermia that night. Not me though! This jacket keeps its insulating properties even when wet. so i stripped down and wore this in my wet sleep system and dried up in no time and had an extraordinary dry night. Most amazing jacket ever!!
This jacket is lightweight, compressible and warm for size. The hood adds warmth that is worth the extra weight. Compressed, it is smaller than a nalgene and nearly disappears in a pack. Layered underneath a shell it is almost perfect. Not for extreme temps, but I've been comfortable down to the teens while not very active as long as I'm wearing the correct layers. The fit is spot on for me. I'm 6'2" and 185 and the Large is just like it should be.
Got it to walk with the dog in upstate NY, wore it over medium weight fleece in 12 degrees with wind gusts of 40 mph, and did not feel the weather! And this is without the shell, amazing! Weighs nothing, wind resistant, cut is a little smallish. I wear medium, ordered large, fit's well. You will not regret!
How does this compare to the Patagonia...
How does this compare to the Patagonia Nano Puff Pullover? The addition of a hood aside.
Best Answer
The most accurate comparison would be to the Nano Puff Hooded Jacket, but some of the stats are the same.

Both Nanos feature a 15d shell and 60g of PrimaLoft insulation. The Hooded Jacket lists at 14oz.

The mont-bell piece has a 15d shell and 80g of Exceloft insulation. It lists at 12.8 oz.

Both hooded pieces have a full-zip front, elastic cuffs, zippered handwarmer pockets, and a drawcord hem. The mont-bell has an adjustable hood; the Patagonia piece has an elasticized hood.

The Nano Puff Pullover gives up the full zipper, the hood, the drawcord waist, and the handwarmer pockets in exchange for coming in at 10.2 oz.

If you are really looking to go lighter and don't need the hood, mont-bell has this in a jacket version as well, with 50g of insulation, non-zippered handwarmer pockets, and a full-length zipper. And only 8.8 ounces.

All four are nice jackets; just depends on what you plan to use it for. Good luck, and I hope that helps.
I knew it wasn't the greatest comparison, but I own the Nano Pullover for reference so I was hoping to get a better idea. While I do like the Nano Pullover I am looking for something possibly a little warmer as well as something with a hood/pockets. I think that this just might be what I am looking for then.
Hey Matt,

Ya, I have a Nano Puff, too, and your question is totally legit as is, I was just trying to provide as much info as I could. I will tell you that the Thermawrap Parka felt much warmer to me than my Nano Puff, and the 80g vs. 60g of insulation tends to support that.

If you're not set on synthetic, give the mont-bell Ultralight Down Inner Parka a look as well. What an awesome piece that is, toasty warm, and only 9.0 ounces.

Cam
Can't think of a better jacket
Extremely lightweight, super warm!, packs down very small, sheds water... awesome!

Insulated hoods are amazing. It's like a jacket, scarf, and hat but the sum is greater than the parts. This jacket packs down to a bit smaller than Nalgene size in it's stuff sack. I keep it in there while climbing a multi-pitch so that I have it when I'm sitting around. It keeps you dry AND warm in the rain (unlike down, which doesn't insulate when wet).

There is a velcro tab on the top-back of the hood that allows you to pull the hood back a bit. This feature is very nice when biking because you can wear the hood without blocking your view of the road when crouched over.

I was out around town wearing only a t-shirt and this jacket. Temp was ~20F and I was nice and warm. I highly recommend this jacket.
This jacket lives in the top of my pack while ski touring, and I pull it out anytime I stop to wait for buddies, dig a pit, drink some coffee or make a burrito. It's pretty warm and crazy light.

I'm 5'8 130 lbs and got a medium. This size is something of a miracle - it layers perfectly both underneath and on top of my hardshell, which is a size small. Don't ask me how it works, ask the clever folks who designed this jacket.

Durability-wise, I've been impressed. Given its weight, this is obviously not a burly jacket, and you should take care moving through brush. That said, I've snagged it a hundred times and grimaced, thinking I'd have a torn jacket, but still haven't noticed any rips or tears.

Buy this jacket but keep your eye on your sneaky roommates, 'cause they'll definitely try to steal it from you.
The label of the jacket includes the phrase 'Function is Beauty,' and this jacket exemplifies that mentality.

FIT: I'm about 5'10", 140lbs and wear a size 36 suit jacket, sleeves about 33". The small fits me almost perfectly, both in the chest and almost in the sleeve length. I'd take another half inch in the sleeves; they're not too short, but it would be nice for when I'm reaching upwards.

CONSTRUCTION: Beautifully functional detailing. There is a thick nylon strip that runs the length of the zipper to keep you from accidentally catching material in the zipper. The triangle of elastic in the sleeves is just enough to to keep the jacket snug at the wrist. The hood tightens along the sides of your face and has a velcro tab at back to further adjust. Adjusting the sides of the hood it a bit finicky, so set it and leave it. There is Nothing extra on this jacket; that's what I love it, and that's why it is so light.

WARMTH: I tend to get cold easily, and I've been very impressed with this jacket. With the hood up, I am comfortable in the low 30s with the jacket over a medium sweater.

IN USE: I spent a week backpacking at the Grand Canyon in January with this jacket, and it was perfect. On the rim, the temperature was around 10 degrees in the morning; I had a mid-weight base layer, thin fleece pullover, this jacket, and a hard shell. It was a light-weight solution, layered easily, and breathed well. I was comfortable. In the Canyon, I often wore just this jacket over a base layer and light fleece-pullover in the upper 30s with a stiff wind and was comfortable. When I wasn't wearing the jacket, I put it in the included stuff sack. It's highly compressible.

A couple days ago I tossed it on to go outside; it was in the low 30s but to my surprise it was raining. The jacket has some sort of permanent water repellent built into the nylon, and it works very impressively; the water beaded and didn't even soak in when I pressed it against the coat.

This is a great jacket, and I look forward to many years of use out of it.
This jacket is the first light synthetic jacket I've tried which comes even close to the warmth I feel when I put on my mountain hardwear sub-zero down. I have another synthetic insulation piece which is pretty disappointing after trying this one on. And yet somehow its more packable than a lot of the others. Anyways, SUPER impressed w. Montbell products.
I bought this jacket after comparing it to the Mountain Hardwear Compressor PL hoody. The Montbell is more minimalist, it doesn't have a hood adjustment, napoleon pocket or quite as much fill as the compressor (about 3 ounces less fill). But I LOVE my montbell thermawrap. The fit is the best of any synthetic jacket I've tried on, I got an L and I'm 6' 185. I would really give two thumbs up on this jacket, it's built with a lot of quality for sure. Thus far it has been the perfect go to jacket for those cold drizzly pac nw days.
Are these jackets going to be restocked...
Are these jackets going to be restocked soon? The choice of sizes and colors is pretty slim right now.
Hey Jay,

Not any time soon unfortunately. Sorry for the inconvenience.