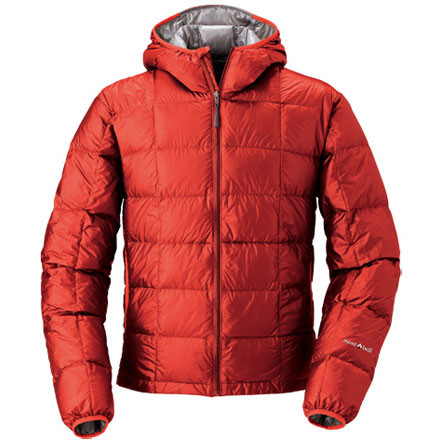 Detail Images

Community Images
Got this as an ultra light down jacket (obviously). It is amazingly light, you will forget it is on. Has a trim fit (beer bellies beware) and packs down smaller than a standard nalgene. Haven't had a significant scary situation that tested the durability of the fabric, just be careful.

Spend the extra money and get the hooded version. It increases warmth and versatility.
Unanswered Question
When will backcountry be getting new stock...
When will backcountry be getting new stock for this item? The montbell site seems to have the parka listed as a new item still: http://www.montbell.us/products/disp.php?cat_id=70&p_id=2301133
I'm 5'8, 145lbs. Do you think a small or...
I'm 5'8, 145lbs. Do you think a small or a medium would fit better? I've never worn any MontBell, so I can't really compare.
i would def. get the small. I am 5'9" and 150 and just ordered the small-- fits perfectly. It is trim, but not too tight.
i have a gore tex shell i got it a little...
i have a gore tex shell i got it a little big so i can layer on the cold or wet days but would this be a good choice to wear under that shell or is it super thick
This would be a perfect layering piece. The (M) size only weighs 7.4 oz so it is not that big but packs a lot of warmth. When layered with a gore tex shell and lightweight to midweight baselayers you will have yourself a nice layering system that allows you regulate temps very well.
I love it it kept me warm in Colorado 12000 ft above sea level it is light weight and fluffy some of my friends said it looked like a plastic bag, but hey! At least I was warmer than them it also has an insulated hood it was a good wind breaker too. i say go for it.
This will be the warmest lightest layer in your arsenal. Under a hardshell and over a base layer I have been comfertable down to 15, and with a few more layers I would take it down much colder. It has saved me from hypothermia several times in the mountains. Definitely get the hooded jacket... it is much warmer! They fit tight to make them more thermally efficient, but it is not uncomfertable. If you like a larger fit then get a size larger than you normally wear.
is this the exact same as the montbell...
is this the exact same as the montbell ultralight jacket except for the hood
yup...same as their Ultralight Down Jacket but with a hood!!
I have worn the Montbell UL Down Parka for maybe 2 weeks and so far so good. The jacket is really durable for a 15Denier fabric and its really windproof and water resistant. I would almost compare these two features to my MHW dragon jacket. It's also super warm and gets a lot of attention from TNF and Patagonia people. If it helps, I'm 6'1 and 195lbs and a large fits perfectly. It has just enough room and isn't too tight or too baggy. Could probably fit a sweater underneath comfortably. Like I said, I think its a great jacket and definetly worth the price i paid for it!
This jacket fits well (true to size) and works great. It blocks wind and is quite warm. I would highly recommend this jacket to anyone who wants a warm ultra packable down jacket.
Perfect lightweight insulation
MontBell Ultralight Down Parka - Men's
As mentioned earlier, Montbell has adjusted their sizing... I have a 2006 UL Thermawrap in a medium that is on the edge of being too small and this weighed heavily when purchasing this jacket however when it arrived it fit perfectly.
I am a medium in most other brands: Arcteryx, icebreaker, marmot, etc... and this is bang on.
The label reads US - M, JP - L
I'm 5'9", 170, average to athletic...
I'm 5'9", 170, average to athletic build......medium or large?
Medium for sure. I am 6'2" 175 and the large is good.
To help out with Bryan's guesstimation I'll say that I'm 5'7" 150 lbs. bought a medium and it fits perfect. However, if I were any taller in the torso and bigger in the chest (im bout 38-40) I would definitely want the larger. The medium on me now is already a close fit, which is great...but me any bigger than I am now would force me into a large.
I was skeptical about the performance of this jacket and especially weary of spending 160 bux on it. But, I figured with the BC no frills return//refund policy and all the great reviews I'd give it a try. WOW! I am more than happy with thihs purchase. I had to give it a few weeks before I wrote a review cuase Kansas was having some rather unheard of warm weather the week I got it. However, that didn't last long and the high wind gusts and low temps came right back at us. This jacket is PERFECT! I bought it for my AT trip that I am planning for next year. I was hating the idea of having to carry a heavy coat during the cold months cuz I wanna keep my weight down. But after having been in way below freezing temps with serious constant wind gusts I am more than certain this lil 7 ounce dude is ALL I will need. And it paacks down to NOTHING and comes with its own stuff sack....if only it could cook and clean!!!

Definitely worth the money and I am very very happy with my first Montbell purchase.
I can't say enough about the U.L.
Over the last two months I've had my U.L. on three Sierra snow-camping trips and either wore it with a light shell, or on its own and I've got to say, it's been very nice. On this last trip, it got down into the mid-twenties, with a good wind, at dinner time and I was warm and happy with just an R1 hoody and a another base under that. Anything more than sitting there, stirring the pot and this jacket would toast you and put a DAS parka over it and you might as well be wearing a tank with the heat on. can't wait to have this as part of my summer sierra morning/evening gear.
I finnaly understand the inner hype
after much contemplation I purchased the UL down inner parka. Following the guidance of previous posters I sized up from a medium to a large. so far I have only had the opportunity to use it for school, and the town. In the morning when I leave it's about 30 - 35 degrees and this keeps me warm over a t shirt, or a light long sleeve, towards the middle of the day when if the temps reach 50 and beyond I stuff this jacket into it's own pocket and throw it in my school pack, no longer do I have to worry about lugging a coat. I can't wait to field test this baby this spring! This winter I have been using the Alpine light parka which was great in frigid temps and while each coat has a special purpose and place in my heart I think I am going to love this baby more. I got the black and it is garbage bag shiny, but I just could not picture myself in a red coat. The shininess is starting to grow on me however since receiving some compliments, I think even though the jacket is shiny the fitted look keeps it classy. I'm 5'9.5 and 160 lbs and I'm glad I went with the large, although I suppose I could have gotten away with a medium. having a parka that stuffs into a pocket is a dream in the spring, as I'm sure it will be when I hike. The only issue I have is the way the hood fits, its a bit oversized and slightly sloppy, but I love it too much to remove a star. This jacket takes me one step closer to meeting the 10lb bag requirement to be an ultralight hiker. All that's left on my list is a Montbell down bag to replace my synthetic and based on my math I'm there! If your n the fence take the plunge, I know it will be one of my favorite pieces of gear.
What would be the lowest temp this could...
What would be the lowest temp this could be used for while wearing a heavy weight merino base and a thin shell while being inactive in camp?
Probably around zero.It's relative I'd freeze my "A" off with that's set up at zero, maybe 15 - 20 (I need to be warm). I got the black If shiny is an issue and the color red is not I'd go with the red. It was a hard choice for me but I could not picture myself in a bright red parka for long, so I went with shiney black.
That's truly all going to depend on how cold or hot natured you are. I, personally, am hot natured and have worn this parka over a TNF Velocitee short sleeve with a light cotton hoody over that in 35-40 mph gusty below freezing temps here in KS recently and felt fine. I wasn't even slightly chilly. Was nice!
what color do you recommend. Looking for...
what color do you recommend. Looking for the least plastic baggy color.
I'd go with the red (paprika). The other two are both pretty shiny.
For future references for others...I own the green and don't think it is too 'shiny'. Noone has referred to it as looking like a trash bag and as a matter of fact I get complimented on it all the time. Everyday ppl seem to like it.
Thin, light, warm as hell and fitted so that you don't look like a swollen garbage bag. I would definitely recommend this to anyone who needs a new down jacket and wants to stay styling.