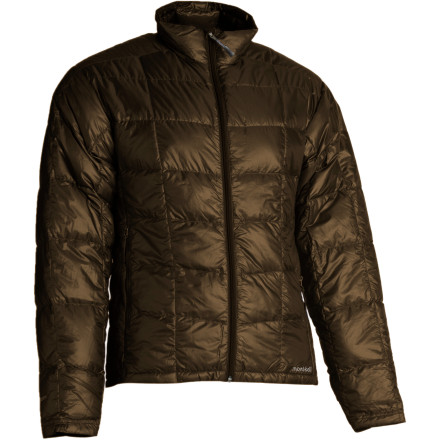 Community Images
Designed to outshine that old, bulky fleece layer that you've been lugging around in your pack, the MontBell Men's Ultralight Down Jacket weights no more than a T-shirt and packs up around the size of a water bottle.
800-fill goose down lofts easily allowing more body heat to be trapped between the feathers which keeps you warm
15D, Ballistic Airlight nylon shell ensures durability without sacrificing weight
Polkatex DWR coating keeps out all extra moisture trying to sneak in
Single-quilt construction reduces weight and stuffs easily into your pack or pocket
Nice, but probably won't buy again
Familiarity:

I've put it through the wringer

Fit:

True to size
Super light, packs up tiny, and works alright as a 3 season puffy. But, due to the larger baffles, some of the insulation tends to settle at the bottom. I'll be buying some ting with many, smaller baffles next time (i.e. Patagonia) next time to prevent this.
Nice puffy layer
Familiarity:

I've used it several times

Fit:

True to size
Works well as a puffy layer. Used it for both back country and urban travel and the small weight and stuff size is outstanding. It's weight to warmth is excellent. With layering I can handle the 30s while wearing the jacket but it is on the light side and for colder temperatures I turn to a bit heavier down jacket. That said it stands up well to wind and light moisture and for most summer high Sierra situations, its a very good layer.
Another Great Liner Jacket
Familiarity:

I've used it several times

Fit:

True to size
This is my second ultralight 800 fill liner jacket. My first is still in service (I am wearing it now) with repaired rips and tears. I use them both as a layer under my ski jacket or as a layer under my SAR vest/ jacket. In mild weather, I wear the ultralight as an outer garment.
Pros: New zipper pockets...great. Now I do not need worry about losing something important and that is a big worry with my old jacket.
Water resistant....great. As I recall, my old jacket was not very resistant to water.
Cons: No neck liner of soft material. My old ultralight had this feature and it was NICE. This one does not.
Shiny appearance. I liked the older liner's dull appearance but the shiny appearance on the new liner is stylish and nice when it is being worn as an outer garment.
I can not tell as yet if the outer layer(15D) on this garment is as easily ripped as my old ultralight. With the old one, you could not really even lean back on rocks; I suspect the new one is the same....very easily torn in regular use.
This garment would be a 5 star if it had the neck liner and a bit tougher outer layer! And, yes, I understand these changes would add weight and bulk. CDH

Unanswered Question
When to you expect the MontBell UL down Jackets to arrive? I will need one for the AT by the 1st week of April.
some odd things lead me to not recommend
Familiarity:

I've used it once or twice and have initial impressions

Fit:

True to size
love the light weight, and generous amount of high-quality down at a great price! Fit is sometimes an issue with Montbell, but the fit of the size L was fine for me. I'm almost always a size L in all brands and this size L was good for me. Things I did not like: no waist drawcord at all. That's really a must-have feature, and it's glaringly missing. Neck seal too loose and not tall enough. Cold air pours right in. Wrist seals are terrible. Why would the company feel the need to re-invent the wrist-cuff-seal in a jacket like this? (Fixing something that wasn't broken) Just stitch some lycra tape around the end and it will work for 95% of customers. This has a complicated stretch-fleece wedge panel sewn into the end of the sleeve. That means you don't have down insulation for a part of your lower forearm. And it's way, way too loose and open. It completely fails to seal around my wrists. Super annoying. Also, this is not water-resistant down (treated) as is showing up in so many other down jackets these days. So, despite some key positives, I really can't recommend this jacket. Too bad as I'm generally a huge Montbell fan.
very nice ultralight down jacket !
Familiarity:

I've used it once or twice and have initial impressions
This is a very nice ultralight down jacket which can be used for taking backpacking (which is what I will use it for). In fact if you can catch it on sale (like I did here) for about $115 its a great buy!



-The down is very high quality at 800-850 fill. and has 2 oz's of it.

-I weighed my mens size large at 8.2 oz's. which is great in comparison to other brands and models in this price range.

-I have only warn it around town outside so far (no camping yet)…but it is very warm and sheds wind. I'd guess this jacket could be good down to about 30 deg F, maybe a little lower, when wearing with other clothing underneath (like long underwear shirt and fleece pullover or something).

-the blue color is nice and not too bright nor girly, like some other brands.

-it Does have 2 zipper ed hand pockets too.



But, there are a couple of down sides to this jacket.

-The sizing is not great at least for me, 6'1" and 165lbs. The large is a little boxy, the waist has few inches of gap, and the sleeves are a little long. I tried the medium, but it was just a little too short around the waist.

-Also, the waist does not have a draw cord or elastic. So it lets cold air in down around the gaps at the waist. I plan to glue or sew some elastic pieces around the waist to make it snug there and stop letting in cold air. I may do the same around the neck collar which is also a bit large.



I have worn the Patagonia down sweater and this montbell jacket is warmer. Ive tried the marmot quasar jacket and this jacket is as warm and a lot less expensive. Overall this is a great value for a Ultra light backpacking jacket.
Get down with it.
Familiarity:

I've put it through the wringer

Fit:

True to size
This is the jacket that I always make sure I have packed for a trip if I am not already wearing it. Comfortable, warm, and good looking, this jacket has everything you could want. The pockets are great and the zippers are a nice touch so you don't lose all your goods. The sleeves are the perfect length and the collar is just high enough to keep the wind off your neck without being in the way. I love how light it is and that it comes with a tiny little bag if you really need it to take up almost no space. This is one of my preferred jackets to wear and hasn't let me down yet.
Wearing warm air
Familiarity:

I've put it through the wringer

Fit:

True to size
I love this thing! Love it! It can easily compress to half the size of its stuff sack and is incredibly warm for the weight. Much warmer than my synthetic mountain hardwear puff that is 10 oz heavier. It really does weigh in at 5.8oz for a medium! The fit is short and there are no hand pockets. Sleeve length is normal but not the torso length which is a bit short. My one criticism is it could use an elastic cinch at the bottom of the coat. If i did it again, I might get the ex light down anorak so I could have the hood. All in all this is a typical montbell product. super warm, highest quality and the lightest down coat on the market. Perfect for alpine ascents, ultralight backpacking and belay ledges! It's remarkably durable for how thin the shell material is.
Super warm
Familiarity:

I've put it through the wringer

Fit:

Runs small
Went peak bagging at San jacinto Palm springs in late October mid way I was sweating like crazy with the jacket on and it was about 55 deg. And the higher I got cooler the weather and the jacket still kept me warm.love this jacket
MontBell Ultralight Down Jacket
Gender:

Male

Familiarity:

I've used it several times

Fit:

True to size
I purchased this jacket in October 2014. I have worn it several times it is extremely warm during our mild temperatures this October. Yesterday it was zero here in Michigan's U.P. I was just fine being outside with it. The wind doesn't blow thru at all. The warmest lightest jacket that I own. I could not believe this jacket would keep me warm in that temperature due to it's extreme light weight. I am amazed by this jacket. As a matter of fact I am ordering a few more for Christmas gifts right now.
Really light, really warm.
Familiarity:

I've put it through the wringer

Fit:

True to size
Seriously awesome jacket. I've been using it under my shell for split boarding and it has performed great. I have brought it along on a few colder backpacking trips. It is surprisingly the most packable jacket I own, and that's a plus because i'm a little bit obsessed with jackets. This jacket also doesn't make you look like a stereotypical old tourist dude, I wear it around very often and get some complements every once and a while. Overall, BUY THIS. Awesome purchase.
Extremely Light, Extremely Warm!
Familiarity:

I've put it through the wringer

Fit:

True to size
This is probably the best bang-for-the-buck ultralight down jacket on the market today. As I started paring down my pack weight, I decided to pick one of these up & I'm extremely glad I did. It replaced my Patagonia R1 jacket (and a couple other fleece sweaters) as my cool weather insulating piece and saved me about 5 oz. It's very warm for it's weight, and it breathes pretty well. It's so light that you barely notice that you're wearing a jacket. The quality and detailing are top-notch.

The sizing is what I would call 'Standard' - it's just a bit 'blocky'. I use mine as a mid-layer down sweater, so I sized down. The XL was too big in the body, so I ended up with a Large. It fit's nicely through the body & shoulders, but I wish it was an inch longer in length - both in the torso and the sleeves. (I'm a lanky 6' 5", 220 lbs.) Another complaint is that it does not have a drawcord or elastic gather at the hem, so cold air can sneak into the jacket at the bottom. Still recommended, though!


Ultralight Understatement
Familiarity:

I've used it once or twice and have initial impressions

Fit:

Runs small
First of all the understatement. This jacket is lightweight. For what it is intended to do, being a mid layer or a stand alone jacket for cool conditions. The Montbell UI down jacket does this quite well. I have the Indigo Blue color and it does not look too shiny to me. With the 800 fill goose down it is plenty warm for around town in most conditions I'm not sure that it would keep me warm in below 32*F. by itself, but it would be fun to try. Most jackets I can wear a Medium or a Large. This one I had to go with a Large.
Very thin and not very warm
Familiarity:

I've used it once or twice and have initial impressions

Fit:

True to size
We purchased the 'jacket' as a down sweater for a a July Washington State 7-day hike to wear in the early morning and in the evenings. It did not keep him warm. Compared to every one else's down sweater, his had very little down and the jacket was quite flimsy and not worth the $154 bucks. He had to wear his light rain gear over it to stay warm. We returned it when we returned from our trip.
Superlight and good insulation
Gender:

Male

Familiarity:

I've used it several times

Fit:

True to size
I've had this for about 1.5 years, but I live in LA so I don't get to wear it that much other than ski trips. It's a really nice piece and the weight-to-warmth ratio is amazing. It also looks really good and packs incredibly small. You can just keep it in your day pack 100% of the time and never even know it's there until you need it. My only minor critiques: (1) it needs to have at least 1 pockets; (2) it would be great if the jacket folded into itself like the Nanopuff; and (3) it could be about 2" longer in the torso (at least for me)
MontBell Ultralight Down Jacket - Men's
Familiarity:

I've put it through the wringer

Fit:

Runs small
Love, love this jacket, light, warm and true to description. Will be great as a spring jacket too. Being a lady and this a men's jacket I had at first purchased a small and had to return and get the medium.
Perfect
Familiarity:

I've used it several times

Fit:

True to size
I LOVE this jacket. You really forget you have it on it is so light, but you remember because it is so warm. I always throw it in my pack if I think there is a chance it will be cold. AN 8 oz insurance policy. I am 6' 2" 170 lbs and a large feels just right. I appreciate the long sleeves. Body is short, as is normal in a jacket, but not excessively. I also use it i my office at work, where I usually freeze in winter (LEED Platinum building, so too cold) and it makes all the difference; A sweater left me cold. I appreciate that it has fewer sewn through baffles than the silly stylish jackets around these days, and that may help explain its warmth for so little weight. Details like the slightly elastic cuffs and stuff sack are nicely done. Finally (and this is silly) the green color is absolutely beautiful, just like the photo. Love this one so much, I'm thinking of getting an Extreme Light as well...
800 fill down = WARM
Familiarity:

I gave it as a gift but have feedback to share

Fit:

True to size
Bought this for my Dad for Christmas. What a perfect gift seeing that he loves down jackets! He is very happy with it. Said that it's slim enough to layer easily, yet extremely warm. That's about all I'd need to hear to be convinced to buy this awesome jacket! Been chilly lately? Look no further. The answer is right here.
Love this Jacket!
Familiarity:

I've used it several times

Fit:

True to size
I also have a Patagonia nano puff and a Outdoor Research down sweater but this is the one I grab the majority of the time. Went on a long snow shoe trip last weekend in 15 degree weather. Wore a long sleeved t-shirt and the MontBell and was perfectly warm, even unzipped the jacket several times during the day. It's super light weight, form fitting and very wind resistant. I'm 6'1" 178 lbs and the large fits perfect. Highly recommend.