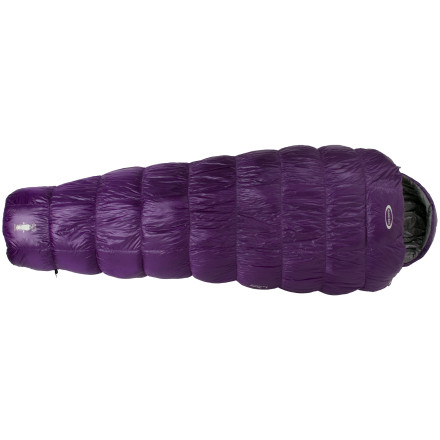 I guess they don't make it anymore
Familiarity:

I've put it through the wringer
I got mine a few years ago, thank goodness. I use it for so much more than backpacking. I take it wherever I go. For the areas I am usually in it's perfect. I use it more like a quilt. I've used it in non-heated campers, while visiting people,and even a few times backpacking.



Most of the use these days is non-camping. It's hard to find a bag that's not too warm, I'm glad I got this while I did. It's so light, it's like being covered with warm air!
So far I love this bag great for those of us who live in southern california where the weather is usually warm. Also the weight specified accurate according to my scale with the stuff sack coming in at 3/4 of an ounce.
Down at summer time? think twice
Down loose 100% warmth when wet.

Bag for 40F has more weight in shell material than in fill.
Down bag has more fabric involved in constructing baffles holding down in place. Therefore no essential gain using down till 0F rated bags.
There are comparable synthetic bags
marmot pounder . 40F, $170.

I own -40F, -20F, 0F, 45F bags
great bag, but only worth the cost if you are an ultralighter
Great bag -- incredibly light, and I love the stretchy feel, but after trying it at home I don't think it's worth the cost unless you are a hardcore ultralighter. You can get great synthetic bags (like the MH Lamina 45, or Montbell's own synthetic version of this bag) which are only ~8oz heavier and slightly warmer for less than half the price.

For ultralight packers, the extra $120 for 8oz. might be worth it -- but for the rest of us, I don't think the tradeoff is worth the cost for a bag that can only be used a few months out of the year. I do really love the SuperStretch style, but if I'm going to spend this much money on a bag, I'd go a little pricier and get the UL S.S. #2 or #3 bag -- the #3 is only $50 more, only adds 5 oz, but will keep you warm down to 30-degrees, which makes it suitable for 3.5 season use.

I'm not saying this isn't a great bag -- I just think it's a really narrow market niche for people who will pay this much money to shave a couple of oz. for a bag that's only useful for a few months out of the year. Great bag, but I think there are better values, including most of the rest of the Montbell line.
At just about 1 pound, this bag is surprisingly warm. I used it recently in damp conditions and about 40 degrees and was just fine. I particularly like the stiff zipper tape as it makes it easy to zip and unzip without pinching the bag. I also like that it unzips all the way so that I can stick out a cooling fin when necessary. When zipped all the way I don't feel constrained due to the design....And I love the beautiful purple color!
What is the zipper length?
What is the zipper length?
I don't know what the length is, but it does unzip all the way to the bottom of the bag. I need to be able to stick out a cooling fin....
Unanswered Question
What is the zipper length?
What is the zipper length?
This is a fantastic bag! It's Supposed to be good down to 50F., but I've used mine to about 35F.(inside my Hilleberg Akto) and it kept me toasty. I bought this as my summer bag for camping at summer camp with my son. I always take it backpacking or camping and also take my Western Mountaineering Antelope 10F bag, but most of the time here in The Republic of Texas, the Montbell #7 is all I need. One night the temp dropped to 25F., and I just put the W.M. bag on my feet, on the outside of the Montbell #7 and I was fine. The Montbell bags are tough, lightweight, and compact. Buy it you won't regret it!