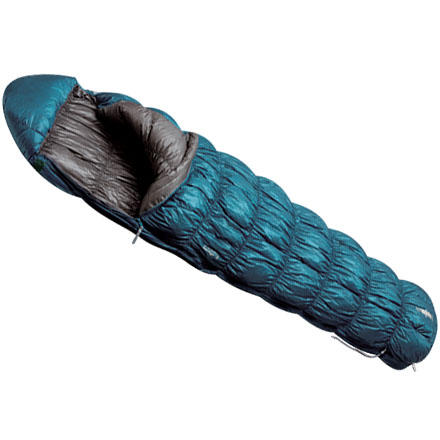 I'm deciding between the Super Stretch and...
I'm deciding between the Super Stretch and the Spiral. I know the Spiral is lighter because they can use less material w/ the bias cut. Any other differences?
, ☃bcs_badge_alumni_label☃
Best Answer
The super stretch is great for people who move around a lot... I like to sleep on my side and stomach and with one knee up, so I require a lot of room. The super stretch makes it so the bag stretches out, but still hugs your body. Personally, I think you lose a little temperature rating with this feature, but I sleep way more comfortably. The stuff size of the spiral is also a tad smaller, but not by much. It's worth the extra 4 oz of weight, in my opinion. I don't know if price is a difference to you, but the spiral 30 degree is $50 less. Only you can figure out if the weight, the comfort and the price matters. If it were me, I'd still pick the super stretch, mainly because I don't think you can put a price on the comfort this bag provides.
try the two out nest to each other, I did, I was interested in the spirial to shave some weight, but it is cut tighter, there was not as much room as the super stretch, so unless you like to feel tight in your bag
You are a-mazing.
You're so cozy warm, snug, and packable, I can't imagine sleeping with any of my old bags again. You form right up to my body in any position, are as light as a feather in my pack, and you keep my feet warm. You're so beautiful, the prettiest color I have ever seen. My fellow hiking friends are always envious, and a certain fellow doesn't hesitate zipping up to you.
You're fabric seems fragile, but I'm always very careful with you.
I'm excited to be hiking with you in Australia/Tasmania next!
I bought it because I really like the stretch system. The packed size and weight are just an added bonus to how great this bag is. So far the coldest I have slept in it has been about 40 degrees and I have been fine.

The outer shell material feels like it might snag pretty easy, as long as your not sleeping on thorns you should be great.
Does this bag have the loops to attach a...
Does this bag have the loops to attach a sleeping pad to?
MontBell makes some of the best bags on the planet hands down! Their down bags are some of the lightest and smallest packing you can get for the temp rating. Their sizing is dead nuts though. I am 5'10" 190lb and I bought a regular first. I did fit in it but I was hitting both ends. I went with the long and love it. I like a couple extra inch's of room and I can stuff some cloths or a water bottle in there if I need them warm for the next morning.
My husband and 6'4" son are going up to...
My husband and 6'4" son are going up to Quebec to fish in an out of the way place... this is a one time excursion... is this bag water resistant? Also looking at your $89.00 Green with grey lining. Any advice. Temps from 40 - 80 degrees/
, ☃bcs_badge_alumni_label☃
This is an unbelievable top-notch bag but I would keep it away from water as much as possible as it is filled with down. If you were specifically looking for water-resistant bags, I'd probably check out some synthetic bags with the same temperature rating... they may be a little heavier, but they could withstand water much better.

Of course if you keep it dry under a tent, like any other down bag it'll perform great. The Mont-Bell hugger series bags are the lightest bags on the market and ultra-comfortable.
Anybody have experience zipping 2 Super...
Anybody have experience zipping 2 Super stretch bags together for you and your lover? Could that lower the temp rating at all? (I'd assume not, but thought I might throw this question out there)
, ☃bcs_badge_alumni_label☃
It works really well, I recently tried the super stretch #2 and a #3 synthetic with my girl and I was very happy. We took them down to around 35 deg F with no problems at all. The bags hug you great while your cuddling but if you need some space they will easily stretch out. I originally bought my super stretch because the length and size seems to fit my smaller body size (5' 10" 135 lbs) better than most but it never ceases to amaze me how much you can stretch out in them. My Dad is a big lover of his and hes 220 lbs!
Look on Montbell website for exact specs....
Look on Montbell website for exact specs. Reg. bags go 5ft.10in. If you're 6ft. you need a long in their prodect line.
That should go in the other answer.
Warm, light, comfortable!!! FANTASTIC
Purchased this bag for my daughter (to upgrade gear for AT hike) and she raves about the stretchy comfort! A better nights sleep. Very light weight, high quality. Packs down smaller than any full size bag I've ever seen. True to temp. rating is rare also. She is a cold sleeper so will use bag in spring, fall, and summer also. Definitely one of the premium bag manufacturers out there. When you compare: weight, temp. ratings, compressed size and going ultralight this is one of the standouts! Worth the investment! Protect with silk or other liner when using, store always in loft bag. I would not use in unprotected ground area with out good tarp or tent as material looks as if it would snag easily.
I'm considering buying the MontBell U.L....
I'm considering buying the MontBell U.L. Super Stretch Hugger #3 but wondering about the size. It seems every other bag a regular size fits a six foot person. MontBell's bags say 5'10'' for the regular. I'm a bit under 6 foot and have always fit fine in a regular size bag. so I'm wondering if anyone knows if I would need the long size or not.

thanks!
I'm not sure if this model has it, but the synthetic version has a drawcord at the bottom to shut off the last baffle. This model does have a draw cord. Also these bags are sized in Japan, that is why they have smaller options. FYI, Japanese sizes run one size smaller than European & US.
The bags are made in China, not in Japan as the previous respondent stated.