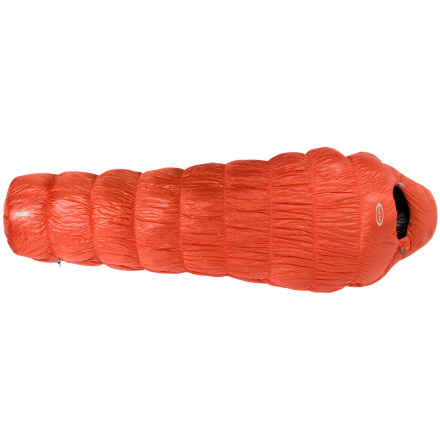 For winter/fall camping would you go with...
For winter/fall camping would you go with the #1 or #0. Temps are usually 10-25F when I camp. I camp always with a tent and use a bag cover/bivy as well. #1 seems kind of lightweight for 10F.
#1 should be good in 10-25F especially with a tent and bag cover, you should be nice and toasty. #0 would probably be overkill.
Rated perfectly, excellent bag
Just back yesterday from a 9 day trip on the Appalachian Trail. I started the trip with an REI Mojave 15° bag. Many trips prior I've struggled through freezing nights in that thing. So when the temperatures began to drop, I figured it would be the same tortuous affair. By the time we got to Neels Gap, I'd absolutely had it with the REI bag (I had nicknamed it the "freezer bag"). So when we got to Walasi-Yi, I was delighted to see this Down Hugger for sale at the Mountain Crossings Outfitters, and snapped at the chance. I can't even believe the difference...

In the following nights, temperatures dropped to 10-15° with windchill around 0-5°, and I stayed nice and toasty in just base layers (ibex bottom, smartwool top). My only complaint is that condensation builds up quite a bit on the outside, and if you stick your head or arm out and brush the exterior of the bag, it's cooooold. But you should probably be inside anyway, so it's not that big an issue.

I would highly recommend this bag, I love love love it!
I've waited my whole life for a top-notch sleeping bag that will keep me warm on cold nights. My search is over. I LOVE this bag. It is super roomy. Down feathers stay put. Loft is excellent. The fabric is durable. The stretch factor is amazing for comfort. It truly hugs your body, yet loosely enough that it's comfy. It is super warm. Rumor has it that next year's model is going to be spiral...(ok actually Montbell told me this directly) but I cannot imagine finding a way to improve this bag as it is. I purchased this bag along with the new spiral hugger at the same time for comparison. I will say this bag, though 4-5 oz. heavier, is more durable, comfortable, efficient and the down stays put. I can't imagine needing another cold weather bag. I'm 6'1" 225 lbs....and this bag is UBER comfy.
Im 180CM, should I go for the Reg or the...
Im 180CM, should I go for the Reg or the Long?

Thanks
MontBell sleeping bags do run a little smaller & at 5'11" you're right in the area of the long size. If it was any other manufacturer I would suggest the regular. In my opinion, it would be better to have slightly more sleeping bag than not enough. You don't want sleep cramped if you don't have to.
This bag is the best--super light, warm, and comfortable--the first mummy bag I can actually curl up in. Don't even hesitate if you're thinking of getting this sleeping bag. I've used it backpacking & it's great, compresses down well. Versatile, too--even in 40s weather, I had it half zipped and was cool enough. A few feathers showed up on my thermals in the morning, but not a big deal.
I'm 5' 10" and 195#. Will the reg. bag...
I'm 5' 10" and 195#. Will the reg. bag be long and large enough? I'm concerned the long bag may be significantly colder due to it"s greater size. Or am I just too big for the reg. bag?
If you were one inch taller I'd recommend the long but @ 5'10" you'll be very comfy in the regular.
, ☃bcs_badge_alumni_label☃
I agree with Jeff, get the regular hands down. Your size is perfect for the regular bag.
, ☃bcs_badge_alumni_label☃
I agree with Jeff, get the regular hands down. Your size is perfect for the regular bag.
I bought this as a Christmas present for my girlfriend and she loves it. She tends to sleep cold, and has been toasty warm in the bag, although we've only had it down to about 35 degrees so far. The length has worked out well, and its very light compared to what she had before, not to mention it packs down so small. It is expensive, but worth the money in my opinion.
I hesitated for a long time beofre getting a Mont Bell down bag, measured in years. I finally broke down, saved up and bought the #1 Hugger. If I could travel back in time, I would go back and slap myself. To thinik of all the nights sleeping out wasted. The bag is truely a hugger, but not restricting. 6'4" fits very confortable in the tall. I generally wear capilene while sleeping in the bag. I've been able to sleep colder than the rating by wearing my down sweater and an extra pair of smartwoool socks.
This bag is very nice, ive never had a expensive one before, and for the most part its what i expected it to be. Ive been one 4 camping trips with it so far, usually sleeping with boxers only. Every trip i thought the bag was very comfortable, and quite warm too, in some cases a little to warm. The temps ranged on all trips from 20 to 65 degrees, i never felt cold but in the warmer days 60+ the bag was to much, making me sweat even when fully vented. I like the zippers, they all seem to work well, but the velcro straps for the neck coller and hood can sometimes become uncomfortable nothing that kept me from an amazing nights sleep. The only issue i have with the bag is that everytime i use it, when its time to pack it up, down is floating everywhere, and is all over my sleeping pad ( Exped down pad) which really concerns me. Im not sure if everybag does this, but i did see in another review that someone said something about the issue with their bag also. Lucky i bought this from backcountry.com, from what im told i can return it at anytime. Overall i think the bag is great, very light, compactable, warm, and comfortable. Buy one and try it for yourself, if you dont like it trade it for a diffrent one.
I have not taken this bag to its rating yet, but it feels like it will go the distance. Most nights I don't have to zip it all the way to the top and have had to use the stretch the inside back and forth to bring some cold air in. I like the stretch for longer nights when I am going to be in the bag or an extended time.
Way warmer then it's rates, Great big guy bag
I just took this bag on it's first trip to the whites this jan. We ended up getting stuck on one of the mountains, north tripyramid, for the night. Temps dropped down to 0 F maybe a little colder during the night while I was asleep. Needless to say I was nice and toasty all night I even dropped a layer half way through. For the guy ask about what people are sleeping in I wasnt sure how warm the bag would be so I put on Patagonia R1 bottoms with some TNF 100 tka fleece pants and then a MH power stretch shirt and fleece top. I took off the fleece top after an hour. I'd also like to comment on the fit of this bag, 76 in. of shoulder room is heavenly!!!! I've tried tons of other bags that are no where near as roomy or warm. Just a great bag overall, especially for big guys.
Very Decent Bag - Satisfied (supplement)
robinljoy1868488,

In my recent review, I mentioned a 4 day backpacking trip to the mountains where I used this sleeping bag for the on a trip first time. During that trip, I was inside my REI Arete 2 tent with the raincover on (and REI Arete 2 footprint tarp underneath). I had a Thermarest Trail Regular sleeping pad I layed on, and I was wearing Filson brand 100% Merino Wool Men's Alaskan Long Johns with Filson Heavyweight 100% Merino Wool Socks. The Temperature outside was around 25 degrees throughout the night. I vented the top of the tent by unzipping its 2 zippers at on both sides of the ceiling. I even vented my sleeping bag during the night because I got too hot. For most of the night, I was adequately warm and comfortable inside the bag.

The night I tested my sleeping bag in my front yard, as I mentioned, it went down to -2 degrees outside. There was heavy snow/wind that night. I was wearing the same clothing during the night in my bag that I was going to use on my backpacking trip and I used the same Thermarest in the same tent. I stayed fairly warm and comfortable that night as I mentioned despite the frigid and windy conditions.
Very Decent Bag - Satisfied
Pros: Love the bag. Very light and compressible. Keeps me very warm in 20-30 degree weather. Would probably be more comfortable in colder weather closer to its degree rating. Down fluffs back up evenly and robustly after compression and after a camping/hiking trip while its hung up to dry and air out. Zipper never gets snagged on the bag material due to the anti-snag liner and the zipper never comes undone while I'm sleeping. Draft collar works superbly around the neck area and along the side zipper so that no warm air sneaks out and no cold air comes in. My feet stay fairly toasty too during those chilly winter nights. This is probably one of the most cozy, soft, and comfortable sleeping bags I have ever slept in.

Cons: Condensation builds up around the head area and on different places on the bag depending on the temperature outside and how much you sweat. It's probably a good idea to vent the bag during the night so you don't get too hot and sweat too much. I believe that's what causes it. When I first bought the bag and got in it at home to test it, I noticed that tiny amount of down would be on my clothes after I got out of it. When I took it on a 4 day backpacking trip to the mountains for its initial use, after I would compress the bag during the day and move around in it a lot at night, I noticed more and more down get on my clothes. I'm not sure if there is a tiny whole in the bag where the down is leaking out or if down leakage is common for all down sleeping bags. I am going to keep an eye on it and if this problem persists and gets too bad, I am going to return it to Backcountry for a new one.

P.s. Pre-tested the bag before my backpacking trip at home in my front yard in my new REI Arete 2 tent. I used a Montbell sleeping bag cover (waterproof-breathable) to cover the bag and a Heatsheets brand emergency blanket inside the bag. The weather was -2 degrees with -15 degree windchill. Wind gusts went up to 40 mph that night. Let me just say, it was one heck of a night! Besides sweating profusely due to the emergency blanket, the sleeping bag performed outstandingly and I stayed fairly warm and comfortable throughout the night. I was very impressed with the performance of the bag after that.
I wouldn't be able to sleep in a regular mummy bag. The stretchiness built into this one lets me sleep. This is my second MontBell bag because I loved my 35 degree bag so much.
This was a great purchase. It is extremely warm, ultra light, and very packable. The "super stretch" feature is amazing at high altitude were I sleep like a flopping fish. The stretch feature really allows you to move around without distorting the interior volume of the bag keeping the heat in. The regular size bag fits my 5'9" and 170lb frame perfect.

You will not be disappointed with this bag and if you are just send it back with Backcountry's bitchin guarantee. Oh, and call a representative to receive a price match if you find it cheaper somewhere else.
, ☃bcs_badge_alumni_label☃
you will not be dissapointed
I can't say enough about this bag. The material is cozy and soft, the bag is light and compressible, and the temp rating is right on spec. I dare say that this is the best bag I've ever owned...
Just returned from doing the Teton Crest Trail...brought this bag for my 19 yr old son....temps the 5 nites were from just below 20 Deg to about 25 Deg...he slept in just his boxers those night and never got even cool he loved the bag...my wife and I have the -20 bags and used them and of course way too warm for them...we brought him the right zipper in the next week or so we will buy the left zipper and wife and I will go on most trips with our sons bag and the left zip one..........have over 30 yrs exper backpacking and think these are the best bags on the market..........buy one you wont be disappointed
U.L. Super Stretch Hugger #1
The U.L. Super Stretch Hugger #1 is far and away the best sleeping bag I've ever had the pleasure to sleep in. I'm a side sleeper with restless legs and at 6' 200lbs have trouble finding cold weather bags that are not too restrictive. With the stretch ability of this bag I am so comfortable both on my couch and out in the backcountry. On a recent trip it was around 30 degrees and I was actually warm in the bag. I was sleeping in a midweight merino wool top and lightweight long underwear bottoms.
U.L Super Stretch Hugger #1
Sleeping bag perfection. It's light. It stuffs down to the size of a loaf of bread. The "super stretch" means I can move my 6'5" legs in any direction and not be restricted. Mont Bell says the Long is good for up to 6'4". It works for me at 6'5". My favorite bag ever.
I cant think of anything better. I sleep in this at home it's so comfy. totally worth the money. i like the double vent feature for warmer weather. but i would actually call this a four season bag. ive used it with no tent on a 2 degree night and been fine.