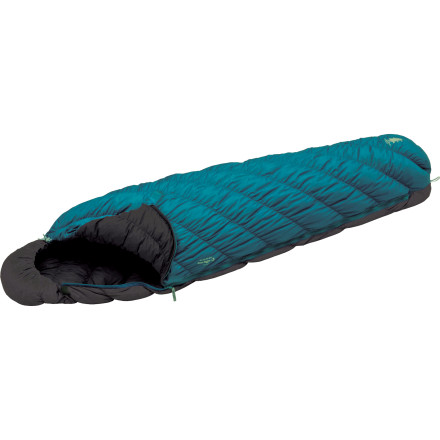 The deeper, longer, and more frequently you trek into an expansive wilderness, the more it makes sense to carry the ultra-lightweight down 30-degree MontBell U.L. Super Spiral Hugger #3 Sleeping Bag. At less than a pound-and-a-half, this down bag helps you slip into backcountry dreamland before you hit it hard again the next morning.
Rated down to 30F, this bag is best suited for most spring through fall nights and mild-to-cool nights in the mountains
800-Fill down and Multi-Tube Construction with Flow Gate locks in your body heat for a toasty sleep without cold spots
Tough Ballistic Airlight nylon outer shell withstands trail abuse and a long-lasting Polkatex DWR coating prevents moisture from seeping inside
A draft tube inside the zipper and adjustable hood seal you off from cold air
Super Spiral-Stretch System uses a biased cut fabric, elastic stitch, and gathers in the quilting so the bag stretches with your movements, keeps the down close to your skin, and eliminates dead airspace
Auto-locking zipper doesn't move during the night and joins your bag with another MontBell bag; left and right zippers available (depending on inventory)
Compression stuff sack packs the bag down to its 5.5 x 10.9in size (regular) and a storage sack helps you preserve the lofty down fibers
Available for shipping only to US and Canadian addresses
Amazing gear from an amazing company.
Familiarity:

I've used it once or twice and have initial impressions
This bag feels nice against your skin and is very comfy--it feels very roomy.

I'm looking forward to using it more as the summer backpacking trips continue.
Initial impression
Gender:

Male

Familiarity:

I've used it once or twice and have initial impressions
This bag was bought in Jan 2013. I have heard that there are minor changes to the year model. However, without experience of using previous models, I only give you my impressions on the 2013 bag.



What everybody else have raved about the stretchiness of the bag is true. But is it not a rubber band and there is a limit to that stretch (obviously).

I compare this bag to the Big Agnes Crater 15, which is a roomy regular length mummy bag at 3 lbs, the difference in spaciousness between the two is not as large as expected. In short, the Montbell bag stretches, but that doesn't mean I can move freely such as crossing my legs inside of it. I have heard that the revised bag is slimmer and not as stretchy as before, so this is something to keep in mind. In short, with the additional stretch of the bag you get, it is about slightly less roomy than a roomy-cut bag such as my Big Agnes.



The face material feels like thick tissue paper, which means it is not the smoothest. If you stretch while inside of the bag, you will get additional tactile feel of the seams, which is something I not necessarily like.

The bag comes with a stuff sac that is the right size for it. When stuffing the bag for the first time, I was amazed by how small it is. But considering this is called a UL, this should be justified.



The hood is adequate, but this bag is not designed for winter, so no neck draft collars. The opening is larger than I like, but in warmer weather, this will not matter.



I will take the bag out to do dessert winter camping next week with temp. in the high 20s and low 30s. We will see how it handles that situation.



I am 6'2 180lbs; as a minimalist I ordered the regular. Lengthwise it fits, but it doesn't stretch as wide as I thought it can be. Another reviewer mentioned a long may work better for my size, but I don't need the additional length, just width.



I will decide whether to return this to get WM Megalite after my field experience.




superstretch#3 not up to par
Gender:

Male

Familiarity:

I've used it several times
Used it on 2 hikes on the Pacific Crest Trail: John Muir Trail in 2010 and from Tuolumne Meadows to Donner Pass Road in 2012. I am comparing it with my Marmot Helium 15 degree bag, which I took from North Lake to Horseshoe Meadows in 2008. On my 2008 hike the only difference in my gear: I had a marmot 15 degree bag and used a thermarest prolite 3 mattress. I was never cold. On my JMT hike in 2010, I used the Montbell bag but had a Neoair mattress. I was cold whenever the temps got below 40 degrees. On my Yosemite to Donner Pass Road hike this year, I experience similar problems, but since temps were usually no lower than 40 degrees north of Yosemite, I was ok. I sent the bag back to Montbell. They examined it and felt it met their specs. I do realize the temp ratings in America are pretty subjective. However,there are similar concerns about this bag in reviews on the web, and these reviewers, like myself, have found that when you hold the bag up to light,you can see areas that lack down. We think it is due to the superstretch stiching pattern. I have since bought a 35 degree Western Mountaineering bag, and it is warmer than my Montbell bag and is lighter in weight.

For myself, if I use the Montbell bag, if temps get below 40 degress, I need to layer on more than my usual silk sleeping bag liner and silk sleeping clothes.
A few points.

-- at 5'11" and 200lb, this bag fits me perfectly.



-- It packs super small; I'm compressing mine into a Sea2Summit Extra Small eVent bag and it fits easily.



-- Note that the bag really "hugs" you (in a nice way) so if you want to turn over within the bag you have to be cognizant of rolling without taking the bag with you. If you are just switching from back to side and perhaps the other side, this hugging is super sweet: the bag simply moves with you.



-- Because of the hug, it does make it a little difficult to get dressed inside the bag if you want to stay warm while changing your skivvies.



-- First trip out I was comfy in boxers only (no shirt, nothing) down to 38 degrees with an air mattress. I imagine the 30 degree claim is quite safe for comfort if I was wearing normal sleeping clothes.



-- I had read that the hood design/elastic were strange, but I found them to be a perfect fit (perhaps they redesigned..).



-- A detail: the bottom of the bag is black and the top is green. It's a helpful detail.
While researching lightweight sleep gear, we came across the MontBell line of bags. My wife and I needed different size bags, but both decided on the 30 degree bag. When they arrived, I fluffed them on our bed and my wife commented, "They are so light! Are they going to keep us warm enough?" We would soon find out.

We went bicycle touring in Upstate New York in late September and found ourselves in some pretty chilly weather. Our bags were warm and comfy the whole time!

Their extreme light weight (1lb, 4oz) and small packed size make them a sure bet for backpacking and bicycle touring.

I have the SuperSpiral while my wife has the regular spiral. The Super does give more perceived room due to the cut. Both bags fit our needs very well.

Final thoughts...if this bag is not on your short list, it should be! You will not be disappointed.
I looked for an ultralight sleeping bag for a long time and eventually settled on the Montbell superspiral #3. when I first got the bag I was concerned about the light materials it is made from. Those fears are completely gone after a season of use in the Colorado high country. I have used this bag and been comfortable into the 20's on some nights. the stretch fabric is amazing for a side sleeper like me! I haven't seen many bags out there that will give you the warmth for the weight that the superspiral does. The only down side is the price, but in my opinion it is completely worth the money.
Down vs. Synthetic Sleeping Bag Comparison
Jason discusses the basics behind sleeping bag insulation types.
I got the regular but felt too restricted in it so got the long instead. The long felt great and didn't even feel like I had a sleeping bag around me! The long was a lot more forgiving and stretched and moved with me while I tossed about. When I was done moving it synched back up close to my body (not in an uncomfortable way). The regular felt too much like I was in a straight jacket even though I am fairly slender. I'm also 6'2'' tall. The regular was OK lenth wise for me but the long gives me a couple more inches to really stretch out and even store stuff at the bottom of the bag that I need to keep warm. So for those of you around my height go with the long even if you're skinny. The down sides about this bag are that it is pretty expensive. The long is also a little bit heavier than the regular. On paper it didn't look like much but I could definitely feel the difference. Oh well, what was sacrificed in oz's is now made up in zzzzz's. I would recommend this to anyone wanting comfort where money is not an object.
I finally got to use this bag after buying over the winter. Very impressive with how small it packs up, and how it lofts. No problems with the zipper, and overall well made. Extremely roomy with the super stretch feature - didn't feel confined at all. Good bag for a side sleeper. I cinched down the hood in the middle of the night once it got colder, and found it both warm and comfortable. Great bag.
Most light weight bags are cut too small for those of us that are fit, but also have nice chests and shoulders. The girth this bag allows is fantastic,but it remains light. The bag is very warm and true to it's rating.
I've used this bag on rainier in august and the Appalachian trail in December and been very comfortable.

Cannot give this bag higher praise. I will be buying the 0 degree version for Cold weather activities.