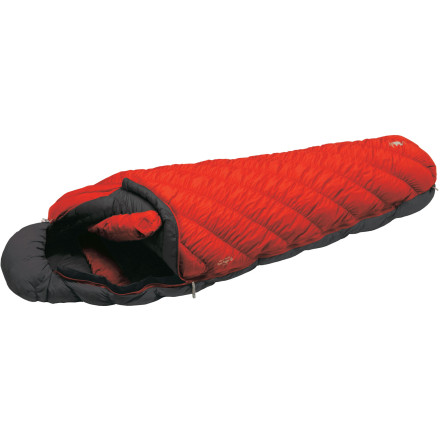 Community Images
Lightweight and outfitted with premium down, the MontBell U.L. Super Spiral Hugger #0 Sleeping Bag hugs you for warmth through starry nights and winter squalls.
Ballistic Airtight Nylon shell boasts a DWR coating to slough moisture
Premium 800-fill goose down offers optimal insulating power while maintaining compressibility
Super Spiral Stretch System combines bias stretch, gathered quilting, and elasticized baffles to provide flexibility without creating cold spots
Double draft collar and tunnel hood prevent the intrusion of unwanted breezes
Auto-locking zipper prevents zipper-slip during the night
Properly Rated, Incredibly Comfortable
Familiarity:

I've used it several times
A bag that lives up to its temperature ratings is a rare bird indeed, and this one does. Hit a new low at -4F and found this bag to be quite sufficient.



Very comfy too. I find the hood ever so slightly claustrophic, but I suppose that's the point.
Unanswered Question
Anyone know the EN ratings for this bag?
Anyone know the EN ratings for this bag?
Amazing Bag
Familiarity:

I've used it once or twice and have initial impressions
Just bought this bag and "field tested" it at a High Sierra lake last night. It's a zero degree bag that would probably actually keep me warm down to zero. I'm used to layering up clothes in my sleeping bags because I sleep cold. Last night I was taking things off. It didn't get down to zero, but it probably hit fifteen. I also like all the space in it. I'm a small person (5'2" and 115 pounds), but most bags feel cramped. This one didn't. Granted, there's a bit of a weight penalty, but this bag weighs less than my -5 Marmot Aiguille and that bag is a "short."

Bottom line: It probably won't appeal to the minimalist crowd out there, but I love bag. I've had other clothing products made by MontBell. They've all held up exceptionally well, so I'm expecting this bag will also.
Can anyone tell me definitively the...
Can anyone tell me definitively the difference between the "Super Spiral" bag and the "Spiral" bag? My guess has been that the "super" is extra stretchy, but I can't find the information anywhere... Thanks!
Best Answer
The super is wider in the shoulders, and just a few ounces lighter than the non-super. Those are the only differences as far as I can tell, but that may be it considering there is only a $10 price difference.
Thanks Laura. I was stumped because it seems kinda crazy for Montbell to keep a whole extra set of SKUs, product literature, etc. (and cause this sort of consumer confusion...) just for the sake of a $10 difference. Your answer confirms what I'd suspected: there's very little difference.



Still. For $10 I get to call it super. Vanity wins!
Found this link under another bag:



http://www.montbell.us/custserv/faq/data/montbell-sleepingbag.pdf
What is the difference between this bag...
What is the difference between this bag by Montbell and the same bag but the non U.L. version? Am I saving about a pound of weight and an inch of pack space for almost $200 more or am I missing something?
Best Answer
No you're not missing anything. Basically the UL version is made with a higher fill power of down, 800 vs 650 fill. What this boils down to is that it will take less down to give you the same amount of warmth. Less down = less weight. Also the higher fill down compresses smaller than the 650 fill stuff. Bottom line is that if you're not counting ounces and can stuff it into your pack, then save yourself $200. However usually winter backpacking/camping means more gear, which means more weight, so the lighter the better. Also, if you're planning on car camping or only hiking a couple of miles then definately go with cheaper bag. Hope this helps with your decision.
http://www.montbell.us/custserv/faq/data/montbell-sleepingbag.pdf
I am a side sleeper and so the stretch system in this bag really appealed to me. I have never been more comfortable in a sleeping bag in my life. I was able to sleep comfortably in the fetal position, knees bent and all. The loft on this bag is also phenomenal, by far the warmest most comfortable bag I have owned. I am 5'9" and I have a bunch of room in the footbox so the regular would definitely fit someone up to 6'.
I expect quality from Mont-Bell, as I have for many years....I own the Alpine Light down sweater and always knew that they did down very well and that this bag would be good, very good. After several friends gave great reviews of the bag....I purchased it for my Guide/counselor/outdoor teacher son.
He is in the Wind Rivers this summer and sends back notes of how much he loves it and the great range of temps that it covers and how durable it is and how it gives him the much needed rest that you must have taking people out in the high country.
He is 6' ( we got a regular), 150 and sleeps cold....but, not with this bag.
I will expect it to last as long as my Sierra Designs down bag, that I bought in 1970..... But I will snag this bag from my son,to use, every time I can - which will not be much- I expect him to guard it.
If you afford it, get it....it is the 'one' !
Superlight and really wide-expandable and comfy. I've owned several bags and had to move up to something a bit warmer for some higher elevation trips. This by far is the warmest and most comfortable out of all the ones I've owned. Everytime I get it in, I don't want to get out. No other bag compares! Highly recommended!!
but what does it weigh? And is 0deg inF...
but what does it weigh? And is 0deg inF or C? Big Difference!
Best Answer
0° is in F. This is the most anti-metric country in the world, after all. USA! USA!

It weighs 2 lbs. 15 oz. Oddly enough, that's 2 oz more than last year, but it's all extra fill. I have no idea why they needed to add 2 oz of down while keeping the same temp rating.
You will not find a better bag. I had the older model in a regular and just got the new one in a Long to have more space for drying clothes while I sleep. With the older one I have used it all over from -20 to 30 degrees F. I have done tons of research and tested many bags and this one just kills it.