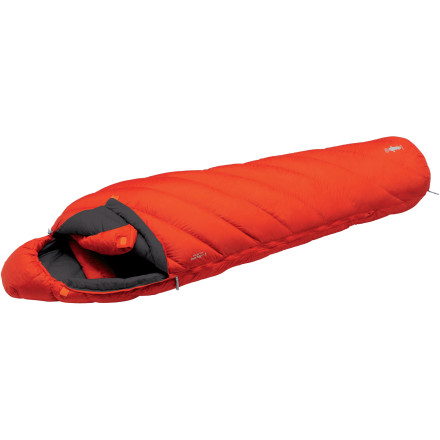 The MontBell U.L. Spiral Hugger #1 15 Degree Down Sleeping Bag is what backcountry skiers, mountaineers, and hunters can count on for bitter-cold nights. The unique Spiral Stretch System and feathery down lead to log-sawing nights and revitalized mornings.
Comfort range hovers at 25 degrees Fahrenheit for the average backpacker/camper, while the lower limit allows guys and campers who 'run hot' to snooze in temps as low as 15F
800-Fill down insulation offers the best warmth-to-weight ratio and compresses down small to take up as little space in your pack as possible
Multi-tube construction with Flow Gate allows warm air trapped within the insulation to circulate—limits cold spots
Spiral Stretch System uses elastic threads in the lining to move with you throughout the night—keeps the bag close to your body to minimize open space
POLKATEX (durable water repellent) on the ultra-thin, highly-durable 12D ballistic Airlight nylon outer shell has a 100-wash rating
Draft tube seals out potential chills that can slip through the zipper teeth
Neck baffle and tunnel hood seal the interior off and retain crucial heat within
Right side zipper only
Very tough to find one to compare to
Familiarity:

I've used it several times
This bag is lightweight for it's size and compresses to the size of a good Nalgene. The feature that I like most about this bag is that it moves and contorts with your body movement. This is essential as I squirm throughtout my REM and can never predict in what position I will wake up. This is also an advantage when you need to sit up and work on your map or go over the details of the next day's adventure. The coldest I have slept in this bag would be around 15 degrees F in the NC mountains, but it was also comfortable in a makeshift climbing trip to Texas where the low was a cool 65 degrees F. This is my go to bag for most anything between the 15 and 65 degree range where I spend most of my time.
Montbell says it is shorter
Just wanted to point out that mont bell and some other sources say that this bag is 5 foot ten inches (not six foot) for the regular and six foot 4 inches (not six six) for the long. Might want to consider updating your stats so that you don't have a bunch of people returning this product :)
this bag STILL blows me away after 4 yr.
Gender:

Male

Familiarity:

I've put it through the wringer
I've owned this bag for over 4 yr.s and it still amazes me. I've thrown everything at this bag from the Tetons and SW Yellowstone to the OP (Olympic Peninsula), Blues, Rockies and Salmon breaks. I hunt w/ it, camp w/ it, river raft w/ it, and it keeps on truckin. Yes it's rated to 15 deg. but honestly, with a lt wt liner and some wool socks I've slept like a dog down to 0 degr.. I use a therma rest trail pad and that's it. Last trip out, it rained INSIDE my tent for 2 days straight (day 2 it rained over 4" in less than 24 hr.s), and though the outside of the bag got wet, I was dry and toasty, and again singing the praises of this bag on the inside. I was concerned about the durability of this bag when I bought it, but not since. Also, I sleep like an epileptic in electro shock therapy and this bag stretches like a slinky and still keeps me warm without constricting my spastic parts. Honestly, I've never tried the Marmot or W. Mtneering bags, but why would I?? This bag is Uber lt, WP, 5 different kinds of comfy and keeps me warm w/out making me sweat. I'm constantly looking for better/lighter gear- just not sleeping bags. This is THE ONE!
Extremely comfortable mummy bag
I picked up the MontBell Spiral #1 before a couple of trips totaling about two weeks this September, and I couldn't be happier with my choice.



I was camped at about 11,000 feet in Colorado on both trips, and nighttime temperatures ranged from just above to below freezing. While MontBell lists this as a 15* bag, its EN comfort rating is 25*. on one occasion the temperature dipped to the upper teens and I was more comfortable wearing a puffy jacket inside my bag. The bag has continuous baffles, so depending upon conditions you can shift the down insulation from the bottom of the bag where compression means it provides little insulation to the top, or vice versa.



I debated between the Spiral and the Super Spiral based upon the dimensions, and I wound up selecting the Spiral based upon weight (4 oz lighter) and cost. The Spiral has plenty of room for sleeping in almost any position. I am an active sleeper, and combined with an Exped Synmat UL7 I comfortably slept on my back, sides and stomach. I could cross my arms over my chest, or pull up one leg into a "figure 4" position. I am 6'4" and the long Spiral which is rated for 6'4" max (compared to 6'6" for the Super Spiral) was plenty long for me.



All in all I would highly recommend this sleeping bag.