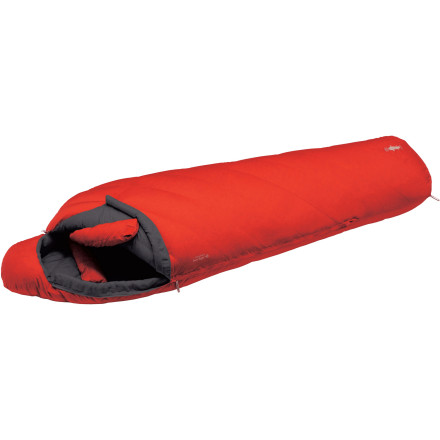 It doesn't matter if your bearded camping companion refuses to snuggle close for warmth; the ultra-lightweight 0-degree down MontBell U.L. Spiral Hugger #0 Sleeping Bag wraps you in lightweight warmth so his services aren't needed. The most efficient down available locks in your body heat thanks to a stretchy, 'hugging' design that virtually eliminates cold, dead air inside the bag.
Rated down to 0F, this bag is best suited for winter camping as well as all but the most frigid, frostbite-spreading nights in the mountains
The 800-fill down and Multi-Tube Construction with Flow Gate locks in your body heat for a toasty sleep without cold spots
Tough Ballistic Airlight nylon outer shell withstands trail abuse and a Polkatex DWR finish prevents moisture from seeping inside, and this DWR won't wear off over time
A double draft tube inside the zipper, adjustable tunnel hood, and draft collar seal you off from extremely cold air
Spiral-Stretch System uses a biased cut fabric arranged in a twist and crimped fibers so the bag stretches with your movements, keeps the down close to your skin, and eliminates dead airspace
Auto-locking zipper doesn't move during the night; left and right zippers available (depending on inventory)
Compression stuff sack packs the bag down to its 7.5 x 14.8in size (regular), and a storage sack helps you preserve the lofty down fibers
What do you think about this product?
Have questions about this product?
I see that this is one size but the confusing...
I see that this is one size but the confusing part is there is a weight for a regular and long as well as different stuff sizes etc.

Which one is correct?



Thanks



Mark
Best Answer
I think your confusion lies in the differences listed between the two sizes - they are both correct, but BC reps have been generous enough to list the specs for both sizes.

The "regular" size is meant to fit people who are up to but no taller than 6 feet, whereas the "long" size is meant to fit people who are up to but no longer than 6'6". That being said, there are size and weight differences for the two different size bags because the "Long" size is obviously going to need more fill and more shell material for those who need that extra space to accommodate their figures - thus the larger "stuff size" for the "Long" when compared with the "Regular."

Is that what you needed cleared up?



**I just noticed that the pull-down selection tab says "one size," so I guess that was what you were referring to.. it could be that they only have one of those sizes in stock, but I really couldn't say. I would call BC or hop on the chat option to find out if someone who is on hand might be able to better assist. Sorry for my misunderstanding.**
What size is this? Regular or large? The...
What size is this? Regular or large? The purchase options say "one size"
M Clark,



So yeah, there's a lack of clarity on this.



The fabric on this sleeping bag actually stretches to conform to your body.



I found this review online that shows two people in that bag:



http://www.outdoorgearlab.com/Sleeping-Bag-Down-Cold-Weather-Reviews/Montbell-U-L-Super-Spiral-Down-Hugger-0



If you were at the upper end of a Long say 6'4" or taller I'd think a "One Size" sleeping bag wouldn't be great.



Hope this helps!



Jared D.

Gearhead

800.409.4502 ext 4055