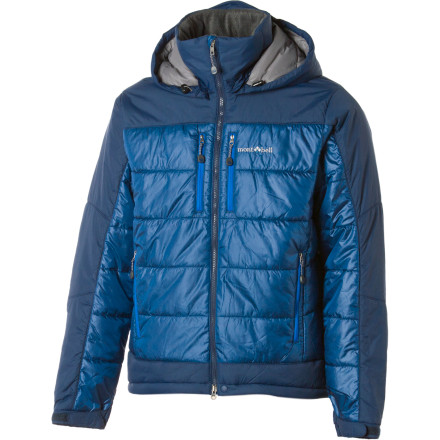 Detail Images

Community Images
The hint of winter chill is palpable, threatening to freeze your tears to your face. And that's while your still in the heated car. Before setting out on your next expedition, cold-proof yourself with the MontBell Thermawrap Insulated Guide Jacket.
Ballistic nylon with DWR coating withstands abrasion and sloughs moisture for multi-season durability
150g Exceloft insulation traps body heat and resists cold penetration for thermal efficiency
Plentiful pockets keep you organized and clutter-free until you get back to the tent for a game of cards
Fantastic jacket
Familiarity:

I've put it through the wringer

Fit:

True to size
I've had this jacket for about six months now, the colder months of the year, and I'm a fan. The other jacket I have is a Mountain Hardwear Compressor Insulated Hooded Jacket, which is also an incredible piece, but the Montbell is warmer. I'm 5'11'' at about 165/170lbs, 32" waist and I have the medium which fits me perfectly. I have the blue/blue, which looks darker blue than the pictures in a good way, the contrast isn't so stark between them blues.

Pros: Warmest jacket I got, handsome two-tone, the cut makes you look a little buffer somehow. The pockets are comfy/warm. The material isn't too shiny (I hate that). I appreciate a zipper that doesn't catch and feels substantial; it's a two-way zipper. I can't buy a jacket without an outer chest pocket anymore, where would my phone go otherwise? Ha! The neck zips up truly high all the way around tighly. At first you don't like it (Mr. Tallneck), then you're like yessssss. Velcro cuffs, hemcords, all good. I use the inner pockets around the waist to warm my climbing shoes while waiting for my turn to boulder. So many pockets, you're set there.

Cons: The chest pockets are wide enough when you run the phone in it will shift horizontal. If you've not shaved after a day, the fleece material around the collar catches on your stubble when all the way zipped up. I've detached the hood because I think it looks frumpy and the wind gets in it when it's up, I don't use it. It looks way better with a mid layer hoody on underneath, not a problem.

Anyhow I wear this every day/every other day and it's a great jacket. I waited til it was on sale then pounced. Looking at the cons there's three but they're all there as a fyi, this jacket will win you over regardless.
MontBell jacket
Familiarity:

I've put it through the wringer

Fit:

Runs large
I've had this jacket for three winter seasons now - wear it practically everyday, whether walking to work, hiking/snowshoeing, etc. - the jacket is awesome! Extremely well constructed jacket and very warm. The fit runs a little big, but I typically wear over a shirt and maybe mid-layer, and not over heavier mid-layer item, which it's probably designed for.

Definitely recommended!
MontBell Quality, unbelievable price
Familiarity:

I've used it several times

Fit:

True to size
This jacket is very warm (which one would expect from 150g of Exceloft) but what really surprised me was how packable it was. It comes with its own stuff sack, and packs up very nicely. Much more packable than some similarly insulated competitors.



Good looking jacket - I'm 5'9 155 with an athletic build, and it fits me loosely (but not too loosely) with plenty of room for layers underneath. Other reviews mentioned oversized arms - I have a very normal wingspan and this jacket fits me fine. The velcro cuffs would make this a non issue anyway. (You can replace these if you are going to be spending a lot of time in snow, but the factory ones have been fine for everything else.) Size down if you are planning on just wearing it with a T-shirt or something underneath, but since this jacket will typically be worn with a few layers, I'd certainly say it is going to fit true to size. Do keep the size and loft of this jacket in mind when picking out a shell though - you aren't going to want some super tight, fitted technical jacket squeezed over this. Anything with a regular fit should be fine, I have a cheap Stoic rain shell anorak (also size M) that I can throw over it no problem.



I like the features so far on this jacket - enough pockets to organize my grandmothers basement and the detachable hood is a nice bonus as well. It's pretty burly (thus warm) and might be a lifesaver on alpine expeditions, but you probably won't need it on your morning commute.



The price (at least at the outlet sale it's being listed at right now) is hard to argue with. You would be hard pressed to find a jacket with this kind of insulation and MontBell quality for twice what this is. If they still have one in your size... do yourself a favor and order one. Best $120 you will spend this season.
Cutting edge Orangatang design.
Gender:

Male

Familiarity:

I gave it as a gift but have feedback to share

Fit:

Runs large
jacket looks great on the rack. I've seen a few people wearing the jacket and it looks stylish. good balance of insulation and fashion. double breast pockets are handy.

one big caveat; the size large I ordered was fitted to orangatangs. the arms are about 4" too long. I'm 6' and my arm span is 71", which about average (arm span = height), 46" chest and 190 lbs. jacket has room for layering. other than the arm length, I would have been happy to have kept it.
terrific jacket
Gender:

Male

Familiarity:

I've put it through the wringer

Fit:

True to size
super warm, excellent cut/fit, excellent collar/chin/hood, excellent pockets. I've tried a bunch of other highly-rated high-warmth synthetic fill jackets over the past several winters, and this is by far the best. I'm 5 10", 175 lbs and ordered size L. It's just a bit generously sized, allowing for layers underneath; but not massively over-sized like some other 'belay' parkas on the market. Favorite feature is probably the tall stand-up collar and zip-on/zip-off hood arrangement. I use the jacket probably 80% of the time with the hood zipped off. I find this style of tall stand-up collar a lot warmer and more comfortable than most hoody jackets (hood permanently attached) whose collar/chin areas never give me a comfortable seal when the hood is down. This jacket is almost (not quite) as warm as a Patagonia DAS Parka, but it fits better, has better features and is less bulky. Highly recommended.
Would this jacket be suitable for Rainier...
Would this jacket be suitable for Rainier or Baker in June?
Probably... It's quite warm, but perhaps not warm enough for the arctic/coldest/worst weather you might run into (worst-case-scenario). But on the other hand, the amount of synthetic insulation it provides would be good for the much-more-likely standard wet/cold weather you most often run into up there. It's pretty light, not too bulky, is cut well enough to actually climb in (as well as wear around camp).
Another good jacket from MontBell
Familiarity:

I've used it once or twice and have initial impressions

Fit:

True to size
Very functional jacket. Enough space for layers, two-way front zipper which is necessary for harness (I snow board). The shell is on the thin side which is important for climbers, but not very good for snow boarders. I had to return it because Patagonia DAS parka is warmer.
Got this just in time as Boston is single digits. This thing is warm and well constructed. I'm 5'10" and 195 I got a Medium which gives me a little room for some layering but not much (34W). I think my arms are slightly shorter thus it just runs a bit long but otherwise great jacket.



I replaced my Mountain Hardware Compressor with this one and the thermawrap is definitely more heavy duty in terms of warmth and material (heavier too).
Does the hood on the montbell thermawrap...
Does the hood on the montbell thermawrap guide jacket zip off ?
Best Answer
The hood on the MontBell Thermawrap Insulated Guide Jacket is adjustable, helmet compatible, and detachable (zips off).
what temperature is this good to? Thanks...
what temperature is this good to?



Thanks Thomas--it's for toodling around outside mid-state to upstate NY. Sounds perfect.
Best Answer
Hey MP!



Measuring temp ratings on jackets is a pretty tricky thing--so much of personal temperature comfort depends on individual metabolism, activity levels, etc. While you may be comfortable in a jacket in 0 degree weather while you ski a hard line, you might be freezing cold sitting around on the lift when you finish that run.



That being said, this is one of the warmest synthetic jackets we sell--the 150 grams of exceloft is toasty warm, and this jacket would be great as a piece to wear around town in a moderately cold environment--for most people, this jacket will be warm for light activity until about 10-15 degrees in light or moderate wind.



Hope that helps!
Incredible Jacket
Familiarity:

I've used it once or twice and have initial impressions
Well, I only had this jacket for a day, I'm so impressed I'm ordering another, its warm in about (15) sorry its the lowest it got with only a long sleeve T under, its light and very comfortable, I needed a jacket to just kind of hang out walked the dogs etc and this jacket fit the bill, I love Montbell products they are very well made and reasonably priced. About size: I'm 5'8" 175 and the M fits perfect even with a 4 ply cashmere sweater for a mid layer over a SL tee ( a little over kill)But I need to see how it fit, plenty of movement and not claustrophobic at all.
Does anyone know of a more popular jacket...
Does anyone know of a more popular jacket to compare this to? I?m very interested in this product, but I don?t really like big, puffy coats. It?s hard to tell how big it is because I can?t find a picture of anyone modeling it. Thank you!
Not puffy at all, this jacket its not a bulky jacket like say a Montbell dawn EX parka, it has plenty of fill but lays relatively flat
Anyone have suggestions about a shell to...
Anyone have suggestions about a shell to wear over this?
When you are asking what sort of shell to wear over this, what sort of weather are you thinking you'll encounter if you needed to don a shell? Or are you just wanting advice as to a general, all-around shell that would comfortably accommodate the jacket underneath without making you feel squished inside both?
Just a nice light rainproof jacket I like the Patagonia Rudine super light and you can carry with you everywhere


Is this jacket warmer than the The North...
Is this jacket warmer than the The North Face Nuptse 2 jacket?
The standalone warmth will be similar between these two pieces. The TNF Nuptse will pack a little smaller, which will be its biggest advantage, and perhaps will stand up to father time a bit better (synthetic insulation goes flat over time). The Montbell piece will be better in damp conditions, and should be hypoallergenic. Hope this helps you out.
I bought this jacket as a replacement for the Mountain Hardwear hooded compressor jacket. I also really liked that jacket. As far as the fit goes. I'm about 6'2" and about 170 lbs and the large fits me really well. I initially tried the XL but the sleeves were too long ( I have pretty long arms even) and I just felt like I was swimming in the jacket.

This is a little thicker and warmer than the compressor. One feature that I love is the neck of the jacket zips up independently of the hood. That way you can keep your neck warm without being forced to wear the hood. Also has plenty of pockets for just about anything I could want.
I only brought one jacket, Im glad this was the one!
If first impressions are the most important then this would have 5 stars. However, since I expect my gear to last, one outing doesn't get it there.

However, on a weekend Pig Hunting trip, me and a friend decided to hike in and stay the night somwhere around Coalinga, CA. I am new to backpaking and the layering I need to keep warm so my previous trips I have been miserable cold or misserable from carrying half the coat closet. I almost fell into this trap again, I was going to leave this and take about 4 other layers, but at the last minute I took all that out and decided I would make it or break it with this alone.

We were hiking all day in high temps and by the time we got back to camp I was soaked with sweat. Before getting too cold I immediately put on my LS Smartwool shirt and this jacket. It breathes nicely so I was not uncomfortable while it was still 60* but I started getting nervous as the temps were steadily falling and all I had was this jacket and hood (no beanie) and my smartwool base. As it cooled off I was slowly zipping up and then the hood went up then cinched the bottom. It wasn't until my legs started getting cold that I looked at our thermometer and it leveled off at about 25* and I was still comfortable. I was thoroughly impressed that I was still warm. This will be my go to for cold temps without doubt. Sorry I am getting long winded I am just stoked on this jacket.

A couple of quick points:
1. With a Smartwool Base I was warm @ 25* (quick add to note that this was sitting around)
2. The provided carry sack is nice but with the use of a quality stuff sack I got it down to about the size of a cantelope melon.
3. The material that lines the collar and hand warmer pockets is amazinly soft.
4. The mesh liner pockets are ampley sized to keep your mittens and beanie close to your body and warm when they are not needed.

CONS:
The only con that I can think of is that there isn't much of a season for me to need it in Southern California. Actually, I think the only real criticism is the wrist velcro seemed a little weak.
Had this jacket for a few months now, and couldn't be happier. Light weight, functional two-way zipper, and a solid detachable hood that fully accommodates a helmet.. I'm big on Montbell and believe they make a durable solid product. The only difference between this jacket and other Montbell jackets is this particular model is sized a bit larger than the others. I learned this through originally ordering a medium only to find out that it was too big.. At any rate, this is a keeper. Warm , rugged , stylish, and perfect for cold days as a stand alone, or a layer when its dumping.. Never going back to down again.. Highly recommended product, and another great Montbell product..
Just what I needed in Pacific Northwest area!
I bought MontBell Thermawrap Insulated Guide Jacket because it has synthetic insulation and it's weight is comparatively light. I climb in the Northwest where the humidity tends to be high. I'm usually drenched in perspiration even when I'm wearing only the base layer after a couple of hours on the hill. I needed a belay jacket type with an insulation that doesn't collapse in high moisture environment like down and MontBell's Thermawrap Guide Jacket fit the bill perfectly. Like all the other MontBell's products, I love the no nonsense, well thought out design that work well in the real world. No gimmicky stuff here.
Would this Jacket be considered windproof?...
Would this Jacket be considered windproof? I am trying to compare it to the Outdoor Research Chaos, which will be my alternate Puffy Layer.
It's not windproof, but highly wind resistant. Something comparable with windstopper shell would be the arcteryx kappa jacket