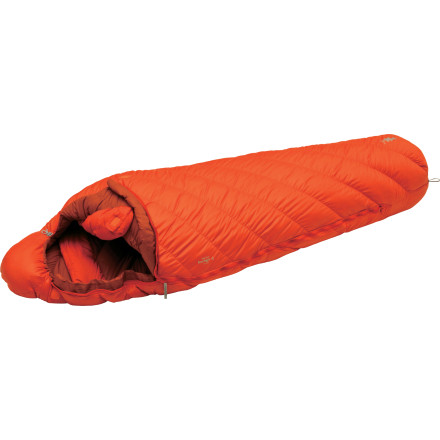 Videos
A solid night of sleep brings your body back from total exhaustion, and the down 15-degree MontBell Super Spiral Hugger #1 Sleeping Bag helps you snooze comfortably during cold backpacking trips and mid-winter yurt excursions.
Rated down to 15F, this bag is best suited for spring through fall nights in the mountains or winter nights in milder climates
650-Fill down and Multi-Tube Construction with Flow Gate locks in your body heat for a toasty sleep without cold spots
Tough nylon outer shell withstands trail abuse and a DWR coating prevents moisture from seeping inside the down
A double draft tube inside the zipper, adjustable tunnel hood, and draft collar seal you off from exceptionally cold air
Super Spiral-Stretch System uses a biased cut fabric, elastic stitch, and gathers in the quilting so the bag stretches with your movements, keeps the down close to your skin, and eliminates dead airspace
Auto-locking zipper doesn't move during the night and joins your bag with another MontBell bag; left and right zippers available (depending on inventory)
Compression stuff sack packs the bag down to its 7.5 x 14.8in size and a storage sack helps you preserve the lofty down fibers
Available for shipping only to US and Canadian addresses
So Comfortable It's Worth The Weight
Familiarity:

I've put it through the wringer
It's the end of a long day of hiking/climbing/mountaineering and you're cold, sweaty, and feel like crap. Slipping into this bag feels heavenly... there's a reason they call it the Down HUGGER. It's like there's some angelic creature hugging you with super warm, soft down telling you it's going to be OK.



For most people, the weight will not be an issue. I mean, yeah there are lighter options (Montbell also makes an ultralight version which uses a thinner fabric and higher fill power down) but we're talking a few ounces of difference. Unless you are trying out speed ascents in the Karakorum the weight will not be an issue.



The best thing about this bag is that you can hang out in the tent (yes, you can sit cross-legged while inside!) while still in your bag. When it's time to go to sleep you just lie down and pass out. I got the long version since it has enough room in the toe box to stick some boot liners and socks (so they can dry out). Usually, a bag that's too long or too big will be cold, but the elastic nature of the bag makes it so the down comes in and 'hugs' you effectively eliminating any large cavities.



I cannot recommend this bag enough. I've used it during a winter backpacking trip in Yosemite down to 10F and slept like a baby (wearing lightweight merino bottoms and a top).



One caveat... the hood design needs work (it can leave a hole for air to escape if you don't position it just right).




Large Athletic Male
Gender:

Male

Familiarity:

I've used it once or twice and have initial impressions
I am 6'6" 260lbs. Im built like a football player no belly. My problem with sleeping bags is they're always too tight in the shoulders and rarely long enough as Im pushing 6'7". I love backpacking and camping though and have been seeking a comfortable yet light and packable bag. I just received my montbell super spiral down hugger #1 long today and I will backyard test it tonight. It feels incredible in that I fit and Im not pinned in like a sardine. That said I also tried the Nemo bags, the spoon design ones and they seem incredible. I will backyard test both and pick a winner.

Montbell

Pros:

Snug fit seems more thermally efficient

A little cheaper.

Cons:

heavier and less roomy than the nemo.(i can kind of cross my legs but not really)

Nemo nocturne 15 long:

Pro:

lighter and higher loft down (700)

down is downtek treated

More spacious (i can easily cross my legs)

Pillow pocket!



Cons: more expensive and sadly backcountry doesn't carry it yet as i would love to buy from them.

On that note backcountry is the greatest company. I ALWAYS come here first and only buy elsewhere if they don't carry it. They always take care of me and have very competitive prices and incredible service. Lindsey S. Helped me with my bag just now and really saved the day! The 5 stars is for the fit and finish I will update after testing it.

Other big bags I tried that didn't work. Big Agnes Summit park, Mountain Hardware Lamina.
I love this bag! Kept me nice and toasty during a late September backpacking trip high into the Rockies. Light and packable!
Toasty
Familiarity:

I've put it through the wringer
Bought a pair of these for wife and I. We used them in everything from 10 (long johns and a shirt) to 70 F (of course, unzipped) and they worked great. We got them with opposite zippers, so if needed you could zip them together and probably go down to 0. Lots of room for spinners.
This bag is so comfortable it's ridiculous. I am a tosser and a turner and side sleeper sometimes as well and this is the only bag I plan on using (or any of its spirally siblings) ever.
Also, does it matter what side the zipper...
Also, does it matter what side the zipper is on? I think I'd like a right zipper, but I know it's related to zipping on another bag.
Best Answer
If you aren't ordering a set, it doesn't matter except that a right zipper is easier if you are right handed.
I am new to camping, but I am looking to...
I am new to camping, but I am looking to buy a quality sleeping bag that I might also use for backpacking. My friend recommended Montbell. These are probably dumb questions, but how do I find out what length I get? How much extra room should be at the bottom? I am 5'6". Also, what do you do if you get too hot? Just unzip the bag?
Best Answer
Montbell is good, I prefer Marmot, but to each his own. If you're 5'6", you want a regular length, size Long sleeping bags are made for people over 6'. And yep, when you're camping i warmer weather, you can just unzip the bag and you'll cool off considerably.
REI has Marmont Helium on sale too...why do you like Marmot better?
The helium is a great bag. I've just had very good experiences in the past with Marmot, and I own several items from them. I've used Montbell stuff before, but still prefer my Marmot alternatives.
I would recommend the Montbell over the Marmot. Marmot makes very high quality bags(I own an older marmot) but the Montbell Spiral is one of the best on the market. I like the flex of the bag, performance and craftsmanship. At 5 foot 6 inches the regular should be adequate. If you have dead space at your feet then you can put your clothes down there to keep them
warm and avoid a cold spot. Best of luck to you.
This is a great bag, just used it this weekend and was snug as a bug the entire time! The sprial functionality keeps the bag from twisting up and causing you to get in and out of the bag. Great purchase!!
So taking a look at this bag, the stoic...
So taking a look at this bag, the stoic vamp 15 down, and the stoic vamp 30 down. All seemingly good bags, but one thing that HAS caught my eye is the shoulder circumference measurement on this one. 75in seems like a lot...I grabbed a bodybuilding.com measuring tape i have at home, pulled it out to 66in (the shoulder circ. measurement on both stoics) and that alone seemed plenty roomy if i wanted to sleep with both arms up at my chest/chin.

Does anyone have any experience with this bag that can chime in here? I'm 6' and about 170-175...and thinking i don't want too much upper-torso roominess.

thx
MontBell tends to have bags with a bit of a stretch to them...I can't say the same for stoic except that they are a solid brand. Its a mummy style bag either way so its not gonna be crazy roomy. You should be fine with either one, just pick which ever temp ya need and go with that one.
Montbell Super Spiral Hugger #1
I bought this bag earlier this year and have been using it for about three months. This new model above seems slightly different. I have used the bag down to 20 degrees and up to 75+ degrees so far, and it has held up well (I'm neither a hot nor cold sleeper). The stretch is less like elastic waistband than I expected, more like the straight from the dryer effect, but less sticky. I can sit comfortably with legs crossed, and transition from back to stomach to side without waking up on the zipper. One cool point -- I camp with my 35 lb. dog and she has started to climb into the bag with me in the cold morning hours. The bag stretches to fit us both and has been holding up well to her claws. I also grab the bag whenever I travel now, and more often than not, end up using it to crash on a couch, floor, or crummy motel bed. It makes the mornings that much easier. It has also cleaned up well after someone spilled a can of Black IPA on it. I recently picked up a Scale to Summit dry compression sack for it - the small is the same size as the stuff sack, pre-compression, but takes a little wrenching to fit. This bag was a solid investment; I will buy another.