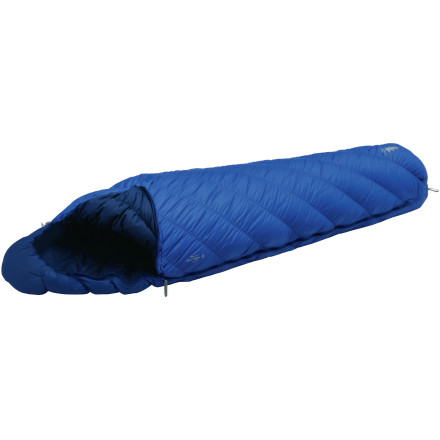 The 40-degree MontBell Super Spiral Burrow #5 Sleeping Bag won't mind if it gets a little soggy on your spring, summer, and fall trips—the silicon-coated synthetic insulation dishes out pleasant warmth despite drizzle and dew. And if you hate that mummified-in-a-bag feeling, you'll appreciate the unique stitch design and stretchy thread that just might leave you wondering if you should stay away from home a bit longer.
Comfort range hovers at 40 degrees F for the average backpacker/camper, while the lower limit allows guys who run hot to snooze in temps as low as 34F-degrees—ideal for high-elevation sites in summer
EXCELOFT synthetic insulation features siliconized fibers to slow down water absorption from condensation or direct water contact
Super Spiral Stretch System consists of biased seams and elastic threads that move with you throughout the night—keeps the bag close to your body to minimize cold spots without making you feel closed-in
Mummy shape reduces overall size and weight so you can add another layer to the pack or log another mile before it's time to set up camp
Left- and right-side options of the two-way auto-lock zipper means that yours and your partner's MontBell bags can zip together when conditions turn from poor to miserable
What do you think about this product?
Have questions about this product?
Great summer bag.
Familiarity:

I've used it several times
I got this bag to compliment my UL Super Spiral #1 in the warmer months of the year. While there's a small part of me that wishes I'd chosen a second down bag (I still may!), this Burrow bag is a better choice with a wider range of uses.



I chose synthetic for two reasons: A) the traditional warmth when wet tripe, and b) when the dogs jump on it and shred the fabric, the insulation won't blow out all over the inside of my tent again. Yes, that happened. It looked like a chicken was murdered in the tent.



While the Burrow Bags don't have as much mechanical stretch as the Super Spiral series, there is still enough to allow movement inside the bag without creating cold spots. It's not as important in the summer anyway.



Great bag for summer backpacking and car camping. Look elsewhere for ultralightness.
Good bag. Used on AT in Pisgah Ntl Forest in beginning of June. Certainly warm enough. Can be a bit tight around shoulders but light weight, easy to dry, did not get wet with the stuff bag and pack cover and what little was wet dried quick enough.
I bought this bag after using the 0 degree synthetic bag this winter. The bag is so comfortable, water resistant, and packs down pretty small. I have spent ~70 nights in this bag over the course of this summer, and I don't want to sleep in anything else. The stuff sack is about as long as my fore-arm and as big around as a football, without any compression, and at just over two pounds its light enough for me. I would recommend this to absolutely anyone.