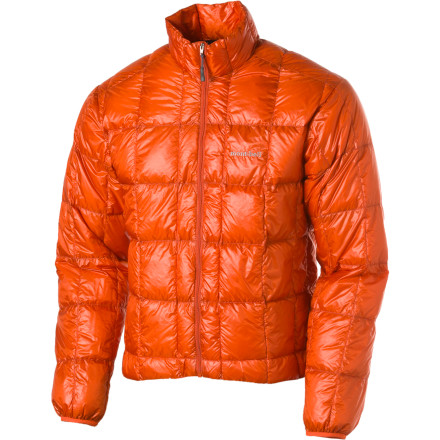 Detail Images

Community Images
Forget fanciful names inspired by Himalayan peaks; the Montbell Men's Extremely Light Down Jacket tells it like it is. At a wispy 5.7 ounces, this ultralight down layer provides high-loft warmth for demanding climbing, skiing, and backpacking applications. Stuffed with feather-light 900-fill goose down, the Extremely Light Jacket packs down to nearly nothing and fluffs up easily when a frigid gust hits the belay. A DWR-coated Ballistic Airlight shell brushes off snow and light drizzle, and the included stuff sack helps it disappear into your pack when you're on the go.
Love it
Familiarity:

I've used it several times

Fit:

True to size
I purchased this product recently for a backpacking trip to the north rim and camping Demott camp ground, Kaibab NF. Temperatures got down to 40° jacket served me well and I didn't miss the pockets. In its stuff sack it doubled as a comfy pillow. In colder temperatures I have stuffed it into the base of my sleeping back to keep my feet warm and on other times I have worne it to bed to help keep me warm in my sleeping bag. I would recommend it to a friend.
Like a fluffy little cloud
Familiarity:

I've put it through the wringer

Fit:

True to size
Really. This thing is warm and oh so light. I carried it with me on a 21 day backpacking trip and it quickly became a new favorite piece of insulation. Lots of good reviews here so I'll just add that the DWR was surprisingly good. Not that I expected it to be bad, but I figured I'd have to be more concerned about small amounts of precip and this wasn't the case. This is a great layer on its own and paired with a solid rainshell it creates a trusty system for very cold conditions. That being said, if you want a light insulated layer that that is bombproof on its own, check out the Rab Xenon X.
so warm!
Familiarity:

I've put it through the wringer

Fit:

True to size
Great light down jacket! Wish it was a bit longer, but it actually ends up working well by staying out of the way of the harness and tucked underneath outer shell for tough weather.
Trippin' The Light...Fantastic!
Familiarity:

I've used it several times

Fit:

True to size
OK, WHere Do I Start? 900 Fill Down...Like Almost The Best The Goose Has. 5.7 Ounces And Compresses Into A Stuff Sack The Size Of A...Well, A Goose Egg...Wow! And The Cactus Green Color Was Perfect For My St. Paddy's Day Hike. It Fits Perfectly Under My Rain Shell. Seriously, I've Been Drooling Over This Jacket For A Year, And Couldn't Be Happier With It. If You're Thinking Of Going Ultralight, This Jacket Is A Way To Save Ounces (I Saved 13.6 Ozs Over My Previous Down Jacket).

-Moondoggie AT2011
Close to perfect
Familiarity:

I've used it several times

Fit:

True to size
Extremely light weight, feels almost nothing on hand. I used it for both climbing and everyday work. Some cons that I would like to point out: 1) too short to cover my waist although the size I got was nice of the arm length. 2) No pocket but I can understand it is for weight saving. After all it should be used as strictly middle layer because the design, as well as the shell material.
I only wear this jacket a couple times a year but I'm glad I have it in my quiver of jackets. More often I'll have the jacket with me in case I need it. I'll always have it in my ski or snowshoe pack just in case a friend or I will need it. I love how small it compacts and how light it is. There's always room for this to accompany me on my cold-weather outings. This jacket does run a little small on me. I'm 6'1" 175 lbs. athletic build and I have a medium. If I had a large it would be a little more comfortable but I probably wouldn't end up wearing it more. I'm just not a fan of down jackets because they're so noisy. But their weight to warmth ratio is amazing and I haven't found anyone who does it better than MontBell. Because I'm not looking for reasons to wear it, I'm giving it 4 stars.
Tested this jacket this past weekend and it was fantastic! Had a t-shirt underneath and used this in the morning cold and I was nice and toasty.
I ordered this jacket for my husband. I have had one for a couple of years now. This jacket is extremely light, compact, and warm. Recently we were on Springer Mountain in 40-5o mph winds and the temperature was 23 degrees F. I had on a base layer, a lightweight fleece jacket by Columbia, and this jacket as my outer layer and I was toasty warm. This past week we were in New Mexico in conditions in the low 40s but low humidity. My husband had on a t-shirt and was chilly. He put on his new jacket and commented that he could feel it warming up immediately. We are ultralight backpackers and we are very happy with the minimal weight and space taken up in our packs. This jacket has no pockets, which is perfectly fine with me. If you want pockets, take a look at Montbell's other offerings, especially the U.L. down jacket. BTW, our experience with Backcountry .com was exceptional! Really fast service and a great guarantee!
Love this one. so light you dont even feel it. no pockets for your phone but thats ok, jacket so great, just wear as a sweater
Don't know its there till you need it
Gender:

Male

Familiarity:

I've put it through the wringer
I've had this ex lite jacket in my pack for a while now. You've got the camp wok done, had your dinner, maybe have a little camp fire....time to share the day. I snuggle up in this jacket tht I couldn't even tell was in my pack all day and presto! the chill is gone, what a good finish to a perfect day.
Extremely light, very warm for its actual bulk and feeling. Its like wearing a shirt, I don't have to take it off when I go inside but it keeps me from getting a chill when I go outside. Plenty warm for a mid layer under a shell on a 40 degree day, great add on inside a sleeping bag. Its very comfortable. If it gets all nasty from excessive use (you may not take it off except to wash it) just use a little nikwax in a washing machine and it comes out new again. For the lightness of the fabric its supprisingly tough, but it is a delicate garment. However I am hard on gear and this one holds its own.
Let's see, this little beauty packs down to the size of my fist, is super light-weight and warm. It's also perfect for layering. I've used my MontBell for travel, hiking, snow sports, and just chilling, even though my wife doesn't really like how it looks, to sporty I guess. But I think it looks radical, and it's the coziest clothing item I own. I've taken this jacket to Iceland, New Zealand, Netherlands, Croatia, Switzerland and all over the western US. It sheds water, but isn't waterproof. All in all, this is the perfect layering jacket. Why buy a fleece when you could instead make the best purchase of your life and pick one of these lovelies up?
I have an older of these jacket. It was really good, but tended to leak feathers a little. This never version does not seem to at all yet. Very warm, and so easy to pack around.
Great jacket, but read caveats
The jacket itself is unbelievably light, while offering an admirable level of warmth. Initially I was concerned with the strength of the 7-denier, not 15-denier as BC lists, but after inspection that fear has dissolved as long as care is taken. The jacket lofts up nicely once it is taken from the package, shaken out, and the fabric stiffness has worn off. It packs down to nearly nothing, and again weighs even less than you can comprehend.

Now to the potential negatives, but not enough to warrant a downgrade in my opinion, is the fit. Torso length on the jacket falls right around the normal waistline for pants/shorts, if not just above, while the arms are slightly long and baggy. Keeping in mind this is meant as a mid-layer, and that it is down insulation, the short torso makes sense for wearing underneath outer layers, so as not to be exposed. Moreover the function is to heat the body's core, which it does well. Sleeve length is, again, slightly long and baggy, but not to the point of being cumbersome or incurring down compression reducing insulation.

All in all it fits and wears comfortably while offering my expected level of insulation; neither the sleeve length or bagginess impeded wearing it beneath a shell. As long as care is taken with the fabric, i.e. not bushwhacking through underbrush without a shell, it should hold up respectably. It then is the perfect piece for its intended application.
Ex Light & Nano Puff Vests
Just a comparision between the two pieces, mostly for purposes of luster and size. Some folks say the Nano Puff is shiny, but it is clearly pretty low-key next to the Ex Light Vest in Gunmetal, even though it's a black Nano. Also for size. The Nano on the left is a size Medium; the Ex Light Vest on the right is a Large, and they are almost identical in size and fit.
Awesome Jacket but M a touch small for a 6'1, 170 lbs
Bought it over Christmas. Solid piece. Very warm. Looks good. Light as hell. Short in the body, arm length (I'm a 34.5) is perfect. If it's just going to be worn as a mid-layer, no probs. I won't be wearing this halter-top out to the bars though.
Does anyone know if the gunmetal is less...
Does anyone know if the gunmetal is less shiny than the other two colors shown above? It appears to be in the pictures but wasn't sure if that was just lighting, Thanks.
Unfortunately, the 15D fabric is going to be shiny, no matter the color. MontBell uses a process called calendering that flattens the individual fibers. It makes the fabric more downproof, but also has the side effect of making you look like you're stepping out of a fetish ball. Form over function, right?
Best Answer
The gunmetal is a cool color (I have it in the Ex Light Vest), but make no mistake, it looks exactly like a Hefty trash bag. I posted a couple photos for you and anyone else who might be interested.

As previously stated, the calendered fabric will be shiny in the Ex Light and UL Down lines (at about the 30-denier Ballistic Nylon shell, or Alpine Light stage, the shine tones down considerably), but certain colors look better shiny.

And just info, Dave Marcus and the BC sidebar are incorrect, the Ex Light has a 7-denier Ballistic Airlight calendered nylon, not a 15-denier, which is the shell fabric used in the UL Down line.

And if I bought one of these, I would have to go for the Sunset Orange or Sax...
It's funny because the stock picture of the gunmetal looks very matte finish. This isn't new for '12 is it? I would like one of these if they could make it a matte finish.
I love this thing. Best midlayer I've ever worn. Warm enough on it's own to wander around Telluride at night in February (you might need to stop into the Last Dollar for a warm up.. but hey.. it's a down sweater!), and just perfect under a shell. Dries quickly, and holds it's loft well. The fabric is delicate, but then again, that's why it is so light and packs up so small.... 100 percent recommended. Fits fairly trim (I am 5'-10", 185 lbs and the medium is just barely big enough)