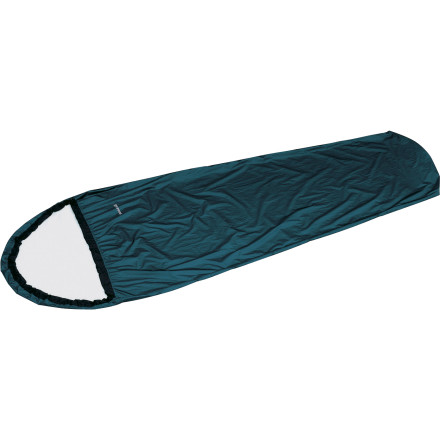 Don't let rain ruin your fast-and-light backpacking trip. MontBell's Breeze Dry-Tec U.L. Sleeping Bag Cover allows you to sleep dry inside of your tent or out. Extremely breathable Dry-Tec material and fully taped seams prevent internal condensation, while at the same time keeping rain, morning dew, and other sneaky water droplets where they belong—off of your mummy bag. In the true spirit of ultra light camping, the Breeze Dry-Tec U.L. weighs a measly 6.3oz, riding virtually unnoticed in a corner of your pack.
Available for shipping only to US and Canadian addresses
Dimensions of Regular vs. Wide/Long? The...
Dimensions of Regular vs. Wide/Long? The dimensions are listed as 88.6 x 33.1 in, but then there are two sizes to choose from--Regular and Wide/Long. What are the dimensions of each size?


The dimension listed is for the regular. For the Wide/Long it is 98.5" x 37".
Sweet addition to sleeping system
This is a great addition to a sleeping system. You can use a lighter sleeping bag, an ultralight tarp and this and have a very versatile system ready for any conditions.
Unanswered Question
Anybody gone with this as a true bivy and...
Anybody gone with this as a true bivy and as their only shelter? I know they call it a "sleeping bag cover", and not a bivy sack, but that's just semantics as far as I'm concerned. I'm gving it some thought; I'll have to say that at 6.3 ounces it is tempting, as I'm currently using a mont-bell Crescent 1 at ~2.5 lbs., and I could save some serious weight going to this. Slide my mont-bell 90 half-pad and UL Super Spiral Down bag inside, and throw my feet up on my pack. Justin? Anyone?

Edit/Update: Just got my mont-bell catalog, and it says this bag is not designed to accomodate a pad inside, and they recommend a ground sheet. I'm torn; I still think I could pull it off, but I'm going with a Titanium Goat Ptarmigan for now...
How much warmth would this add to your...
How much warmth would this add to your sleeping system?
Best Answer
Mont Bell doesn't have any specs that I can find in that area, but instead touts the waterproofness as it's main feature. As Mike mentions, I would imagine that 5-10 degrees is about right. If you're looking to add to your bag's rating, and using it as a bivy sack is secondary to that purpose, check out Sea to Summit's Reactor Thermolite (STS 0085) which they claim adds up to 15 degrees, or the Reactor Thermolite Extreme (STS 0084), which is supposed to add up to 25 degrees. Both can actually serve as sleeping bags in warmer weather, pack down small, and cost considerably less.
This adds 5 to 10 degrees to your bags warmth, it depends on the night though and how windy it is, damp it is, etc. It is a great addition to a tarp system.
It's hard to see in the single photo provided, but there's no entry/exit closure like a zipper or velcro, except going out the top of the bag. That was a deal breaker for me. Everything else about the sleeping bag cover was great and would have been perfect, except for that one detail. I was sorry to have to return it.
Can you tell me about getting in and out...
Can you tell me about getting in and out of the MontBell cover??Can I leave my sleeping bag inside the cover and roll it up to be put into a compression bag??
You certainly could do that, but I bet it'd be a big pain. (I've never tried it myself.) The cover is waterproof/breathable, so it's going to be difficult to get all of the air out when you're trying to stuff it.

BUT it's super easy to take your bag in and out of the cover, and the cover compresses by itself down quite small, so packing them separately shouldn't be a problem.
Best Answer
You could do that but I wouldn't recommend it. It is good to get your bag out of the bivy so that it can breathe and get any moisture and dampness out. Sometimes there can be a little bit of condensation on the inside of a bivy like happens on a tent fly.
I bought this cover for a trip to the Yukon Territory where I didn't know exaclty what our sleeping conditions would be. I get cold very easily (we're talking frozen to the bone when the temp is right at freezing in a bag rated for 0). Point is, I'm a complete wuss in the cold and was worried about freezing, and getting my bag wet and dirty. I only used this cover a couple of times, and the first time I pulled it out of the stuff sack, I admit I was afraid of not being able to get all that material back into that tiny space (it was NO problem), it not only kept my bag clean and dry, but also added a little bit of warmth-exaclty what I wanted. I highly recommend this cover, but like the other reviewer posted, it is probably best if you are sleeping in a tent, since there is nothing to cover your face.
Montbell Breeze dry-tecThe tiny tot bivy
This little guy will fit into the palm of your hands providing you protection against the elements. Out of its tiny stuff sack comes alot of material: its frankly amazing. The nylon seems thin but strong as does the drytec laminate. I would still be careful with it like any piece of UL gear there has been a reduction in durability in order to save weight. The breeze dry seems to be working, I've slept outside a couple of times with minor condensation on the inside. Its quite comfortable with the top open how ever with it closed the night could be a long one due to breathability and there isn't much room to move around inside: the bivy moves with you which is nice because the air hole is always right in front but it can also be confining. I suggest bringing a small tarp to put over your head in order to avoid closing it up so tight and so water doesn't run into the top opening.
I would't suggest this in a super rainy environment unless you are just using it as a bag cover inside your tent. For occasional storms and moderate weather its perfect.
I'm in the market for a bivy/sleeping bag...
I'm in the market for a bivy/sleeping bag cover. How does the MB Dry-Tec compare to the OR Micro Night?
Best Answer
The MontBell Dry-Tec is a sleeping bag cover & the OR MicroNight is a bivy shelter system which would give you much more protection from the elements.
The Montbell bivy is the lightest waterproof bivy on the market and it breathes as well as event and has very little condensation. I put it in the bathtub with 4 inches of water for several hours and my bag came out dry. I did seam seal it. In my opinion all bivys should be used with a tarp. I've used this bivy for several years and have nothing but praise for it. I did finally take it to my dry cleaner and I had them add a waterproof zipper.