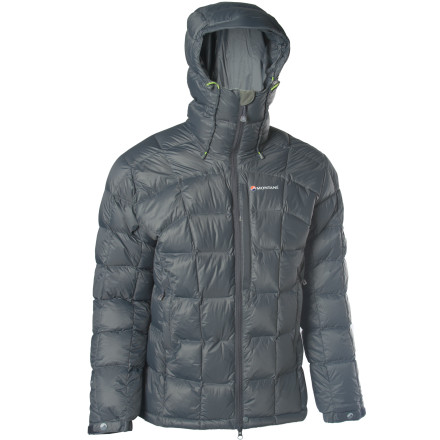 Detail Images

Community Images
From basecamp to the bivy ledge, the Montane Men's North Star Down Jacket has but one purpose—protect your core from epic cold. Stuffed with 800-fill goose down and designed with mini baffles to eliminate cold spots, the North Star packs massive warmth for just over a pound. The stowable, brimmed hood keeps out spindrift, and the included waterproof stuff sack makes for compact storage in warmer temps.
Unanswered Question
Hey guys, like many others I was wondering about size.. Im 5'll 188lbs and plan on wearing 2 to 3 thin layers under it. Thanks
Hi guys I'm 68 kg, 182 cm tall, 95 cm...
Hi guys

I'm 68 kg, 182 cm tall, 95 cm chest. What size will be right for me? Thanks for help.
bart,

I realize the sizing chart has the 38" chest at a small but I don't feel that is accurate for how this jacket fits. I think to get the arm length you need and to have any hope of layering you will want to get the medium. I think you will be very pleased with that size.
Thank you for reply. I have another question. :)

I tried Rab Neutrino Endurance Jacket. Could you tell me which jacket is less bulky (more fitted) in chest and waist area (Rab Neutrino Endurance or Montane North Star Down)?
Best Answer
bart,

The Rab Neutrino Endurance Jacket is listed as an athletic fit while the Montane North Star Down is listed as regular. This can be helpful information, but less so when it is not two jackets in the same brand. My personal experience with the Rab Neutrino is that it fits close to the body but it feels bulky and looks bigger than the Montane North Star even though they are almost the exact same weight. The Montane North Star on the other hand, does not fit quite as snug but looks trim and give you plenty of maneuverability. If trimness is a big factor for you I would favor the Montane North Star, though not by a substantial margin.
Thank you again for your help.

HAPPY NEW YEAR!!
Hi guys, my chest measures less than a...
Hi guys, my chest measures less than a fraction shy of XL but my waist is only 'just' big enough for M. What's your advised size? Also, the 'burnt orange' jacket pictured here looks red, whereas pictures on other sites are distinctly different (more orange). Is this sites picture meant to be red? Thanks a heap!
It's possible you have measured in a different part of the waist that the size chart is referring to. However, in case it's factual I would say go with a large and it should be a good fit for you.
Hi Caillin,



If I were you I would size to your chest. If you size to your waist, you'll find that the jacket will be uncomfortably tight and restricting. Better to have more room than less--that way you can always throw on a few more layers when it gets bitter cold. Plus, the North Star has an adjustable elastic waist draw to cinch things up down there.



The burnt orange is definitely more of an orange color than a red color--I'm not sure why our site is showing it as red, but I'll get that looked into right away.



Hope this helps!
I would size up in any euro brand. They run small especially in the shoulder and chest area
I'm 5'10" and 165lbs. Should I go for M...
I'm 5'10" and 165lbs. Should I go for M or L size?


Chris,

I would definitely for a medium in Montane North Star Down Jacket. That should fit well but still give you some room for layering. The large would just be too big.
This is my favourite light down jaket.
Familiarity:

I've put it through the wringer

Fit:

True to size
This is my favourite light down jaket. I've bought this jaket in 2001 in red colour. Size M. My height is 1,8 m (5,9 ft), weight 70 kg (155 lb).

This jaket is quite warm for it's weight. I had been using it at temperature from 40 F to 0 F with fleece jaket. During all that time all zips and ties were working perfectly. Front zip (even some complain about it) is also very good, you get used to it very fast. It's two-ended so it's very comfortable when you sit in the car or for waist harness. Also the jaket is a little bit longer than others of the same kind. The back of jaket is longer so it's covering your back. Even when you bend, it doesn't. Down is not coming out, like in all good down jakets. Upper shell is not worn out at cuffs and sleeves, what is logic for that price. In 2012 my brother bought the same jaket. His weight is 83 kg (183 lb) and height 1,87 m (6,1 ft). The model from 2012 has inside pocket, what is an advantage. It would be good if there were one more inside pocket made of net.
Great jacket, but arm length an issue
I thought it worthwhile to add to the other reviews a note about sleeve length/articulation. When I put this on I loved the fit (size L jacket on 6'3" 175 lbs.). The sleeves on me were great when slack at my side, falling below my wrists. But holding my arms in front brought the sleeves well up my arm, a good quarter to a third b/w the wrist and elbow. While I found this a well-engineered jacket (loved the way it hugged my body and Montane hoods are brilliant) in most respects, the engineering on the arms didn't work for me in a piece that fit great otherwise.
VERY nice! Could be a little warmer.
Gender:

Male

Familiarity:

I've used it once or twice and have initial impressions
After trying the Marmot Ama Dablam, and Guides Hoodie, I chose this for my daily commute to work. I really liked it but decided to return it for something with more wind protection and wrist/thumb gators to keep the sleeves down.



It is warm, but I expected warmer from 224 grams of 800 fill. You can wear a t-shirt under in temps down to 30F. I was hoping for more warmth.



Contrary to other reviewers, I found the zipper to be fine.



It does leak a little down, but I found that acceptable. Though I did wonder what that would mean in the long run.



Overall, I found the quality very high. It's made of good material and looks really nice. I was hesitant to send it back.
No, it's not the Pepsi logo!
This jacket is ridiculously warm and full-featured for how light it is. It's so easy to get a perfect fit with this jacket due to the adjustable cuffs, hem and waist adjustments, aperture cinches, and velcro on the back of the hood to pull the visor out of your eyes. The Jacket also has a good DWR, and is surprisingly wind resistant. The two chest pockets (one inside the jacket) are also deceptively big. I only have two gripes; it leaks more down than my dad's Marmot Zeus ($100 less expensive), and people always ask why I have a Pepsi logo on my jacket, which is much more annoying than the leaking down.
This fits me better than any puffy I've ever had. At 6' 172lbs the size Large fits more like a Medium-Tall than a normal Large. Very streamlined and svelte. The waist cinch and hem cinch really let you dial in the fit.

Montane overstuffed the baffles in this thing with 800+ fill down...200 grams total. That's more than the Patagonia Fitz Roy. You never have to worry about cold spots since the down can't shift anywhere in the microbaffles and if you compress any of the baffles they immediately pop right back since they are so stuffed with down.

The hood is fantastic. Velcro in the back, cinches on the sides, wire brim, and it zips up to your nose with soft material on your face.

The only thing I would tweak about this jacket is to put fleece lining in the pockets to make them that much more comfortable.

Mine comes in at just under 19 ounces on my postal scale. This thing packs a lot of warmth for that little weight!

As far as warmth...much warmer than the Patagonia Down Sweater Hoody, warmer than the Marmot Ama Dablan, almost as warm as the Marmot Guides Down Hoody but much lighter and not as bulky, not quite as warm as the Patagonia Fitz Roy but lighter and not anywhere close to as puffy-huge.

I've taken this winter camping, as a just-in-case insulation layer for snowshoeing, and worn it around town on extra cold days. It has performed flawlessly and I couldn't be more pleased!
I am 5'7" ,145 should I go S or M...
I am 5'7" ,145 should I go S or M ? Thanks for any i
Ummm.... I wrote a glowing review of this jacket awhile ago, but I just got back from a weekend in Colorado and I have to say I am changing my mind. I have had a few feathers come out here and there but other than that the construction is really good, no complaints there. However I did wear this in 20 degree weather with wind chills in the low teens for about 5 hours and I noticed my arms slowly getting cold. Granted, underneath I only had a thin t-shirt but from the reviews I was kind of expecting more. Im going to be spending three months in severe sub-zero weather and I don't think this jacket is going to be enough. Returning it today.
I see that Montane is a British company,...
I see that Montane is a British company, so sizing may be different, and I've read some size comments. But I'm still trying to triangulate the best size for me. I wonder if anyone out there reading may be about my size, has worn the NS and can give a definitive suggestion? I'm 6'4", 185-190, on the slender-athletic side of things. Every athletic jacket I own is from a US company and large is always spot on, but perhaps this rule may not hold here. I prefer athletic clothing to be more fitted than billowy, but still want to be able to move well. Thanks for any suggestions.
It is a little smaller - but take a look at the sizing chart that details that perfectly. Depends on brand in US - I wear medium and some I float in and some I need large.
If it wasn't for the zipper, I would have easily given this jacket 5 stars.... but like all of the other reviews before me said, the zipper is awful! I haven't even attempted to unzip it because I don't want to deal with any problems zipping it back up. But the crappy zipper aside, the jacket is really warm. I wore it today in 30 F weather with a heavy wind and after a while I started sweating. Im going to Russia in 2 weeks, and the temp there will be averaging in the -30's F, so I will let you know how it stands up to that when I get there. Overall though, I am extremely satisfied with this jacket!!!
I am 5'7" 170 should I go M or L ? Thanks...
I am 5'7" 170 should I go M or L ? Thanks for any input
I would say L if not you can always send it back.
I bought this after doing plenty of research. I live in Minnesota and was looking for a nice light down jacket for everyday use. It still isn't crazy cold here yet, so we'll see how it goes, but I tried it out recently on a 34 degree morning and it was def warm at that level. (We'll see when it hits -30F lol)
I've never had an ultralight jacket before, so I was surprised (and a little concerned at first) by the weight; it's VERY light. However, the quality is apparent. It's puffy, but not too much so, and looks good for wearing out in public.
I see what people say about the zipper, but I think people are a little too sensitive; I had a couple times where it was hard to zip, but after separating and trying again it worked just fine.
I'll update this review when winter comes and I have a chance to try it out in really frigid conditions. So far though, it's awesome and I'm very happy :)

UPDATE: Today is the first real "Minnesota" winter day we've had (-16F, -35F with wind chill) so I thought I'd update my review. Now, I didn't spend hours outside, just scraping off the car, taking garbage out, etc this morning, but I felt totally warm with this jacket. I could see how people who get cold easily might want an undershirt or something, but even just light walking from the house to the car, you'd likely be fine. Still love this jacket and wear it all the time :)
Im 6 foot, 165 lbs, should I go large or...
Im 6 foot, 165 lbs, should I go large or Medium?
Best Answer
I'm 5'7, 210lbs (muscular build) and the large was a little bit tight on me in the chest and arms (by tight, it was still comfortable, just not loose like most jackets). Lengthwise was perfect, but I have a longer torso. I went by the measurements in the sizing guide and they were pretty spot on. That said, it's a bit of an athletic fit, so if you want to layer, I'd go with the bigger size.
im 5,11' and 140 lbs should i go for the...
im 5,11' and 140 lbs should i go for the medium or the large?