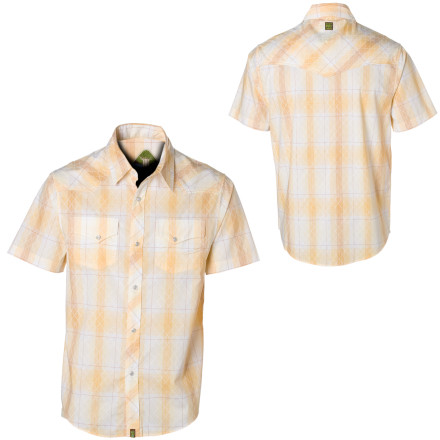 Detail Images
Comfortable, stylin' and keeps you cool in the heat. The fact that it is organic cotton is kind of cool but, with how loosely defined that term has become, it is not really a factor in buying this shirt. Also, I normally wear a large in button-up shirts but this shirt is really big. I went down to a medium and it fit perfectly. Get this shirt for summer, you will not regret this purchase!
Nice shirt, but wasnt big on the collar thing -it kinda sticks up too much in the front.
The coolest shirt I own easily. Styling is very California, looks great with a pair of shades and sandals, the ladies do dig for sure. My only gripe which it is not really, just buyer beware, the shirt fits rather big so make sure if you are in between sizes go down. I wear a medium and it fits just right a little loose keeping your summer muscles hidden subtly instead of meathead tight, excellent look. I sometimes where large in shirts but that would be way too big on me, I'm 5'8 155. Worth the bucks for sure, and the snap buttons are freakin sweet.
Lightweight, perfect fit, great colors (I got the sulfur). Live in Florida and it will get a lot of use.
This shirt is styleee ( yes, it deserves extra e's) It should come with a stick to beat off all the ladies that will be chasing you around. Very well made shirt, and the snap buttons are a nice touch. If you want it to stay nice be sure to wash cold and hang/lay flat to dry. It's a little pricey, but worth the $$$. If you take care of it you'll have a stylin' go-to summer shirt for years to come.