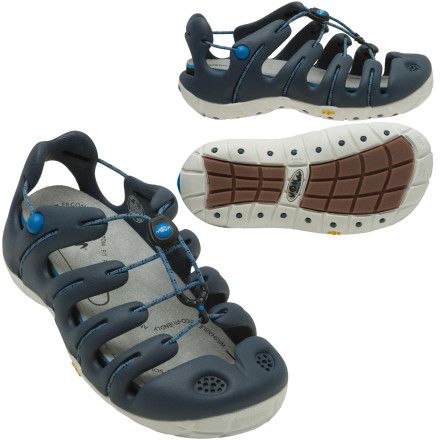 Detail Images
Unanswered Question
I love my Mion sandals but the footbed is...
I love my Mion sandals but the footbed is starting to breakdown. Where can I get a replacement footbed?
cool and stylish, great for the beach
These fit big. So big that I could not keep mine. I also noticed that they felt pretty warm, I thought that these would be nice and cool but that did not seem to be the case. They seemed that they would be a good water shoe and were pretty comfortable (but they were to big for me, about a half to full size to big). I was not a big fan of the laces, they seemed difficult to adjust. I think that I will stick with my Chaco's.
For anyone with Plantar issues, who refuse to give up long walks and hikes, these sandals are perfectly designed. They are similar to Birkenstock design, but with a more interesting and modern delivery. Try a pair, and you're hooked!
~I loved everything about these sandals. Most comfortable to wear. A nifty look. Cool color. I love the adjustable snap. This makes these sandals unique for a perfectly custom fit. These sandals can take a beating and still look great. Be patient with them in the beginning. It takes about a month to break them in and then they become the most comfortable sandals ever. You can even use them as running shoes due to the great padding. They add a little jump to your step. I can't wait to swim in them! Thank you. I love them. 5 stars.
These seem like the best of the molded plastic sandals. The insole molding is somewhat hokey, but better that other stuff out there and you can replace the insole which is nice. The sole is pretty beefy. Check sizing because they seem to run large. Nice adjustments it would be hard to lose these in the water.
Great Active-Wear Water Shoe
This shoe really is the This shoe really is the essence of the perfect water shoe. The only complaint is that they are a little hard on your feet during the break-in period given the material of the Super-Structure. However, once formed to your feet they are some of the most comfortable shoes you can imagine. I have thoroughly abused my pair in the short time I have had them and they are practically indestructible. I love them and would definitely do it all over again.
I really like these sandals. They've gotten lots of 'Oh aren't those interesting' comments. The fit is really big, go for one or two sizes down. The fit is adustable by pulling the cord tighter, which snugs it up nicely around your feet. Altogether, I am glad I purchased these sandals. They've lasted through one summer with no problems.
We didn't end up keeping these only because they were too large. If you purchase a pair, make sure you go a size down then your usual. Aside from that, they were very comfortable. They also come in a handy mesh bag, great for boating, beach trip and such.
Mion Current Sandal - Men's
Hands down the most comfortable footwear I own. I have plantar fasciitis, and in these sandals, my feet don't hurt!