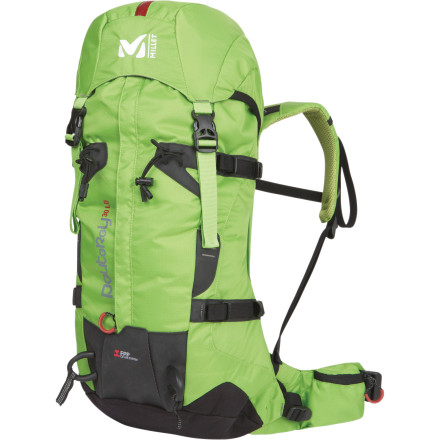 Streamlined and designed for technical ascents, the Millet Women's Peuterey 30 Limited Backpack caters to the year-round athlete. All the proven principles of vertical gear apply here: the Peuterey boasts a low weight and comes from Millet's Expert Series of gear, demonstrating a commitment to quality at altitude. Load up your rack, ice axes, or harness and make for the hills.
Durable nylon resists abrasion, tearing, and general abuse
Free Flex Light technology and women-specific fit include ergonomic back and strap system for optimal load distribution
Accommodates your hydration system so you stay fueled during cardio-intensive adventure
Ski-holding compression straps and ice-axe holder accommodate your winter gear needs
Extending main compartment makes room for last-minute gear additions
What do you think about this product?
Have questions about this product?
I don't have this pack, but I do have the Puterey 45L and it is very similar to this pack so I thought I might be able to give some insight to the technical attributes that might helps some of you out in buying a technical pack. First of all I love my 45. It is heavier than most packs, but considering it has waterproof built in and the absolute durability of this pack really makes the weight worth it. I love the design of the ice tool holster on this pack, as the points are protected and the pack is protected from the blades. The tools easily attach and that is convenient. I also really like the gear sling built into the left pad of the hip belt. It is really convenient for slinging ice screws and some miscellaneous equipment. The pocket on the right hip belt is also very handy for camera or baclava or whatever else one might want quick access too. The dual access is really convenient and I love being able to get in and out from multipoints to access clothing and gear. The lid gives plenty of room to accomodate rope and helmet. And the big kicker is you can A-Frame a set of skis and boots to this pack giving it a versatile appeal. I primarily ice climb and mountaineer with my pack, but have been venturing into backcountry skiing and some winter touring with it as well. I love the fit and feel of the pack. The lid is set back to allow more movement for the head with helmet, so your back is not keeping your head in strict alignment for an entire outing. All in all I have to say that this is one of the best mountaineering packs I have had in the last few years.