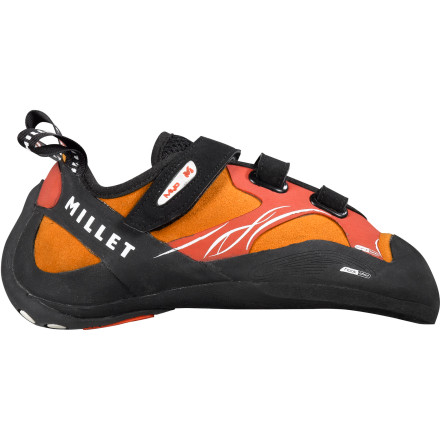 Videos

Community Images
It's important to to get caught up in chasing numbers, but the Millet Myo Velcro Climbing Shoe's aggressive design, snug fit, and ultra-sensitive feel definitely caters to your more challenging projects. Forget the digits and focus on the sequences in this svelte and smart shoe.
Millet Hook Effect features laser-cut microgrooves on the sole that enhance your contact with rocky surfaces
Highly asymmetrical Expert Fit is designed for overhanging and edgy routes
Synthetic microfiber upper is lightweight, durable, and ventilating
Ergonomic and reversible triple hook-and-loop closure for a tight, custom fit
Stir-Up System utilizes an exclusive tightener to optimize fit and feel and offer uniform stiffening right around the foot
Monobloc heel allows for effective heel hooking without slippage
4PointsGrip rubber offers super sticky traction even on small features
Millet Myo Velcro Climbing Shoe
Why is it that so many reviewers on these...
Why is it that so many reviewers on these Millet products only review Millet brand stuff and they give everything 4 or 5 stars? Are they just THAT awesome, or is there something fishy going on?
Best Answer
Hey Patrick!



Working for an outdoor company on a customer service level, a lot of people I deal with daily have encountered a positive experience time and time again with a specific brand, which in return results in them becoming a die hard customer towards that brand. It honestly turns into a hard time ever talking them out of purchasing that specific brand when they reach out to me for suggestions, even if the inventory isn't available for what it is that they are looking for. Regarding Millet, I've always considered them that unsung hero here in the United States, they aren't as known as other brands are here, but my experience with their product has always been a positive one. I can see how it might seem odd that the same people are raving about their experience with them, but typically, it's because those people have purchased that one thing that they totally loved and have continued purchasing whatever that are able to through them because of that experience. I definitely always encourage anybody that I talk to purchasing online to look up reviews from multiple sources. Reviews are 100% the best resource for online shopping, so it's always a good idea to read as many as possible before you make that purchase. I'm not sure if that answered your question completely, but I hope that helps!
I?ve been using the Myo in the last 6 months. The Myo design is very aggressive and precise. The shoe grips well without pinching or putting too much stress on the toes. I found the Myo works best on technical climbs, small edges and pockets on steep walls (steep faces to slightly overhangs), although the heel box feels somewhat too bulky for me (maybe my heel is just too narrow?).



I really enjoy the Myo on the steeper routes of Eldorado (hard metamorphic sandstone) and Boulder Canyon (granite), and used it with great satisfaction on ultra-technical climbs in Wadi Rum (soft sandstone) and northern Israel (steep hard limestone), up to 8b (5.13d)



To me, it feels like the shoe was designed for pocketed/ featured-steep terrain, with aggressive toebox and precise edge. I really enjoyed it on such terrain!



I found the Myo not suitable for less-then-vertical climbs (or, maybe I took a size too small!), and, due to the dull feeling and the extra-air in the heal, not the best choice for extremely steep climbing, roofs and hard bouldering (heel hooks on flared/ round holds never feel secure!).

Also- As the Myo is the only ?soft? model in the Millet collection, and, as I?m a big fan of soft shoes- I would love to have a softer midsole, and a thinner rubber (3.5-4mm, and not 4.5!). In comparison with other soft ?top-models? of competitor high end brands for same use- the Myo felt a bit too stiff, at least on the first month of use. Also- the Velcro straps were WAY too long (I cut them more than half length!).


On "Metrosexual (7a)" in Mallorca, Spain. The Myo's did great and I'm still climbing on them after many days in Mallorca- which is a rough place for shoes... Think very salty water on rubber and microfiber.
This is a great shoe! It is a combination of sensitivity and strong edging. I have only used this shoe in the gym, and it is tricky to size. My street shoe is 8 1/2 and I am climbing on 9 1/2. Truly a 9 would have been the best fit, but since this is my comfortable show and not my aggressive pair, I can settle for a little bit of room and be a bit more comfortable. I would size these a half size up from you street shoe, and if you need to return for resizing backcountry makes this easier than any other online company I've ever dealt with. I would recommend this shoe to 5.10 to 5.11 climbers, or someone looking for a shoe that is not too aggressive. Good price too, great back up shoe!
Very happy
Gender:

Female

Familiarity:

I gave it as a gift but have feedback to share
I gave these as a gift, and the climber who received them has only worn them in the gym so far, as we're steeped in snow, but his initial impressions are that the forefoot is very stiff though easing up slowly but surely, and the shoe edges wonderfully. He also likes that the shape is aggressive for overhanging problems but not so aggressive that it's counterproductive on balance-y, slabby climbs. He went with his street shoe size and finds it to be just right so far. Will add updates when the shoes get more use.
bad toe
Gender:

Male

Familiarity:

I returned this product before using it
I didn't even use this shoe when I saw it. It fit awkwardly and was very stubby. Worst thing about the shoe was the flat toe that was a result of the thickest sole ever. I like putting my toes in holes, so this was a deal breaker off the bat.
Millet Myo- Great shoes
Gender:

Male

Familiarity:

I've put it through the wringer
The Millet Myos have been my go-to shoe for Rifle projects this season. They excel on the slippery dime-edges of steep routes, while also working great on the more vertical warm-ups. The Stirrup velcro system gives an excellent all-over, snug fit.
Climbing Magazine's review on Millet Yalla/Myo
The following review was in Climbing Magazine's May 2012 issue: I manhandle brand-new rock shoes before wearing them: Caress, squeeze, and even smell 'em. When I first groped the high performance lace-up called the Millet Yalla (or the Myo, for those who prefer velcro), I balked at their downturned yet very stiff toe-two characteristics rarely seen in the same toe box. I was skeptical. But once I started climbing, I was amazed at how well the stiff-but-grabby combo worked. On vertical faces, I stood on tiny edges with confidence; on steeper-than-45 degree terrain, I could grab and hook features almost as well as if I were wearing a slipper. The rigid forefoot broke in after just a few pitches, softening just enough to offer both support and sensitivity. And for me and my wide, hairy feet, they fit perfectly: tight yet comfortable. The synthetic upper – lined only in the toebox – feels like soft leather, yet holds its shape over time. The Yalla/Myo is one of the few bouldering and sport climbing shoes that truly masters a wide variety of climbing styles