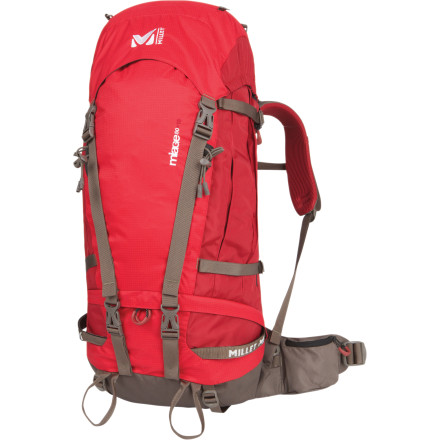 Any given day in the mountains might find you on planks, clutching ice axes, or navigating your way through alpine lakes to find a suitable campsite on a weekend backpacking trek. Regardless of your choice, the Millet Miage A.F 50+10 Backpack accommodates a wide range of sports rather than limiting you to specific disciplines. After all, your pack shouldn't disappear with the snow, and the Miage A.F maintains multi-season functionality for year-round fun.
Free Flex Adjustable Back technology allows upper body motion and optimizes fit for comfort and load distribution
Removable rain cover helps keep your gear dry even in surprise storms
Detachable, extending lid flap allows you to minimize for lighter loads and accommodate extra gear when necessary
Hydration-compatible so you can stay fueled without grappling with separate bottles
Ski-carry compression straps, ski loop, and ice ace holder keep all your snow gear at the ready
Pack-base compartment with access zip lets you readily get at a sleeping bag
Convenient zipped waist belt pocket holds a camera or snack
What do you think about this product?
Have questions about this product?
Millet Miage Selected for Backpacker's Gear Guide
From Backpacker Magazine's April 2012 Gear Guide: Got a bulky pile of gear for a week on the trail? With plenty of capacity for longer trips – thanks to a capacious floating lid, gusseted side pockets, and expandable storm collar – this stable, comfortable top-loader can carry it all. The plushly padded back panel and cushioned lumbar pad subdue loads up to 50 pounds, and the suspension adjusts to fit 17-21 inch torsos.