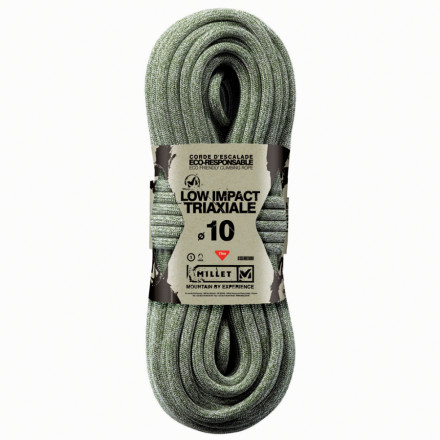 Climbers leave more of an impact than we think on our environment, and tieing into the Millet Low Impact Triaxiale Single Rope at the crags is one way to help reduce our footprint on nature. By using uncolored strands, skipping the dry treatment, and reducing packaging, the Low Impact uses a small fraction of the energy required to produce similar ropes. And thanks to the Triaxiale braided core design, the Low Impact maintains a consistent diameter and safe handling over long periods of use.
What do you think about this product?
Have questions about this product?
Millet LIR- Super durable & great hand
Familiarity:

I've put it through the wringer
The Millet Triaxiale ropes are awesome. The core strands are braided into 3 main bundles as opposed to 12-16 as in traditional cable ropes. What this does is decreases the internal abrasion in the core (think of core strands rubbing together), so the rope holds its diameter much longer. Millet is the only rope manufacturer that is using this system.



And this low impact series is cool because it uses 66% less energy in the manufacturing process. The dying of ropes takes a ton of water, and Millet has a process by which they simply use less dye, and thus less water and energy. So you get a more eco-friendly rope that actually lasts much longer than the "big wig" rope companies!