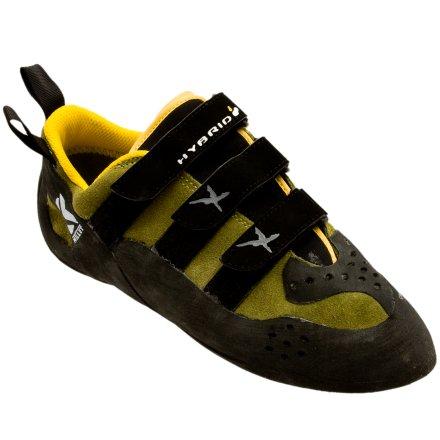 Detail Images
The incredibly veratile Millet Hybrid Climbing Shoe features an unlined leather upper, padded ankle collar, and a padded tongue for all-day comfort. The super-sticky 4PointGrip rubber sole not only sticks to even the most micro holds, but its high-molecular design makes for slower wear and tear. Whatever your project, the Hybrid Climbing Shoe has you covered.
Rubberized toe area for better grip in cracks
Triple hook-and-loop straps for convenience and speed
Padded ankle area and tongue increase comfort in wide cracks
Great First Shoe
Gender:

Male

Familiarity:

I've put it through the wringer
First time buying climbing shoes so I wasn't too sure if this was the right choice. Glad I bought them because they've been great to wear. Only note is that I had to get one size larger than normal because I couldn't even get my foot inside the ones that were the same as my street shoes.
I agree with the other reviews here. These aren't the most aggressive shoe on the market but they do climb very well across a variety of moves. I sized down a half size from my street shoe and they are a perfect fit. I don't like jamming my toes in a shoe but they are still plenty snug.
Just picked a pair up today. Went to the climbing gym right away...fit was perfect for a new shoe. Had to take them off every 30 min for the first session. I ordered a half size smaller then street shoe. Initial impression was phenominal but its a thick sole so remember that. Had to adapt to the new sentivity. Heel hooks like a champ and tons of cushion for your ankle and toe to jam in all those eye dropping cracks in Squamish...Buy them and Start Climbing !!

ill give it 5 stars maybe once ive climbed more with them.
I bought these shoes to replace a pair of evolv Optimus Primes. These shoes lack the downturn (obviously) that I was used to with the primes so i was worried about how these would do on something overhanging, but these performed flawlessly on the local granite overhanging classic. I kept trying to find something that I don't like about these and it just never happened. They are super comfortable but edge, smear, toe hook, heel hook, anything you want. The rubber is pretty sticky, and super durable so I anticipate having these shoes for quite a long time. One thing I would say about these is that the sole is fairly thick, so if you're a climber who likes to feel the holds this shoe will disappoint you. I sized down .5 from madrock conflicts and evolv defys, and a full size down from my primes (they fit close to street shoe size) and was very happy with my fit. Expect a half size worth of stretch.
I got these shoes about three weeks ago. I climb in them 3-4 times a week. Mostly bouldering lately with some single pitch 5.10 lead climbing as well. They're great on rock, great on the big wall, but not the best bouldering shoe out there. If you want a great bouldering shoe go for the 5.10 jet 7. Otherwiae these are great and do exactly what they advertise. Very comfortable, break-in period wasn't too bad after the first few days. I got a full size smaller than my street shoe and that seemed to work out pretty well for me.
I've owned these shoes for more than a year now, and I climb in them at least once a week, usually 2-3 times. There is absolutely nothing wrong with them and the rubber is still completely intact with the sole. The only reason I would look to replace them is that I'm just looking for a more aggressive shoe now! I keep wanting to buy new shoes, but whats the point when theres nothing wrong with these? $100 very well spent.
What size would you recommend someone who...
What size would you recommend someone who wears a size 10.5 5.10Galileo?
I bought the women's version of this shoe and can tell you that it fits pretty true to size to your street shoe. I wear an 8 in women's and bought a 7.5 and they fit just snug enough that when they are broken in they will be perfect. They are synthetic so don't expect too much stretch and they also run narrow
nice shoe, comfortable, precise and sticky enough. just a real nice performance for such a comfortable shoe. the four points grip is a designer's joke though..
i have a slim, low volume foot and they suit me really well.