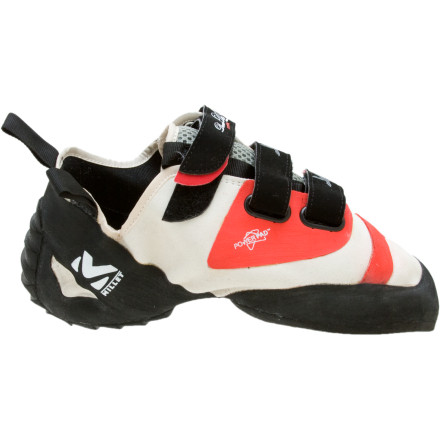 Detail Images

Community Images
For steep, overhanging cave routes and vicious boulder problems, Millet created the D. Dulac Pro Model Climbing Shoe. Crafted to the specifications of French rock ace Daniel Dulac, this radically downturned shoe features an asymmetrical shape and Millet's Alpha Arch, which presses the sole underfoot for enhances sensation. A ribbed heel cup provides added latching abilities for tricky hook moves, and the 4PointGrip rubber sole sticks to the tiniest of footholds.
Awesome shoe, not awesome fit
I ordered these because I wanted something really aggressive, and that's exactly what these shoes are. These shoes can stand on the smallest chips no problem. The problem lies with me, I think. I first ordered a ten because the smallest street shoe I wear is a ten. This was a mistake. The moment I slipped the shoes on I was in pain. I could not stand up, let alone stand on my toes. So I sent them back and ordered an 11. This time around the pain is less excruciating, but still present. The toe box of these shoes seems to really crunch the big toe. I may have a wide foot or something, because other people don't seem to have a problem. I am keeping them because I can handle the pain for a climb. I have a feeling it will get better anyway. Bottom line, If you can you should try these on in a store first. That isn't possible for many, so I would say take a chance on these shoes anyway because they are amazing, just painful.
Awesome shoes, they work well on almost everything. Best for steep problems. Worst but not terrible at slabby problems.
Used them for 9 months (bought around last Thanksgiving). Holding up really well. I have blown out a pair of Miuras and Evolvs in less time. I wear a 9 street shoe and bought an 9. They are tight but it is a rock climbing shoe. They will stretch a little.
How do they size?
I have a pair of Evolv Optimus Primes at 8.5 that feel really similar. I have wide feet and the small strip of rubber across the toes is great for toe cams and hooks but I think it forces the toe box to remain narrow which is a little painful on the big toe.
The best heel design and performance I have ever seen.
These shoes are great. I will surely buy another pair.
I am a female and wear a size 9 in women's sizing and that is exactly the size that I got and they fit perfectly.. It would make more sense if these were women's shoe as I would normally where a size 7.5 or 8 in men's... But who knows! I'm very impressed with the shoe and would definitely recommend them.
Yeh I take normal a 9.5US and got a 9.5 and they are extremely tight as
I would suggest maybe a hole size up so get a 10.5 if your a 9.5

So I will have to get another pair As im in Australia and couldnt try them on first
Killer shoes for climbing
these shoes run about a half size smaller than evolv's shoes. the D. Dulac shoes are great for overhanging and roof climbs but horrible for walking or long gym marathons.
They have sizes from 9.0 to 11.5. I'm not sure I know what you mean by "How are they sized?" If you are familiar with this company and have tried on this particular model and know your size than you just order accordingly.
These have lined synthetics uppers, which means they aren't going to stretch. If you wear a 10 buy a 10. Depending on your skill level you may want to buy tighter, but I would recommend trying them on at a store if you aren't sure.