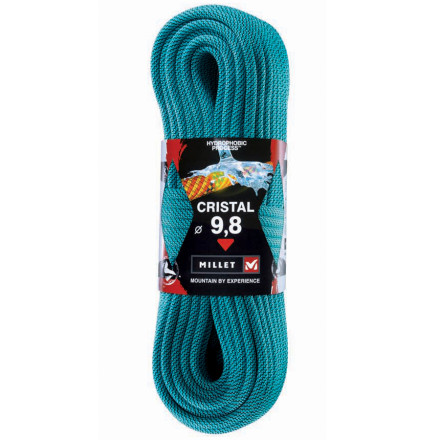 Planning on taking a few whippers? Tie into the Millet Cristal Dry Climbing Rope and pitch off your project--thanks to its cabled core design, this smooth-handling cord provides an incredibly soft catch. The 9.8mm diameter cuts weight without sacrificing strengh, and Millet gave the Cristal its Hydrophobic dry treatment (individual fibers are treated before assembly), making it just as ideal for long, wet alpine routes. The unique packaging coil also gets you ready to climb without all the tangled hassles.
Millet Cristal Single Rope - 9.8mm
Unanswered Question
Where is it Made?
like the rope, it does handle well and feels good but after about four pitches I'm starting to get some significant sheath slip. Maybe I'll hot cut a few inches off and see if it stabilizes. Pretty expensive rope so a little dissapointed I tried a Millet.
Millet Cristal-Great Rope
Millet ropes come out of the package coiled and ready to climb on. It is extremely kink-resistant due to the way Millet braids the core and sheath. My favorite aspect of this rope though, is how supple the hand is. It slides soooo easily through a grigri, and it maintains this feature throughout the life of the rope. Plus it has some purty colors!
, ☃bcs_badge_alumni_label☃
Good Rope
This rope is light and soft to the touch... not too soft that it slips through your hand though. So far I've only used it for sport leading indoors, but I'm sure it will do just fine out doors as well.