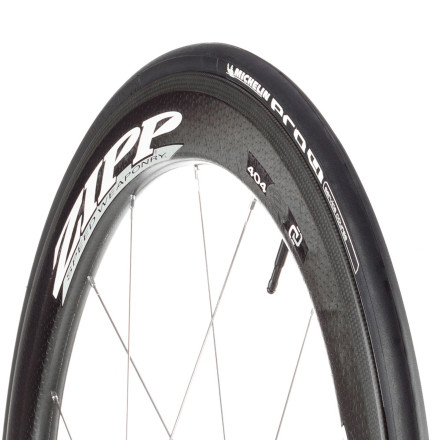 Colors
Description
The latest generation of the original race clincher.
Michelin developed the world's first clincher tires, after realizing there was a more convenient solution than wrestling with tubulars. Since then, its clinchers have evolved into some of the lightest, fastest, and most durable tires on the market. The PRO3 was a revelation, and this latest generation is only further validated in the form of the fact that the Michelin PRO4 Service Course Tire is the first and only clincher ever to win on the cobbles at Paris-Roubaix - quite an accolade.
While the PRO3 Service Course was already an overachiever, Michelin essentially started from scratch with the PRO4. The 110tpi casing carries over, but that's where the similarities end. The 4 uses a new, harder rubber compound for its center section that reduces rolling resistance by 7%, making straight-line speed just that much easier to maintain. They engineered the opposite purpose out of a new compound for the tire's shoulder, integrating special elastomers to increase cornering grip. A revised and sharper tire profile further aids in cornering, allowing quicker turn-in and increasing the contact area of the tire while leaning and improving cornering traction by 16%, enabling greater speed through the turns, even in wet conditions.
Of the four members of the PRO tire family, the Service Course lies at the optimal intersection of speed and durability - and that latter attribute is especially enforced with the 4. Both the AG2R La Mondiale and Project 1t4i professional teams rely on the Service Course's high-density nylon breaker and gravel-ready sidewalls to get them from start to finish in every stage, and the fact that they have such success, with so few punctures or blow-outs, speaks for itself.
The Michelin PRO4 Service Course Tire is available in Black, Blue/black, Digital Blue/black, Red/black, and White/black in the 700x23c size. It's also available in Black in a 700x25c size.
Full-tread nylon breaker
23 and 25mm widths
Improved traction and durability over all Pro3 versions
Fast and tough
Familiarity:

I've put it through the wringer
I won't say that they are puncture resistance, but I've been riding these after switching from Bontrager and Continental. These tires have less rolling resistance and I rolled over stuff that I thought for sure I was going to pop. If you take care of these tire by regularly inflating them each ride and periodically deflating the tire and doing a full pump up it could last you all season long. I use baby powder to coat the inner tube.
sweet
Familiarity:

I've put it through the wringer
I have put on over 500 miles on these tires. they are super nice tires i have had one flat so far due to riding over an old wooden bridge. other then that i have loved these tires they grip well and have been very impressed with them. i would defiantly buy these tires again.
Pro 4 Service Course and Conti 4000SII
Gender:

Male

Familiarity:

I've put it through the wringer
Been running Pro 4's for about 1800 miles now. They are definitely slower than the Conti GP4000SII, but they ride better, handle cornering better, and are more durable with road hazards. Summertime in the desert can be rough due to storm debris in the roads. I've ridden over hazards I know would have destroyed my Contis, but I have not had a flat yet with the Pro 4s. I mentioned they are slower. My qualitative assessment is about 1 to 1.5 mph slower for average pace over 25- to 50-mile rides. I researched rolling resistance and found they have higher values than the Contis, but you have to decide on the trade-off between speed and durability. Heck, they're slower, but they're not slow, everything is relative and I'm sure different riding conditions affect performance. The Contis are far more suseptable to road hazards and puncturing, having ruined several within a week of installation, that gets expensive. That said, I'm using the Contis for racing and the Pro 4s otherwise. FYI, Michelin issued a Version 2 of the Pro 4 line, anyone notice any difference? I just bought another set of Pro 4s which are V2, only problem is, I don't know if I had V1 or V2 on the bike for my first set.
I put these tires on my bike for a 200 mile race. I loved them. I felt like they were smooth and had low resistance. I train with gatorskins for the added durability but when the time counts, I'll put on Pro4s.
My go to tire
Familiarity:

I've put it through the wringer
I may have reviewed these before but from my experience they rate a follow-up. Switched from Conti 4000s when the Pro4 came out after BAD wet weather experience. The Pro4 continues to be my go to tire. I have considered "straying" but still come back. I got >4,000 miles on may last set (live near Chicago and overall the streets are pretty good). I run about 90 psi and have great traction and feel. For me they work and when CC had the sale at $30 I could not pass it up. There is always the "fear of switching" and I was concerned about leaving Conti for the unknown. Glad I did. I have read numerous reviews over the years and you do need to factor in road conditions and your riding style. Not that Conti produces a bad tire but for me the Michelin work better.
get them on sale
Familiarity:

I've put it through the wringer
i see the regular price is ~70usd, but the current sale price is a lot better than that. the tires have a nice ride, but are 'soft' enough that glass / road debris /etc cuts them up medium fast. their profile (for me), a couple thousand miles no problem and then welcome to flat-ville population me. i've only been getting them when competetive puts them on sale, but i've gone through serveral now the same way so it's not a 'bad batch' or anything.

anyway, if you get them on sale you'll probably get your money's worth. otherwse, better if your roads don't have a lot of crap all over them.
just what I need
Familiarity:

I've used it several times
These roll smooth and do the job well for our hot Florida asphalt. Corner grippy and don't slide out when the rain drops. So far so good. I only hope they wear a bit longer than the 3's did.
Price and quality can't be beat
Familiarity:

I've put it through the wringer
I've put close to 500 miles on this tire and it is by far the best quality for the price point out there! Great lateral grip while descending canyons and low rolling resistance. Would highly recommend.
maybe i was expecting more?
Familiarity:

I've used it several times
Got this in a 25mm and used it for a while. Initial impressions are that it does look larger than other manufacturers 25mm, but it also looked rounder (if that makes sense), so i was hoping it would give a better feel. And feel is the main reason I only give this tire 3 stars. I'm used to riding heavier duty Conti's (gatorskins or 4000s) and was hoping to use this as a race day tire, but

a) I didn't notice any difference in ride, and

b) only that the tire gets chewed up WAY faster than my conti's



CC had this on sale for only $30, and even at that price it just wasn't a wise investment.



Also, the tires I received were OEM, meaning they didn't come with any retail packaging. Not a big deal, but thought it should be mentioned for others.



Photo caption: conti 400s in rear, michelin pro4 in foreground
Nice tire but...
Familiarity:

I've used it once or twice and have initial impressions
The 25mm inflates larger than expected. Looks more like a 26 or even 28. And I'm only running 85psi. But runs well with good grip...if it can fit your frame.
Not Worth the
Familiarity:

I've put it through the wringer
Normally I only ride on GP4000s but I was attracted by CC's deep discounts on the Pro4s. I figured I would give these a try since the price was so good. Within 400 miles the Pro4s were severely cut. Perhaps best as a race day clincher, the Pro4s were a failed experiment for me. Like the way they ride but disappointed by the durability....I'm going back to my GP4000s.
Great Race Tires
Familiarity:

I've put it through the wringer
These tires are great. I rode through two sets before having moved on to another brand, for experimentation sake. The tires are soft and they roll well. They definitely do not wear well, as these are race tires. So be warned as a potential buyer! It gets nicked up pretty easily by anything other than gloss smooth asphalt. For the price that they're constantly at (i.e. they're nearly always on sale) it is unbeatable to get your hands on some race-slicks. The only improvement I can imagine would be to have Michelin offer up a 24 or 25 width tire as the pressures necessary on a 23 tire seems to make it a stiffer ride than I personally prefer.
Small cracks in the tires...
Familiarity:

I've used it several times
These tires were inexpensive, gripped great, handled great, rolling resistance was great but... after only a few months of use I have small "cracks" on the edges of the tread. And I only had about 300-400 miles on them. It's a little disconcerting but it didn't seem to effect the grip and handling of the tire. But as I used it more, more cracks appeared. I even searched the net and found it seems to be a common problem but it seems Michelin isn't concerned. I'd love to get another set but I worry about the many "cracks" on these relatively new tires. So buyer beware.
One of the Best
Familiarity:

I've put it through the wringer
Pro 4 tyres are some of the best gripping rubber you can buy. I'll never forget ripping down a mountain descent in a rainstorm, completely confident that my Pro 4's would hold true through the tight switchbacks. One of my favorite tyres for wet weather riding and all around tackiness deep into a corner. Durability is on par with the likes of Continental, and I rarely get flats when I'm rocking them.
Great Tire
Familiarity:

I've used it several times
Great grip and long lasting at a reasonable price.
Best tire I've ever used
Familiarity:

I've put it through the wringer
I've tried many road tired in the last 20+ years, but the Michelin Pro4's are by far the best. They are on my two bikes. I'm on my 4th pair and no complaints, only 1 flat, from a huge goat head.
Are they selling one tire or a pair of tires?
Price is per tire. Select Qty 2 for a set.
Michelin Pro 4's
Familiarity:

I've used it several times
I'll never switch to another tire as long as these are available !

For my weight (157 lbs.) these tires give the best stick and increase my confidence to take those corners!
Grip for days
Familiarity:

I've used it several times
Mad sticky rubber and a reasonable weight makes these awesome tires for ripping long mountain descents or for fast crit races. Ride quality I felt is on par with other higher-quality clinchers like Conti GP 4000's. Tire wear expectedly suffers when you have a tire with this much grip. I usually get between 500 and 600 miles and about 50,000ft of climbing before the rear tire is toast. Good price and if you're aware that these will wear quickly they are a good tire for their purpose.
The 700 x 25 is true to size.
Familiarity:

I've used it once or twice and have initial impressions
Although I've had very good experience with the 23s, I put off buying the 25s for months because of a well-circulated article that claimed they were closer to 28s. The tire I got, inflated to 90 lbs., measures 25.2. Nice tire.