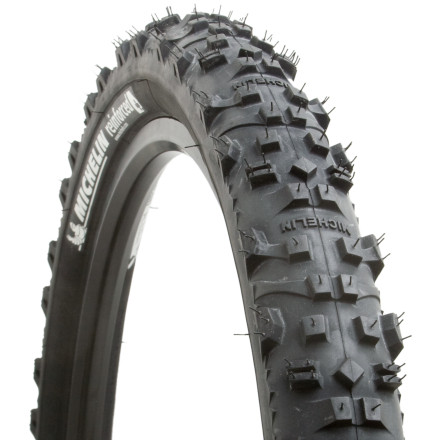 Detail Images
Anyone know where this tire is manufactu...
Anyone know where this tire is manufactured?
These were made in Thailand.
The Michelin Man Delivers!!
Well, I was a little skeptical at first when looking at this tire cause the the tread seemed like it might be spaced to far apart but after reading the reviews and hearing everyone rave about this tire I decided to try it. I have not been disappointed! This tire delivers as promised. The only areas that I have had traction problems have been steep hard pack trails that have lose gravel on top and even then they never fully spun out, they just keep diggin and clawing there way along. These tires seem to do it all and will definetly buy more.
I'm going to be moving to Vermont in the...
I'm going to be moving to Vermont in the fall (from Utah) ... is this a good tire for the Northeast? I ride a Yeti 575 running some Maxxis Minion DHf (stock tires) 26 x 2.35.
Works well in most every situation here in the mtns of Utah. Will purchase more in the future for sure.
replaces a 2.1 panaracer fire. seems to have better grip - cost is that it rolls a little slower...but IMO its worth it. would buy another.
On the trail these tires grip like no others. If you are going to ride your bike on the pavement at all DO NOT BUY THESE TIRES! these tires have the worst rolling resistance on pavement ever!! All in all they are pretty light and i have never have a flat with them and they last forever!
great all condition tire !!!!!
i have these on two of my ellsworths, and they are GREAT.... everything from hardpack to mud....highly recommended.........
, ☃bcs_badge_alumni_label☃
Ideal tire
Easy to put on, low rolling resistance even with the burly thread.
Great tire, excellent bead for me to rip it in the mountains here in Utah. This tire handles rocks, dirt, mud, and even some early summer snow very well.
Best Answer
No, gotta stick a tube in them.