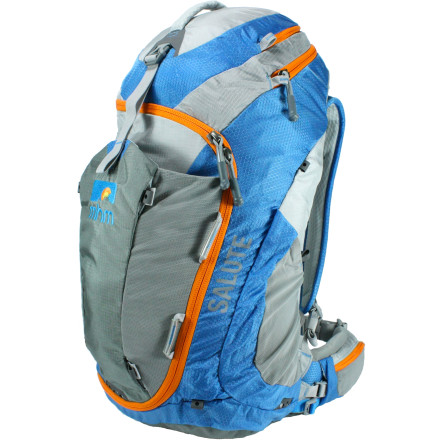 Detail Images

Videos
Find out why so many magazines, experts, and athletes give a tip of the hat to the highly versatile MHM Salute 34 Backpack. Outside, Men's Health, and Backpacker magazines gave it the nod for its toughness, comfort, and unique design that snakes the zipper around the pack to give you unprecedented easy access to the interior. Ready for a trip to the crag or a quick overnighter, the Salute is versatility personified.

Snake-Loader system features a heavy-duty YKK zipper that wraps around the pack to allow easy access to the entire interior of the bag from any point; can be zipped entirely open to create a ground mat in order to preserve climbing ropes or other sensitive gear
Perforated foam back panel, shoulder straps, and hip-belt carry your load comfortably
M-Flex frame system combines with VariCant dual-pivoting hip-belt to evenly distribute load pressure while allowing your upper body to move and flex
Tough, water-resistant Cordura nylon stands up to abuse; high-dernier Cordura on the bottom boosts durability further
Included Packslicker rain cover protects your gear from moisture
Four hideaway compression straps help with load and bulk management during travel
Deployable ice-axe straps accommodate your winter vertical addiction
Plentiful pockets keep you organized, including large front stuff pocket, side mesh pockets, and hip-belt pockets
A daypack to be taken seriously.
Familiarity:

I've used it several times
This is a fantastic pack. There isn't another pack in it's class that has the features and suspension system that can take a serious load.



The straps are very versatile, being able to carry an ice axe and trekking poles on the sides securely. The outside pouch and strap holds a shell or light insulation layer easily. The top pouch is spacious, being able to hold a set of gloves, sunglasses, beanie, and snacks without packing it to the brim.



The main pouch is awesome. The zipper system by itself makes the pack worth the buy. The snake loader allows you to get easy access from the top, bottom and side and is easy to use. I was able to fit multiple layers for my kit to myself and for my buddy and still had plenty of space for other gear. The suspension system breathes well with baffles, and the hip belt moves with your hips, keeping the pack snug on your spine.



All in all, this is the best day pack you can get, being that it can do more than you expect it to do.
Awesome pack, even better company!
Finally got to use my Salute pack this weekend! Hiked the Eagle Creek trail to Tunnel Falls and back in the Columbia River Gorge. About 14 miles or so. This is the best pack I've ever used. Carried about 20 lbs. give or take and it felt great the entire time. The frame is solid and carries the load well. Really liked the pivoting hipbelt. I do wish however, that it had the same padded shoulder straps as my Divide 55 does. Other than that, very pleased with this bag. Durability seems awesome with every aspect of the pack. Felt I could trash it and it would just laugh in my face like Ahhhhnold. (GET TO THE CHOPPAAA!!!!!) Ventilation was great, never felt wet from sweating during exertion. I think my favorite part of the whole piece of gear was the "S" zipper! I could organize my pack just like I wanted and it was incredibly easy to access anything I needed without having to dump or dig through my pack. Tons of pockets for those who are well organized (OCD (myself)). Added rain cover is great as well. Didn't have to use it though. I could keep going on and on and on and...well you get the point. I hope you guys are coming out with new colors this year! Also have the Colfax and as mentioned above, the Divide 55.

Oh, used the water bottle holder from my Divide to clip on the Salute. Worked like a charm. Can't wait to use my Divide for my birthday trip this summer!! Do you guys make a rain cover for the Divide by any chance? I know that the stuff sack in the bottom is waterproof but I need something that covers the whole pack as I live in Washington. Keep up the awesome, wonderful pack making good sirs!!!
Awesome.
Gender:

Female

Familiarity:

I've used it several times
Glad to see that Backcountry finally started carrying MHM. They are a new company in Colorado and their packs are very cleverly designed. Lots of handy little features that I am still finding out about four months later. I bought this one to keep my climbing stuff in and I really like it so far. It's easy to keep everything organized because of the differently-shaped pockets. Not to mention that it is a really cool looking pack!
Best Daypack on the market!
Familiarity:

I've put it through the wringer
I needed a pack that could carry everything i needed, keep it organized, and be quick to access it. I searched all around and the competetors were either too big or too small, or if they were the around this size they were only top loaders or the zippers didn't seem sturdy enough. I was left using a normal school backpack with a lot of carabeiners attached to it to keep my gear organized. Finally I ordered myself a Salute and can't say enough about it. Being an outdoor guide for a summer camp where down time is a really bad thing, digging through my pack for gear is unacceptable. The Salute has crazy heavy zippers that I don't have to worry about breaking and the Snake-loader system is a lifesaver getting to where-ever that one piece of gear is in my pack. I can carry enough gear to lifeguard, then switch to high ropes, then back to dressing as a pirate to teach rafting skills. My pack is literally the envy of all the other guides. I really haven't found anything wrong with it yet, and I've used it pretty harshly.
You'd almost have to be living under a rock to not have heard about this pack. The iconic s-shaped zipper has graced many magazines and websites praising the unbeatable accessibility of this backpack.

All the hype is fairly justified.



This pack looks really slick, and carries well. The fabric is tough as nails too.

Great size for long day hikes and light-weight over nighters.



It does seem a little small for 34L...

My other climbing pack is 38L (Mountain Hardwear Splitter pack) and will fit my rope, harnesses, chalk, shoes and draws/other protection.

This pack will not hold too much after the rope and harnesses.



The included rainfly is very handy though, as the first day using it we were caught in a storm and it kept my gear dry.



For the price, you could probably find a pack that is a little lighter, or a little bigger. But it's hard to beat the comfort, quality and style of the Salute pack
Most versatile pack I've ever used
I've been using this pack for about 6 months and you can't beat this pack if you're looking for a pack to tackle most everything. I've used mine for climbing, world travel and light overnight hiking trips. The s zipper, which you won't find on any other pack, is insanely useful no matter what you're doing. You can access any part of that bag in no time. I have heard a few people say the shoulder straps are squeaky but I think that's only on first generation models and they have since changed the straps. I didn't even realize this when I ordered mine but it also has a rainfly included and full set of compression/tool straps that tuck away.



In my opinion, you can find other packs that are similar in volume and a bit lighter but nothing matches the comfort, usefulness and quality of this bag...Not even close...At least nothing I've found!
Meh. A bit over-hyped me thinks...
I put in about 100 miles with this pack as the daily carry satchel through multi-season use with trail maintenance and general hiking.



My thoughts?



The good:

- Comfortable fit (I'm 6' 210#, suits me fine)

- Lots of attachment points & pockets

- Snake zipper is handy to access internals as needed without much fuss

- Unique look (easy to pick out in a pile of packs)

- Decent internal storage pockets and bladder access points (I actually use the hose outlets to run my radio hand mic out to the main straps)

- Love the dual carrying handles, entirely useful

- Pretty decent build quality with good stitching and finishing

- Pretty durable so far, no early signs of wear or fatigue

- Doesn't seem to rub out my jackets or shirts, so it rides easy on your other gear



The bad:

- Noisy. OMG noisy. I have what may be an early model with the lighter colored straps (newer pics show darker grey straps) so there may be a revision to the materials. One can only hope that is the case, as my example farts & groans constantly regardless of adjustment or load. Particularly the shoulder straps and the "rib" that runs thru them. Annoying after the first few miles. Psychotic thereafter...

- Heavy for what it is. Comparable packs (in volume/function) can be up to a pound lighter. Likely due in part to all the attachment points, zippers, and buckles on the Salute

- Not exactly sure what all of the attachment points do and no instructions given

- At 34 liters, it seems incredibly small even when fully expanded

- Gets pretty warm on my back, so if you are using in a hot climate or sensitive to getting warm you might look for a bag that offers better airflow.

- Pricey unless you find one on sale



All in all, one could do a lot worse than buying this bag. But you could do better. I would be apt to look at a lighter and equally useful Millet or Black Diamond for the money involved.