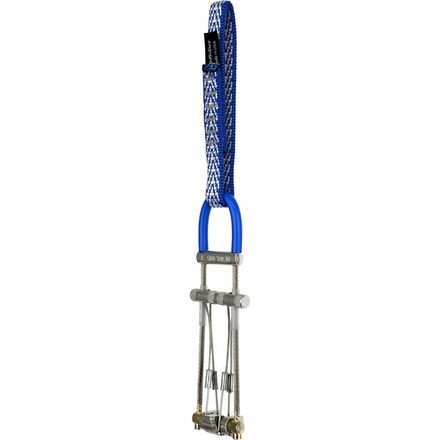 Colors
Description
The only way you could go lighter than this would be soloing routes.
Metolius designed its Ultralight TCU to give you tiny but bomber trad gear that doesn't weigh you down. Its lightweight appeal is due to the Direct Axle Technology, which places each lobe as close to one another as possible. This technology also helps you set each cam in tricky, shallow, and narrow placements with ease. Metolius made each TCU with three wide lobes that increases its grip on the rock as opposed to conventional TCUs or even four-lobed designs, and each lobe has a cam stop that helps it act passively like a stopper. CNC machined means each cam gives better precision so you don't fumble around when you're placing it. The U-shaped double stem is very durable, and yet remains highly flexible for better control when you're placing it or your second is cleaning it. Each cam comes with a color-coded Monster sling for easier identification on the wall, and the Range Finder on sizes 2 - 4 let you know if you're placement is at the most minimum or maximum range available on the cam.
Direct Axle Technology
Three wide lobes with machined cam stops
U-shaped double stem
Color-coded Monster slings
Range Finder on sizes 2 - 4
CNC machined
Solid.
Familiarity:

I've used it several times
I've yet to take a fall on one, but when the going gets thin, I really appreciate these guys. I'm not a fan of the TCU design in larger sizes, but the 00-1 are light, easy to use, and inspire confidence in thin, shallow cracks that would otherwise have me a bit freaked.
You guys show that the 000 tcu is rated to 5kn and its not. its rated to 2.5 kn
Every climber should own a few
Familiarity:

I've put it through the wringer
I didn't know much about these tcu's until I climbed on a friends and then decided to pick one up and try it myself. I haven't gone on a climb since without them. These are a great alternative to master cams or x4's because they place in short but wide pockets (if that's possible). #1-#4 are the most useful IMO. Haven't used 00 or 0. If I could only choose one it would be the yellow #2. If you already have a set of small cams, make these your second.



I've mainly used them in the North Cascades and Little Cottonwood Canyon. And yes, they're very lightweight.