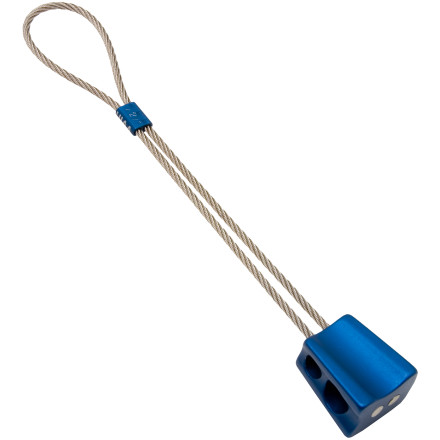 Detail Images
Metolius connects the Ultralight Curve Nut's wires directly to the head to eliminate the swage in classic-style nuts and reduce its weight by 30%. CNC machining allows Metolius to shave away every speck of unneeded material and put a smile on the faces of ounce-counting climbers everywhere. The Ultralight Curve Nut's straight taper and side-to-side curve allows solid placements, even in slightly flared cracks.
These are my first nuts and I am super happy with them! The curvyness helps them to fit in many types and sized cracks and the hold well! I love how they are colored for size identification but wish Metolius wouldn't use the same same colors on the different sizes. If can get a little confusing if your nuts are out of size order on your rack. Other than that, I'm very happy with these and would buy them again!
These are just as much a joy to place as they are to hold in your hand. They are a real engineering beauty. Metolius is very proud of them (they are quite the investment). Certainly the best produced I have ever owned.
Great but hard to get out
Bomber placements but hard to remove.
Best stoppers I have used
I love the curved face. It makes placements super stable.
Better than Black Diamond Stopper
While in J-Tree last winter, I used a friend's set of Curve Nuts, and I was very impressed with how easy it was to get good placements with them. These are way better than the BD Stoppers, imho. Everyone and their mom (and me too!) has Black Diamond gear, Metolius makes great cams and passive pro too!
the curves make it bomber placements, but it also makes it hard to remove! i bought this to replace the one left in the wall. (belonged to a friend's rack). i personally have the BD stoppers as they are easier to remove and just as easy to place.
I like these new nuts by Metolius. They eliminated the swag on the old style nut. I am hoping this will help eliminate the kink that is common on nuts after a difficult removal?