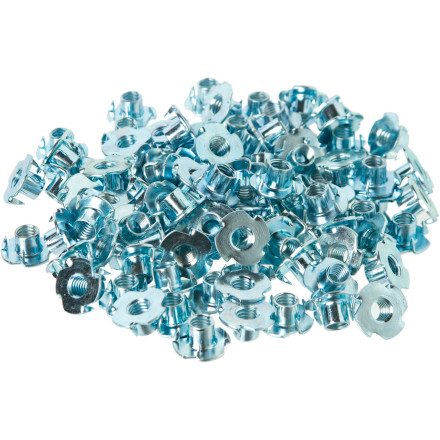 Colors

Detail Images
Description
For the determined home climber.
When it's time to convert that spare bedroom, forgotten basement, or unused garage into your own personal climbing gym, you'll need a bunch of nuts. Good thing Metolius offers this 100-count T-Nut Bag to secure your array of holds to the those wooden walls that you've just spent hours assembling.
Let me know if you can find a better deal.
They go alright
Familiarity:

I've put it through the wringer
The t-nuts vary ever so slightly in diameter in comparison to the nuts included in the metolius mega pack, which caused a few small headaches and blowouts in my plywood. Also, the metal has fairly poor integrity, the teeth like to bend, and snap.
Para la construcción de palestras
Los T-nuts son una herramienta indispensable para la construcción de palestras. Los de Metolius son de muy buena calidad. EL tiempo de durabilidad es, teoricamente, mayor.
Confused, is there 25 or 100 in the bag?...
Confused, is there 25 or 100 in the bag? There are two different figures in the description and when you go to check out...


Best Answer
Right now it looks as if only the 25-packs are in stock. Only 2 left at the time of this answer.



Hope this helps!
Luh Dem T-Nuts
Familiarity:

I've used it several times
Just got a bag o' these nuts to help my buddy build a climbing wall in his garage and have been quite satisfied. These t-nuts are very easy to use and I find that once they are in the hole they don't like to come out, thanks to their 4-prong design.
If you have had to replace a fair amount of t-nuts you know there is a difference. I would rather replace a 4 prong t-nut over a screw in any day.
found them cheaper elsewhere
i gave it for stars because basically, a t-nut is a t-nut. two reviews below said metolius was cheap, i found them way cheaper from on online hardware supplier. just shop around and get a good price by whatever brand.
Very happy with these, and a great price, cheaper than any hardware store. I haven't had a problem just smashing them in with a hammer, no alignment issues as of yet.
Price Varies Widely
Familiarity:

I've used it several times
The price for 3/8-16 t-nuts varies widely. This price is the second best I've found; you can find them cheaper on Amazon. A couple of local hardware stores had cheap t-nuts for all sizes except 3/8-16. Very strange.



When installing, I've found that using a bolt to pull them into place instead is a better method than pounding them with a hammer from the back side of the wall. So far, I haven't had any spinners or crooked t-nuts.
These are t-nuts, nothing fancy but they work. My only suggestion is to take the time when installing. Its a pain to remove a panel once your wall is put together.
nice review title, right? there's really not much to say about these. i used about 400-500 of them on my home wall and they all work just fine. the only thing i would say is that unless you spend a TON of time when you're initially putting them in, you're going to have a few that come out kinda crooked. just take a long bolt and carefully thread it in then pull on it real hard a few times. that will reseat the nut in the wall and allow you to easily screw on your hold. so far i've had no problems with these whatsoever.