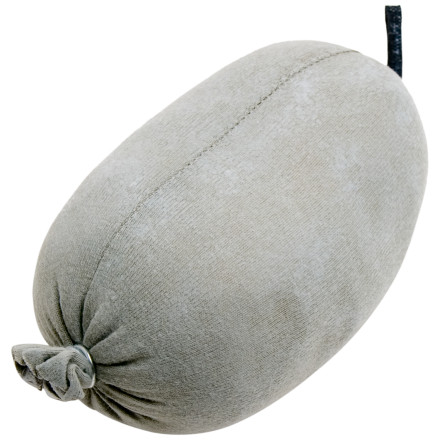 Detail Images
Description
Leave less trace when you climb with the Metolius Super Chalk Eco Ball.
The Metolius Super Chalk Eco Ball uses colored chalk to reduce trace on the rock. No more slap marks, no more white holds, no more spilled chalk piles. If you care about the rock you climb on and want to reduce the chance of access issues, you should drop the Metolius Super Chalk Eco Ball into your chalk bag.
Very Light Chalk
Familiarity:

I've put it through the wringer
I boulder 3-4x a week and I did use up the whole chalk ball before moving to a different brand.

Pros
- Gets the job done

Cons
- Very light chalk (no matter how much I try to pack the chalk in my hands, I can never seem to get enough chalk as I would like)
- Tough to get chalk when the ball is new
I just took this ball out for the first time yesterday and it broke in my bag and almost all came out. On top of that it doesn't really dry my hands as well as regular chalk.
can you refill this chalk ball?
Daniel,



Unfortuantely this is a non-refillable chalk bag. Metolius does make the Metolius Chalk Sock in a refillable option: MET0218-REF-ONSI



Shoot me an email anytime you have questions!



Jared D.

Expert Gearhead

801.736.4336

jdowns@backcountry.com


Tops!
Familiarity:

I've used it several times
This ball is Tops!

(I'm still new to climbing, but I'm glad I got this :) )
broke immediately
Familiarity:

I've used it once or twice and have initial impressions
the chalk is fine, the ball is weak. it broke on my first day in the gym, immediately. from now on i'll just make them.
Chalk
Familiarity:

I've used it several times
It's a chalk ball...it does the job
Chalk ball
Familiarity:

I've put it through the wringer
It's a chalk ball. What more needs to be said?
Beginner's thoughts
Familiarity:

I've used it several times
I just started indoor and outdoor climbing a few months ago and recently realized the benefits of chalk. I have never used loose chalk, but my experience with this product has been very positive. Dries out my ridiculously sweaty hands and doesn't cause a mess in my bag. I find myself reaching for chalk a little more than I would want to, but no mess, no stress, and most of the gyms by me don't allow loose chalk anyway. I'm a fan of this product
Convert today and convert your friends!
Gender:

Male

Familiarity:

I've put it through the wringer
Do you remember your dream project? Good but not excessive protection along the gorgeous looking line. Just right amount of steepness and hardness. And fun. Lots of fun. You had been training really hard. You had been dreaming this line for months. And finally you got there... WHAT THE [censored]?!?!?! Chalk line. Hidden holds? No way - this is the chalk line. Every and any hold is chalked. Really they are over chalked. You can see every move from the quarter mile distance - this is the chalk line. You barely need to carry your chalk bag - at any rest spot you can dig enough chalk to chalk up your fingers, and your palms, and even your butts if you by any chance need it. Do you remember it?



What to do? Begin with yourself. Stop using chalk that marks rocks. Get Metolius Eco Ball. Convert to non-marking chalk today and tell your friends to do the same tomorrow.



I used Eco Ball a several really hot days and did not notice any serious issues with it. Just get it and stop mark your favorite rocks.
Great!
Familiarity:

I've used it once or twice and have initial impressions
Great chalk ball! Larger then most, but still fits chalk bag fine. Non-refillable, great for indoor climbing
Does anyone know if the chalk ball is...
Does anyone know if the chalk ball is refillable?
Hey David,



Unfortunately the chalk ball is not refillable.
Even though its not refillable, it's still my favorite chalk ball.
Not Good
Familiarity:

I've used it several times
I bought the Eco Ball because a couple of locations here in Colorado have banned white chalk. It is okay, but not even close to regular white chalk.
Not a fan
Gender:

Male

Familiarity:

I've used it once or twice and have initial impressions
I wanted try this and was let down. I prefer regular chalk.
Seams to work great, no real markings left on the rock and keeps down on the mess
I've taken to using these all the time now, not just in the gym where I told to. They are pretty big so make sure you have a large chalk bag. It's gotten to the point where I use it to start, then when it gets smaller I pass it down to my wife and her smaller chalk bag, then it ends up with the kids. It works just as well as any other chalk and but doesn't cover the rocks and your clothes with marks.
This stuff is not very good. It does leave some marking on certain types of rock, and it just doesn't stick well.
This chalk ball just doesn't do it for me. It's enough to dry my hand for a couple of seconds then I'm sweaty again and have to reach for the ball again. I prefer dunking my hand in chalk.
This is a good ball but I didn't factor in the size of my chalk bag, which is to small for my chalk ball. It works well lying around at boulder sites. So for noobs like myself make sure you watch out for this quite obvious mistake!
this chalk works great. at first it doesnt feel like its working but after a couple short climbs you really start to notice what a great job its doing. its nice to use also since you dont have to chalk up alot. i dont have to be reaching into the bag after every hold.
Im loving this bag. I have found that it works better for me than other chalks I have used. It dries my little digits out instantly. Its only problem is that it almost works too well. The color is awesome not only for being eco friendly to the rock, but also the back of my 4Runner. For $3.95 you gotta try it for yourself.