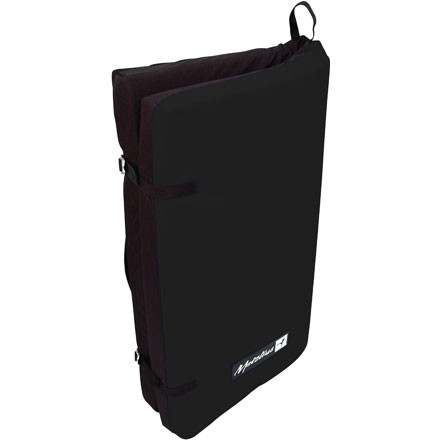 Detail Images

Videos
The Metolius Sketch Crash Pad's compact size and clean, no-frills design makes it a great choice for running laps on your favorite circuit. Two inches of open-cell foam topped by an inch of closed-cell foam provides a soft landing when you pitch from a sketchy topout. Metolius gave the Sketch Crash Pad removable shoulder straps for easy transport to even the most remote bouldering areas.
Small size ideal for circuits and additional padding on highballs
Combination of open- and closed-cell foam for big and small falls
Drag handles for easy placement
Removable shoulder straps
Sketch not sketchy
Gender:

Male

Familiarity:

I've used it several times
Great small pad for the $$ when on sale. The 3 inch thickness is adequate when you don't need 4" or 5". The overall size is also adequate when bouldering no higher that 12-15 feet up. The straps and hooks are top quality. The shoulder straps are functional but could have come with a sternum strap, I added an accessory one from OR. I only fold the pad when leaving to go bouldering as the foam will crease. I store open in the shipping box to prevent a permanent bow shape. Great quality heavy nylon fabric and the pad is more than durable. The reduced weight is a plus for lengthy hikes into the backcountry.
Metolius Sketch Crash Pad
Pretty good crash pad for the price. Easy to carry with backpack straps. Not super thick but the foam is firm enough to protect you in a low fall or landing.
On the very first time out the side seem came undone. I didn't notice any direct contact that may have caused it either. Just came unstitched. Although, most likely this was a unique problem.
Is this a good pad for beginners?
Is this a good pad for beginners?
Yeah this is a great pad for any kind of bouldering.
Noooo, go with the mad pad or bailout, you want something with a little more coverage/thickness.
Best Answer
I also disagree with Elise. This is a SMALL pad. I would say that a pad like this only has a few good applications:
- sit starts on boulder problems where you need a thinner pad so you can get on foot holds down low
- covering cracks between bigger crashpads so you have less chance of spraining an ankle or something from landing with your foot between pads
- sport climbing- a lot of sport routes now have a pretty sketchy start to the first bolt, and it's nice to have a little something underneath in case you take a couple falls before the first bolt

For beginners I suggest a bigger pad that will be more versatile, so you can land on it from 10+ ft and not break your ankle
on this pad, are there any straps or...
on this pad, are there any straps or buckleson th bottom to keep your gear from falling out?
You can kind of see one of them between the backpack straps in the photo. There is only that one I think though.
Best Answer
No it's a crash pad not a backpack
Lightweight,easy handling.I'm using it with Metolius launch-pad because it covers slightly small area.
lightweight,easy handling.I'm using it with Metolius launch-pad because it covers slightly small area.
Cheap pad, covers only a fairly small area-- pretty thin. Adequate for short falls I think!? I use it for my hangboard/home wall; have been fortunate enough not to take a winger onto it yet. Wouldn't trust it for a longer fall say while bouldering outdoors.