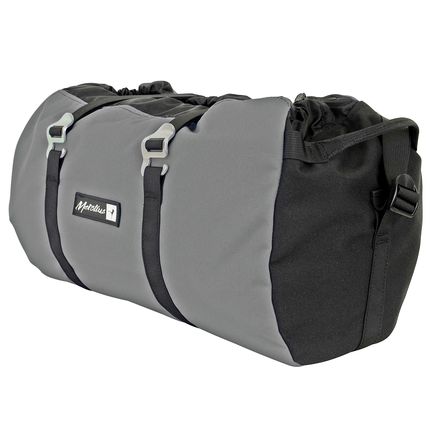 Colors

Detail Images

Community Images
Description
A classic design remastered.
With the exception of an increased capacity suitable to a 70 meter cord and a redesigned tarp, the Metolius Ropemaster HC Bag features the same time-tested design that made the original Ropemaster the first and bestselling rope bag ever made.

Large capacity bag can easily stow a 70 meter cord
Drawcord and unbreakable aluminum buckles provide a secure closure and allow you to compress the bag for storage
Redesigned tarp keeps your rope out of the dirt and allows for easy loading
Rope window allows you to see which rope is in the bag without opening it
Keeps everything neat and tidy
Familiarity:

I gave it as a gift but have feedback to share
This bag keeps my new rope clean and organized. It is large enough to also fit two sets of quick drawers, slings, a harness and climbing
shoes. I like the size of the tarp and how well it folds into the bag.
The bag is lightweight but durable. The clear window is an added bonus if you have multiple ropes and want to see which one is in the bag.
Great Rope Bag
Familiarity:

I've used it several times
I am very glad I invested in this rope bag to carry my rope around versus the other backpack I was using in a makeshift manner. The size is great, easy and comfortable to carry. The tarp size is also good, with the buckles and material being quite sturdy and appear to be durable. Only had it a short time but have been impressed with its utility and comfort thus far. I have used it for gym and outdoor climbing and found it to versatile.
A worthy investment.
Familiarity:

I've used it once or twice and have initial impressions
I've used the Metolius Speedster for years at sport crags with great results. I bought the Ropemaster HC after I got my second rope & it fits the bill beautifully. They're virtually the same thing, the biggest difference being one's a backpack & the other is a gym-style bag. It's worth the $32 investment to keep your rope out of the dirt and make it last more than a couple of seasons. I was pleasantly surprised by its capacity as it'll hold my 70m 9.5mm rope & a single trad rack if I pack it right. The best part is no more coiling & tying. Just unroll, grab the top tail, and go. When you're done just flake it up, roll, & you're outta there!
GREAT rope bag!!!
Familiarity:

I've put it through the wringer
I have had a Metolius Rope Master rope bag for years and it's still going strong. The attachments are all very durable. The buckles are convenient and easy to use. The little clear window makes it nice to see which rope you have in there (if you have more than one rope and rope bag). It is a great size...not too big and not too small. I like how you roll up the tarp with the rope ends tied and that it keeps them separate if you want to do that. I have a set of twin ropes in mine right now and it keeps them separate while on/in the bag. I bought this one as part of a group gift for a climbing couple that is getting married along with some other stuff. I always highly recommend this rope bag to friends and anyone who asks. Great rope bag!!!
Your rope is worth it
Familiarity:

I've put it through the wringer
Metolius makes it incredibly easy to take care of your rope. Easily fits a 70m 9.8mm rope, easy to unroll the tarp and instantly start climbing if you flaked your rope right, and easy to haul your bag from route to route (or up a route if you're climbing out from a long day).

Don't just think of this as a fancy splurge; if you want to extend the life of your rope and prevent dirt and debris from becoming embedded in the sheath, this bag is a must-have.
Will fit a 100m 9mm rope.
Familiarity:

I've used it once or twice and have initial impressions
Bought this with my 100M Mammut Canyon Static 9mm, hoping that the smaller rope would let me roll an extra 30 meters in. It's a little tight, especially if you're careless with how you pack it, but it fits just fine. The window is nice to be able to tell which rope you're grabbing as well.
Nice
Familiarity:

I've put it through the wringer
I like it. Having a rope bag makes a day of cragging a bit easier and gives me some extra peace of mind knowing that my rope will be protected. This thing is pretty voluminous; I typically carry around a 60m rope and 100ft of static rope in it. That puts it at about full capacity, but that works for me! There's a window at the top that lets you see what rope you have in it, which would be really helpful for cool people that have lots of ropes. I really like the colors too and it seems very durable. The price is good, and having a tarp to unfurl the rope out unto is a very nice feature as well. Everything's good. Just wish it had some daisy chaining on the side to clip 'biners too, but other than that it's pretty much perfect.
Dare I Say Perfect.
Familiarity:

I've put it through the wringer
The simple design works perfectly for my rope - the durable exterior, the quick buckles on the outside, the padded strap, the tarp with secured loops. I have no complaints - I bought one for my second rope, and even bought the exact same one when the first was stolen from my car.
I bought it for the dramatic Salmon design, and I fell in love with the functionality. It's not minimalist, but it has been thrown around and beaten up and keeps on loving both me and my ropes. Thank you Metolius.
Great Rope Bag in and out of the GYM
Familiarity:

I've used it several times
This bag is a great rope bag for managing ropes inside and outside of the gym. It has held up well in granite to sandstone and resists wear well. Buckles and straps are well build and durable yet easy to manage in the gym for quick climbs etc.
great bag, and a huge tarp. The main reason why I like Metolius, is there stuff always feels like it can be put through a gauntlet and it would hold up. Very durable and sturdy bag.
great. have 2.
Familiarity:

I've put it through the wringer
bought one for each rope. makes rope management a breeze. worth the $30.
Best bag for your buck!
Familiarity:

I've put it through the wringer
This is a HIGH quality rope bag that folds out into a tarp- this allows a person the opportunity to stand on it to keep climbing shoes clean and sticky before a climb, while also protecting your rope from debris. Super important features in a rope bag that not all of them offer.



Furthermore, Metolius is a trusted name in the industry and they have made this bag with a very durable outer layer. Once while in Yosemite we forgot our rope bag outside of the car and it flipped off and slid down the highway at 45 mph+... I don't want to delve into it further, but the rope and the bag were completely unscathed by the mishap!



A small scratch on the very outside is all we saw and the rope was safely housed inside without a single blemish, though this could have been a disaster on that climbing trip had we not had such a quality bag like Metolius offers!



GET THIS BAG!



Its cheaper and really dependable for a rope bag!



It also has the see through window so you can determine which rope you want for a day of climbing without having to open the entire thing up.



One other feature I love is the inner straps so you can tie off your rope ends-this allows you to find your rope end and tie into the sharp end fast and efficiently once you've done safety checks and are ready to move upwards.



Overall, this is my favorite rope bag for many reasons!



Thank you backcountry.com



Love the gear!



(Pic-70 meter Sterling velocity)
Totes my Rope
Familiarity:

I've used it several times
I love this rope bag! I highly recommend it to anyone that wants to keep their rope organized, clean and easily stored. We have a 70m rope and it fits so well into this bag. We even have extra room to store other thing in there along with the rope. I have to say that it is one of the coolest pieces of gear. Also the tarp that you wrap the rope up in is huge so your rope is going to stay clean! the straps are totally solid and will keep your rope nice and bundled up tight! I can't really find a negative to this bag because even the shoulder strap is great. Did not have a problem toting my rope up any of the approaches we have gone up. If you are in need of a great rope bag then get this one it will not disappoint!
Gets the job done right
Familiarity:

I've put it through the wringer
Second time I have bought this bag - I have no idea where the first one went. Very large tarp to help protect the integrity of the new rope purchased for this season. Excellent compression straps as well.



Could be more comfortable to carry but functionally as rope protection and storage, it gets the job done.
Reliable
Familiarity:

I've put it through the wringer
Great rope bag. Very durable and reliable. I've had it for two years and have seen no downgrade in its functionality. To me, that's way more important than fancy gimmicks or fabrics.
Excellent Rope Bag
Familiarity:

I've used it several times
Like some others here, I looked at a variety of rope bags, including the Black Diamond Super Chute, and this was the best of the lot.



The Good:

--Big enough for my 70m rope

--Solid buckles, with compression straps that stuff everything down very nicely

--Clear window directly over one of the tie-off spots, making it easy to tell what rope is in the bag

--Adjustable (and even detachable) shoulder strap

--Huge tarp that lays nicely flat

--The tarp rolls up the rope and keeps everything nice and tidy in the bag. Slides into my Black Diamond Speed 40 pack very nicely.



The Bad:

--No longer has a pocket on the tarp for rolling up the rope, unlike previous models. The tarp seems to cover things pretty well, though.

--Only two tie loops for the rope and gear; previous versions had four.



Overall a great bag, and my favorite of the current offerings. Get it and you won't be disappointed!