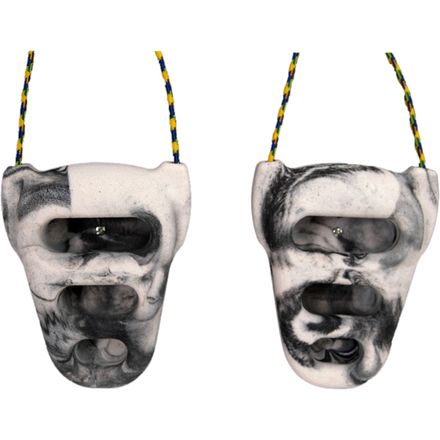 Community Images
Description
Train on the go with the Metolius Rock Rings.
When you can't get out to the crags or the gym, hang up the Metolius Rock Rings and squeeze in a workout. Unlike a hangboard, the Rock Rings' free-hanging, single-point suspension allows your joints to rotate and prevents injury. Large top jugs and three sizes of incut holds allow for comprehensive training, and the portable design lets you bring and hang them anywhere.
Portable training
Familiarity:

I gave it as a gift but have feedback to share
Gave this to a friend for her birthday and she is so stoked. She has a hangboard, but can't set it up in her room because of how low the roof is over her closet and room door. These definitely solved her dilemma. And now, after hearing all about them for days after, I'm thinking I need to grab some for myself!
I enjoy using the Metolius Rock Rings! They are the perfect, portable way to get a little bit of hang board style training in without needing a full hang board. I hang these off of my pull up bar that is mounted on my door frame. It ends up being a little low, which is not a fault of the product, but the nylon chord on the rings can be shortened to give quite a bit of adjustability. The rings have a good amount of texture. They're not too hard on skin, yet they still have enough grippiness. Yes, that's a word. The rings come with ideas on how to use them and there is a good article on the Metolius website here: http://www.metoliusclimbing.com/training_giude_rock_ring.html
Great Training Aid
Familiarity:

I've put it through the wringer
There are no climbing gyms where I live, so when the weather doesn't play nice and I can't get to a rock wall, I at least have these to train on. They are great for improving contact, upper body and even core strengths. With great portability at a low price these are an excellent addition for any climber.
Portable sanity...
Familiarity:

I've put it through the wringer
Fit in luggage where a fingerboard won't.
Nice Rings
Familiarity:

I've put it through the wringer
These are good rings to have for pull up related workouts. They are fairly inexpensive which is a plus and they are nicer than using a standard pull up bar. They can be attached pretty much anywhere, I've had them on a door frame pull up bar with the included rope and to eyebolts with the rope and carabiners. They are pretty much just jugs though, and you just vary how many fingers you can place per level.



It also seems like you could place them on a climbing wall as a hold since they have holes through their face.
Way better than a pull up bar
Familiarity:

I've put it through the wringer
These are great for training and offer so much versatility. Plus they are tough and inexpensive. There are a ton of options for hanging these but I bought a couple heavy duty screw hooks and hung these from studs in the garage.
Rockin Way to Train
Familiarity:

I've used it several times
I bought these to help build up contact strength and improve my general condition while I decided which rock gym to join (here in Seattle we do have a few to choose from depending on whether you want your emphasis to be bouldering or top roping/lead climbing). After 6 months of climbing I'm still finding these helpful when I want get in a little time conditioning but don't have time for a full session at the gym. The other reviews have hit the highlights: compact size, variety in mounting and exercise options, range grips and angles. For around $30 these are a really inexpensive way to get an intense sport specific workout.
Exactly What You See
Familiarity:

I've put it through the wringer
Its a great way to get a solid workout in and not have to leave your home. Metolius even has a 10 min workout that you can try on it that is extremely challenging.
versatile training equipment
awesome way to get your pull ups in with out having to use the same old pull up bar, also more challenging with the 4 different places you can grab it, then you can also change the direction of your hands, and the rope itself adds more of a challenge. Rock rings also give you an option for un even pull ups when your training calls for it. so yes they are versatile. but you just have to have a god place to hang them.
challenge accepted.
Familiarity:

I've used it several times
i didnt realize what my workout was missing until i started mixing these in for pull ups. they are difficult to keep straight and theyre definitely different then your standard training board. overall id suggest them for a friend who doesnt have the option to mount on a wall like me in a dorm room.
cool product. the free floating design is nice: it can be easier on your shoulders and can help you train for pulling at different angles. the portability is great too. the only bummer is that the bottom rung is too small now. instead of a crimp, it's a 2 finger pocket.



if you have the space and funds for a hangboard, it's a more effective training tool. but rock rings are still great.
Real Men use these
Gender:

Male

Familiarity:

I've put it through the wringer
Fast delivery as promised. The hand blocks are heavy, come with their own fastening cord and look indestructible. They allow you to do chin-ups, pull-ups and angle your hands any way that is comfortable. You can attach the blocks to a pull-up bar at the gym and make them close together or far apart. The finger holes really do separate the men from the boys.
Keep those fingers stong!
Gender:

Female

Familiarity:

I've put it through the wringer
I love the rock rings for their portability and their flexibility. I didn't want to mount a fingerboard in my rental, so I hang the rock rings off the 8 foot high back deck with a little nylon webbing and a couple carabiners--non-permanent, no drill holes. I love figuring out all the creative ways I can use them to do more than just dead hangs and pull ups. There are a couple competitors to the rock rings now that have a greater diversity of grip options, but I don't feel the need to replace this quite yet.
...but then again, that's the point, right? these babies really do work. at first i had to start out using basically only the easiest holds for every exercise. getting better though.
Do you want to get stronger?
Then you need to buy these! After my first training session with them, my forearms were completely dead. With a couple of weeks under my belt, I have already become much stronger. For the price, they can't be beat.