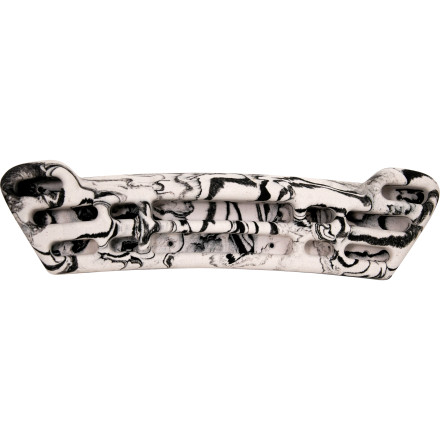 Detail Images

Community Images
Description
You can do without that free gym bag.
The multiple holds and natural arc of the Metolius Project Board brings the gym to your bedroom so you can train year-round without the worthless meathead carbo-jargon. Before the canyon warms up, you'll train hard every day on the fine-textured Project, so when it does, you'll top out your route before your friends can say 'climb on.' It is compact (24.5 x 6in) so it'll fit in your tiny apartment without disturbing the feng shui. The Project comes in assorted colors, so although we're not sure what color you'll get, we do know you'll develop tendons like steel cable. In addition to all the mounting hardware, the Project comes with instructions and a training guide to get you off the ground in no time.
Brings the whole house together
Familiarity:

I've put it through the wringer
Me and all my roommates share this hang board and we love it. It is a great first hang board . The only flaw is that the middle holds are useless. Other than that I love this board.
The Real Deal
Familiarity:

I've used it several times
This board is great, has excellent grip and a lot of holds. Don't think it is necessary to get a big board unless you are doing some serious training.
Great hang board for training
Familiarity:

I've put it through the wringer
This board is just what I needed for mid-week, non climbing gym workouts. I use it 2x per week (along with 2-3 gym workouts per week). The only reason I didn't give it 5stars is because the training guide that comes with it is horrible. Luckily there are plenty of youtube videos available to give you ideas.
For those with Little Head Space
Familiarity:

I've put it through the wringer
Of the training boards on the market, Metolius consistently makes the best training boards out there. Their line of training boards is by far better than all others. I picked up this training board because it is not at tall as the Contact or the Simulator 3D so it's perfect for going above a door that does not have enough space for a taller training board.

Jugs:
Jugs for days! You can hang on these forever and bust out pull ups for as long as you'd like.

Slopers:
These are a tad harder than the middle sloper and smaller width wise. I prefer doing dead hangs or pull ups on these.

Middle Sloper:
This is the easiest sloper on the board. Since it is one big sloper, it is great for offset pull ups or working through a sequence from the middle out.

Crimps:
The number of crimps across the board is great.I like that I can do sequences across the 2-finger, 3-finger and 4-finger crimps. Some are deep enough that they feel more like pulling on an edge/ledge.

Inner Rails:
I love the inner rails for offset pull ups or offset hangs and working on general finger strength!

Ergonomics:
There is gentle curvature to this training board which is great as you're working through training sequences across the board.

Texture:
I like the texture far more than any of the SoIll or Trango training boards I've tried. Those are greasy, slick and just not pleasant in my opinion. The cavities on the surface fill with chalk and that is what makes them greasy and slick. Instead of a negative texture, the Metolius boards have a positive texture which I prefer for training boards.

Material:
It is a heavier training board because of the material. It is not hollow backed but that is alright because you put it up once and that is it. No remounting required like other climbing holds, etc.

Ease of Installing:
This training board is super easy to install. Eight screws total. I'd recommend attaching this to a backer board with the backer board secured properly into studs.

Shoot me an email anytime you have questions about this training board or any other gear!

Jared D.
Expert Gearhead
801.736.4336
jdowns@backcountry.com
Great addition to Grip Training
Familiarity:

I've used it several times
The variety of grips encourage a great range of grip strength training for all activities - awesome addition to Performance Training Systems Gym in Chicago, IL.
Simply perfect.
Familiarity:

I've put it through the wringer
I didn't want anything fancy or over the top, but wanted something that had the durability and reliability needed for a long lasting hang board. This has fit the bill perfectly. It's been used regularly, and has held up, keeping my finger strength up when I'm not able to make it to the crag or gym. No complaints!
this thing is great! it's perfect size and has a good amount of holds to work with. my only problem was screwing in the wood board behind it, I had a hard time finding the studs in the wall but I found them eventually! great product double thumbs up!!
Grip Training!
Familiarity:

I've used it several times
This board is great for grip variety. Super helpful for climbing and other sports where grip is important.
Almost Perfect
Familiarity:

I've put it through the wringer
I needed a hangboard that isn't too hard to start and small enough so my other fingers don't smash against the board will hanging. This board is perfect for that. It has a wide range of holds from 2 finger to 4 and sloppers as well. They have deep enough pockets for beginners and smaller ones for more of a challenge. I would recommend only one thing and that is that they should also install a hold for pinches at this size so fingers don't get smashed again. Then it would be perfect. Other then that I love using it and use it anytime I have a chance.
Easy 5 Stars here...
Familiarity:

I've put it through the wringer
The Metolius project board is awesome!



On the Metolius website you can find a hang-board workout for everything; from the beginner climber struggling with a pull up, to a professional athlete, Metolius has you covered with ease.



I started hang-board routines on this a month ago and instantly started seeing results. The project board is easy to mount, sturdy and dependable. It's a fun and fast way to bring your climbing to the next level and I would venture to say the hang-board is stylish as well, thus being a nice addition to home walls or simply a nice way to work out within a door frame of your apartment. Easy!



In ten minutes every other day, my contact strength has doubled and I'm getting better at advancing hang-board routines as well. To stave off injury and progress, there's no other way that is as effective in my opinion. For the size and price, if you take climbing seriously, get one!
Warning, very addicting!
Familiarity:

I've put it through the wringer
I use my hang board every day without exception. Building strength without even thinking about it. Becoming a stronger climber. These are all things we could use.

I highly recommend this quality product.



OH! One more thing, its quick and easy install is great.
Marvelous Metolious
Familiarity:

I've put it through the wringer
Makes your fingers so strong! This board is well-made, easy to install, and comes in some neat colors. I would highly recommend.
Best Answer
Howdy David,



Thanks for the question.

Silly we don't have that spec listed, our apologies!



24.5" x 6" (622 mm x 152 mm)
Is shipping available to Malaysia ??
Is shipping available to Malaysia ??
Best Answer
While metolius products can be shipped internationally, backcountry.com does not currently list Malaysia as one of the countries they ship to. I would give them a call or an email and see if they can do anything. I recently chatted with them, and the staff is super helpful and courteous. I'm sure if there is any way they can help you, they will. Have fun climbing out there!


Awesome for ice climbers too!
Familiarity:

I've put it through the wringer
I have used it to improve my contact strength for gym climbing, but have found that it's great with ice tools - I use the deep two-finger pockets for my picks and can do squat-stand exercises or even pull ups on my tools.
When Price or Space are the key factors
Familiarity:

I've put it through the wringer
I would like to have something fresh or original to add to the chorus of reviews but it seems like others share the same criteria for their training purchases. Yes, this Project board is compact and offers a variety holds, so whether this collects climbing chalk or dust is up to you. I have been using this in conjunction with other holds at home several days a week for a couple months and I've improved 2 grades bouldering and from 5.8/9 to 5.10+/11- (top rope/lead) rope climbing in the gym in those two months. If you are willing to get a few calluses and achy muscles then your climbing will certainly improve with this board. There are various exercises that are thoroughly explained in the included instructions flier and there are no shortage of routines easily found online. This product will certainly deliver variety, not take up much space for a really sensible price, and the hardware (screws) is included.
Good, straight-forward project board. Its size makes it easy to put almost anywhere in my apartment.
up your game!
Familiarity:

I've put it through the wringer
Can't make it to the climbing gym 5 days a week but still want to train? this thing is great for home use. The gym I work at has the larger version but that thing is way to big for my room, I love this size though. It doesn't have as many spaces but for home work outs it will do the job. No more excuses why you aren't making progress every day, or sending that project you have been working on for way too long. Climb hard, train harder!
I just put my project board up in my apartment and there is no way the 3D training board would have fit. I's also pretty much all I'll ever need, there are 2 different sloper holds on the top. It would have been pretty easy to install if I hadn't been using a drill from the 80's. I'm for sure going to have this hanging above my door in all my future homes.