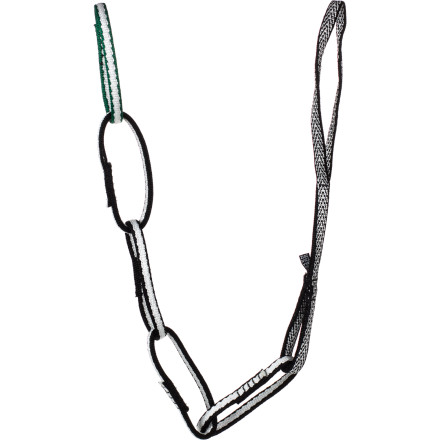 Colors
Description
Rip-and-clip action.
After gaining the chains and pumping out, the last thing you feel like doing is fiddling around with excessive slings, daisies, or quickdraws. The Metolius Personal Anchor System streamlines your anchor-setting process for increased convenience and safety.
Dyneema webbing resists water absorption to avoid taking on excess weight
Strength rated to 22 kN so you can rest assured knowing the PAS can handle more than a little hanging action
Use beyond body weight applications makes the PAS safer than a traditional daisy chain
Stows compactly to maintain pack space
Carabiner not included
Quick, easy, and redundant
Familiarity:

I've put it through the wringer
I primarily use this to clean sport anchors. Its adjustability and ease of use make it the quickest, easiest and safest way to anchor in. Remember to clip into two bolts when you use it! Clip one of the middle links to one bolt, and the end one to the other, then you are redundant.
Solid Piece of Climbing Equipment
Familiarity:

I've put it through the wringer
Love this thing! The interlocking loops make for easy and safe adjustment, and its small enough not to clutter up an already full rack of gear. I usually sling it between my legs to the back of my harness to keep my gear loops clean. One note to consider, this is dyneema, which is awesome stuff, but it does not like dynamic falls. These work best when weighted and taught. Even a short fall onto a loose PAS can produce some really high forces. Read up on the difference between nylon and dyneema/spectra and understand their strengths. Also don't take safety advice from some rando on the internet. :)
A must for your climbing quiver.
Familiarity:

I've put it through the wringer
This is the best personal anchor system on the market. Its great for multi pitches or just cleaning a route. It allows for quick adjustment in length. Not to bulky or heavy. A must for any climbers quiver.
Damn!
Familiarity:

I've put it through the wringer
Why didn't I invent this? Multi pitch... it goes with me every climb. Solid reliable multi-use piece of gear. It comes in handy on ski descents.
This is an essential piece of gear
Familiarity:

I've put it through the wringer
The Metolius PAS is necessary for any climber who's looking to do any kind of multi pitch climbing. It's design makes it fast and easy to anchor in no matter how high off the ground you are. The simplicity of it is very nice while you are climbing, it's not bulky and doesn't get your way, but allows for a lot of adjustability due to the interlocking ring design. I use this piece of gear every time I go climbing, and I've learned to trust it.
pretty cool, not much to say other than I prefer this PAS over the other ones that I have tried, and the colored end loop helps you I identify your tie-in end easier.
I already reviewed this piece a while back; however, during a conversation with a canyoneering friend recently, it was discovered that he was using his daisy chain in an unsafe manner and did not even realize it. Many, including my friend, are not aware that taking a fall on a daisy chain, that has been improperly shortened, can tear out leaving you in a freefall.

If you have not seen Blackdiamond's demonstration video ...take a look:
https://vimeo.com/14679471
Having seen this and shared it with my friend, he has changed his methods ...eliminating the chance (slim or not) of a catastrophe.

Metolius PAS is awesome because every loop is rated. Perfect piece of gear for canyoneering as well as climbing. Makes setting up awkward raps much safer.
What is the length of this PAS w/o Carabiner?
Length w/o biner is 38" (96.5 cm)



Jared D.

Expert Gearhead

801.736.4336

jdowns@backcountry.com
What would be the advantage of this pas vs the alpine pas? 12kn seems enough for personal anchor use. That's over 2500lbsf. That's what the Alpine is rated to. This one is more expensive and heavier and stiffer. trying to understand the advantage over the alpine for use as a pas.
Best Answer
Hey Jessica,



So there are a few slight differences between the regular PAS 22 and the Alpine PAS.



PAS 22

38" long (96.5 cm)

CE/UIAA Certified

Weighs 3.3oz



Alpine PAS:

36.5" long (93 cm)

NOT CE/UIAA Certified - designed just to be used as a tether and not for equalizing an anchor

Weighs 1.7oz



Shoot me an email if you have any questions at all!



Jared D.

Expert Gearhead

801.736.4336

jdowns@backcountry.com




This PAS is not a POS
Familiarity:

I've put it through the wringer
I really like that you have a quick ability to choose whatever length you need for the situation.

The only thing I don't care for is how expensive it is. Kinda ridiculous.
Best PAS on the market
Familiarity:

I've put it through the wringer
This pas is great, very light, and easy to stow away on your harness. I think this chain can hold up a car, or at least I tell myself that. Super great for cleaning routes and building anchors. Great gear to add to the arsenal of equipment you must have.
Amazing versatility!
Familiarity:

I've used it several times
Of course you can tether with a sling... but without knotting/doubling it you're limited to one length, and if you do you're losing strength.



The PAS can be clipped at different lengths and is always full strength - so you can belay off it, make an equalized anchor, and my personal favorite use for trad climbing, multipitch rappels with the perfect rap extender/tether combo!



Get one, you will never regret having it.
Don't leave home without it.
Familiarity:

I've used it once or twice and have initial impressions
If you do not own one of these buy one now. I cannot begin to think how much time I have wasted fiddling with slings at the top of a climb until I tried this out. Besides saving time, this allows the user to focus on the task at hand.
Safety First
Familiarity:

I've put it through the wringer
This personal anchor system is always attached to my harness! This PAS is much safer then a daisy chain! Having so many loops makes adjusting your distance to the anchor so easy! Made in the US!
Essential Daisy
Familiarity:

I've put it through the wringer
I always keep this on my harness at all times. If you do any multi pitch climbing this daisy pays off huge. Super easy and quick to equalize anchors and simplify the belay. I'm on my 3rd one now. I like to replace it after heavy use for the peace of mind but most likely don't need to since it's so bomber.
Very handy
Familiarity:

I've put it through the wringer
Having 22kN loops all in a row is perfect for adjusting your distance to the anchor so you can belay, play with the rope, etc. Easier than set length runners that you'd have to fiddle with to get the lengths right.
Simple and safe
Familiarity:

I've put it through the wringer
The PAS is a well-designed and incredibly safe piece of gear. Just girth hitch it to your belay loop and you're good to go. I particularly like having it when I'm second, finished cleaning a route, get up to the belay station, and just look for the colored end loop. That was a great touch.



A little bulky and frivolous (but still nice to have) for backcountry or alpine climbs where you're counting grams. However, for days at your local crag or short approach climbs this thing is indispensable.
Simple and awesome.
Familiarity:

I've put it through the wringer
I use this for tying into anchors when cleaning and setting up sport routes.



The Metolius PAS is simple, easy to use and adjust, safe with each loop being rated, well marked with the end loop brightly colored.



I recommend this to all for it's safety and convenience.


Safe and great
Familiarity:

I've put it through the wringer
I had always used the older style daisy chains and honestly thought that they were safer than the PAS, until I did a bit of research. The PAS is fully rated at 22kN on every single loop whereas the older style daisy chains are not. I started thinking of all the times I had clipped in on my old daisy chain in ways that I now realize were stupidly unsafe. So I bought the PAS and have never had to question my safety again. Loop it straight into your belay loop and use it to clip into your anchors at the top of a climb or at a belay station. Its a great pice of gear.