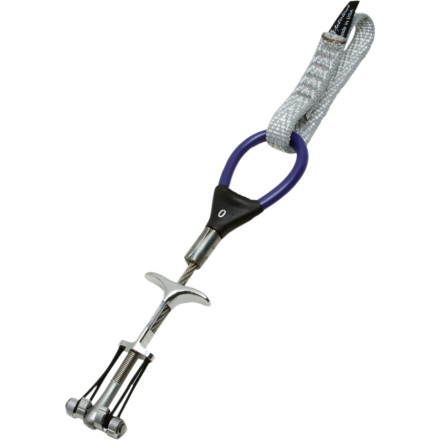 Colors

Detail Images

Videos

Community Images
Description
Protect cracks that you thought couldn't be protected.
Thanks to their offset cam lobes and ultra-narrow head design, Metolius Master Cams fit securely in places where other cams don't stand a chance. The ability for these cams to fit in shallow, flaring cracks makes them a top pick for cutting-edge free trad lines and aid climbs alike. Metolius added a large thumb loop to make placements easier and provide a high clip-in point when you're stretching for the next aid placement. Metolius also added cam stops to provide an extra level of security in case the lobes get tipped out as you climb above your gear.
Offset lobes for added security in flaring placements
Flexible stem keeps this cam from being levered out of a horizontal placement
Range finder warns you of an over-cammed placement
Thumb loop provides a high clip-in point for aid climbing
Built-in cam stops provide extra strength in tipped-out placements
Slings and tubing are color-coded for quick identification
Click sizing chart link for specifics on range, strength, and weight
Hand-built, inspected, and proof-tested in Bend, Oregon
Love granite cracks? Get offset cams
Familiarity:

I've used it several times
I have the 1/2 blue/yellow and I will soon be getting more. Every time I climb in Little Cottonwood or City of Rocks, I bring this guy along and usually get to place it. In fact, there's usually that one spot that eats the offset perfectly (but wouldn't seat all lobes of normal cams). The bi-color nature makes it easy to distinguish on my harness. I have also liked my BD cams, but given the Metolius price vs X4 offsets, I think this is a better value for your money.
I recently added 4/5 to my rack (red/black) to replace a .75 BD that was lost. The range is similar to .5/.75 BD C4. So far I like it but I've noticed a few differences from C4s that I can mention. I noticed that since it's single axle it doesn't retract as far as BD, which means smaller range (that's kind of obvious). The trigger is also stiffer, you need more pressure to retract the cam. The metal seems harder, which I would assume means more durable piece of gear- but potentially more slippery? I havent fallen on it, so far it seemed pretty safe every time I placed it though. I like Metolius and I think it's a great piece of gear. It's more affordable too. But I'm also pretty used to BD C4s so this is an odd piece in my trad rack that will take some time to get used to. In a stressful situation, I would like to be more comfortable with how the gear feels when I place it. This is just different.
A Worthy Addition to Any Rack
Familiarity:

I've used it several times
I finally got out on some beautiful LCC granite this past weekend and found myself reaching for my new Offset Mastercams in almost every small flare I came across. They really do turn not-so-great placements into bomber ones that I'd feel just fine taking a whipper on. My favorite so far is definitely the blue/yellow #1/2.
Every trad climber needs this
Familiarity:

I've put it through the wringer
I don't understand why offsets (cams and nuts) aren't considered standard rack gear. I use my offsets constantly (I climb in NE and Red Rocks mostly). I have the three small sizes plus the 4/5 and I'm looking to get the others soon. They place much better than C3s or TCUs.
Metolius Offset Master Cam #2/3
Bomber!
Gender:

Male

Familiarity:

I've put it through the wringer
It's a bomber pro for irregular cracks. In Yosemite and South Lake Tahoe area the 4 small pieces (gray/purple to yellow/orange) almost always fit better then regular (non-offset) cams.



The two biggest pieces are not so useful - heavy lobes and soft stem makes them hard to place as they wear a little bit.



If you climb in Yosemite or South Lake Tahoe area you want to have 4 smallest offset cams for sure. A good alternative is Fixe offset aliens.
MASTER cams is right!!
Gender:

Male

Familiarity:

I've put it through the wringer
I climb on southeastern sandstone A LOT and never leave the ground on a trad route without at least a few, especially the blue/purp! I have also used them with great success in Pakistan, Venezuela and Canada.

Why you want these:

Flares -

Lets face it, unless you only climb at Indian creek (and even there) your gonna need to protect in a flare at some point. The narrow cam head and single stem fit tight spots perfectly. Almost every partner I have climbed with in the last few year has purchased at least the first four sizes after sampling the ones on my rack.

Durability -

I have beat the ever living crap out of these using them in horizontal placements. They hold up, don't shy away because of the corded trigger wire; it's burly and Metolius will replace it if you manage to break it.

Weight -

The lightest offset cam available...period!

Price -

Trust me, your a$$ is worth the comparably low cost of owning a set.
Metolius Offset Master Cam
What 2 would you take for free climbing...
What 2 would you take for free climbing yosemite/sierras, Jtree, red rocks? I mean what sizes are good for pin scars?
Best Answer
I would seriously suggest the .5's, and .75's for pin scars.

That bieng said, I also would suggest getting a bigger rack, Especially for the places you are describing, Because, If you are planning on building a bigger rack. I would buy once and cry once. one or two or even four cams are prettymuch useless if you dont have anything else to use for protection.
Hayden, Sorry I phrased the question so it sounded like I didn't have any cams. I have doubles in C4, a set of TCU's and 1-4 master cams. I was looking to buy a couple of the offsets specifically for pin scars.

also... there is no .75 or .5 in these...
Your question is difficult to answer succinctly since the difficulty of routes you plan to climb will change which sizes are most valuable, in addition to the fact that these locations are very different rock types. In general though, I prefer the blue/yellow (1/2) for the Valley and Red Rocks, and the yellow/orange (2/3) & orange/red (4/5) for Red Rocks and J-tree.
These little gems are an aid climbers dream. They slot perfectly into pin scars and remove the sketch factor from formerly dicey placements. If you climb in Yosemite or any place with flaring cracks these are a must! I have found that the 4 smallest sizes 00/0 - 2/3 get the most use. These are so useful that they have found a permanent place on my standard granite rack. Picture from the headwall of Desert Shield, C3, Zion. I was super grateful for the offsets on the last two pitches.
Metolius Offset Master Cam
I was really excited when these cams hit the market, since the CCH offsets had become pretty much impossible to find. I picked up a #00/0 through a #2/3, with the middle two sizes of this range being the most useful. Having the offset cam on your rack can make a pin scar placement secure, or get you past an otherwise sketchy placement with a standard cam. The oval shaped thumb loop works great for clipping in short when aid climbing too.
I bought a set of these for free climbing in Vedauwoo, WY. They were a blessing on the flared no standard pro crux of Cool Jet (11.c).They allowed pro where there was otherwise nothing. Would have been R rated without. Cool Jet?... SENT!!! Thank you offsets
I have one of these and its great, but...
I have one of these and its great, but would it be wise to invest in these versus the black diamond camalot?
A lot of people really like these cams. If you like them, get a set so you can cover the range.
I just got back from a trip to Yosemite on Leaning Tower, and revisiting and old friend Nutcracker. I can't believe I climbed for twelve years without offset cams. They were great on both the aid route and free stuff.
Is it good in granite ?(that has relatively...
Is it good in granite ?(that has relatively big "grain" structure, small irregularities in the rock) - I wanted to buy one for trial - Will the 1/2 ( blue / yellow) be useful size?
Best Answer
This cam would work great on granite!
After the dismal failure of CCH going under due to cams falling apart, these stepped in to take over as my go to aid pieces for flaring placements. I do most of my aid in Zion now so the harder metal isn't too much of a concern for me. I have also used these in Yosemite grantite and not found a significant amount of slippage due to harder metal. I would say the most useful are 0/1, 1/2, 2/3
Nothing better for the job!
I just purchased a set of these 0/1, 1/2, 2/3, and used them for a week in Zion NP. I can't say enough about how well these cams work in pin scarred placements. I had a full set of DMM offset stoppers to compliment these offset cams. We climbed the classic trade route 'Moonlight Buttress 5.8 C1' which is endless 1/4" to 1/2" cracks. These cams became the crutch of our aid rack. We would simply keep a few on each aider, and drop in stoppers for pro as we plugged and chugged our way up the endless crack system. Like I said before, Nothing better for the job!