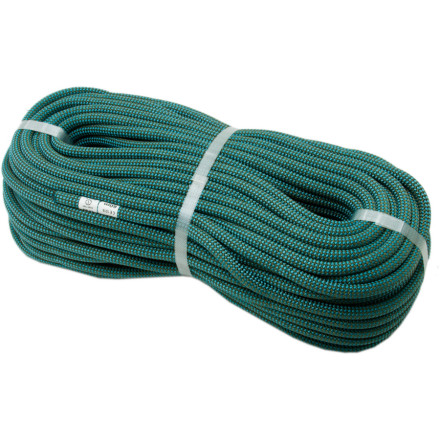 Detail Images

Videos
The Metolius Monster 10.2mm climbing rope packs the durability to take anything from sport whippers to big wall climbing, and Monster Markers add an extra margin of safety. The bright orange markers keep let you know when you're leader's half way through his pitch, and markers near the end reduce the chance of rapping off your lines or lowering your friend off the end. Teflon-coated fibers reduce internal friction which improves both overall durability and sharp-edge resistance. Why would you take chances with the most important piece of gear in your quiver?
Durable rope.
Familiarity:

I've used it several times
It's a rope. I like the contrast of the orange on the green marking half way point. My roommates have this rope and love it. I grabbed it and it seems just fine. It does have dry treatment.
Metolius Monster 10.2 mm Rope
Returned it
Gender:

Male

Familiarity:

I returned this product before using it
I ordered this rope based on older reviews. I live in an area devoid of climbing stores. Ordering a rope from BC is the only way I can really take a look at a climbing product. I removed the rope from the plastic bag to take a look, but did not remove the zip tie packaging in the hope that BC could still sell it as new if I did noy like it. This rope is made by a different rope company than the old Monster. The old monster I believe was made by Mamut in Switzerland. The new rope located, I think, in the Czech Republic. I Googled the new company before I ordered the Monster, and they appear to be a good and established rope company. I wanted to like this rope. However, I was not impressed with the finish of the rope, especially the rope ends. I know that this rope is fused to the core for the last foot or so, and perhaps this was why the rope ends did not look very finished to me. The rope ends looked like someone cut the rope with a serated knife and finished/burned them with a Bic lighter. The finished cut was some what frayed as some of the core cords were still loose. This may not be good indicator of the quality of this rope, but then again it may. Sometimes the devil is in the details. The finished quality of this rope in no way compares to my Petzl Xion. I returned the rope because compared to my Xion I just did not feel confident about it. I gave it 2 stars because of the rope's UIAA ratings. Some may think this is unfair, but in a sport where your first impression can be your last, I think that people should know.
Recommended
Gender:

Male

Familiarity:

I've put it through the wringer
I've had this guy for a year and a half now and am very happy with it. I would say the biggest selling point is the burly sheath...just used it almost 30 consecutive days in Yosemite and it's just starting to get a little fuzzy. Second best part is the middle marker, really useful.



Other ropes like Bluewater and Sterling seem to handle a bit better, but nothing major. Also, after 1.5 years and 60+ days of climbing I wouldn't count much on the dry treatment (maybe that's true for all ropes).



There's a ton of other cheaper options out there, but I'm sold on Monster and my next rope will be the 9.8 or 9.2 for sure.
Does anybody know the sheath percentage...
Does anybody know the sheath percentage of this rope? For example 36% or 40%. Trying to decide if I want this rope or the Mammut Supersafe EVO
I my self love...but LOVE mammut ropes!!! use them for years now and they are the best!
Does anyone know where this rope was...
Does anyone know where this rope was made?

Thanks,
Joe
Hey Joe,

They look to be manufactured in the US

Metolius Climbing
63189 Nels Anderson Rd.
Bend, Oregon 97701

hope this helps
Thanks Willy! I actually just got a reply this morning from Metolius customer service. While the business is located in Bend, looks like the ropes are made in the Czech Republic.
"Our ropes are made by Lanex Corp in the Czech Republic. Previously our ropes were made by Mammut in Switzerland."
Can anyone tell me what the dynamic...
Can anyone tell me what the dynamic elongation of this rope is?
Best Answer
Jon,

According to Metoulius' website, the dynamic elongation is 34%.

http://www.metoliusclimbing.com/monster_10-2mm_dynamic_rope.html

Hope that helps!
Anybody know how quickly the markers wear...
Anybody know how quickly the markers wear out/if they wear out? They're so fuzzy and cute, it just seems like they couldn't handle more than a few passes through the belay device or over a rock...
Got close to 50 climbs on mine and the markers are just as bright as the day I bought it. Love that marker system!
This was my first rope, and boy did I put some mileage on it--top-rope and lead. I dragged over the worst J-Tree rock, wedged it in cracks, basically everything you shouldn't do, and it held up.

I actually only retired it (i.e. cut it in half for a gym rope) only because it was 5 years old and I wanted an excuse to buy a 70m 9.8.

I've used a lot of my buddy's ropes and the mantle definitely did not hold up as well as this one.

I've been climbing on my friend's Mammut Tusk 9.8 a lot, and it's a good rope too, but I'm just hooked on this burly metolius.

It's not light, but it last forever. I got every penny out of it and then some!
Danger Brothers Halloween
Monster Ropes
THE GREAT METOLIUS MONSTER ROPE
I just got this rope a few weeks ago and its defenetly great, the detail to mark the half of the rope is very useful i can se it very easy, very good specs.