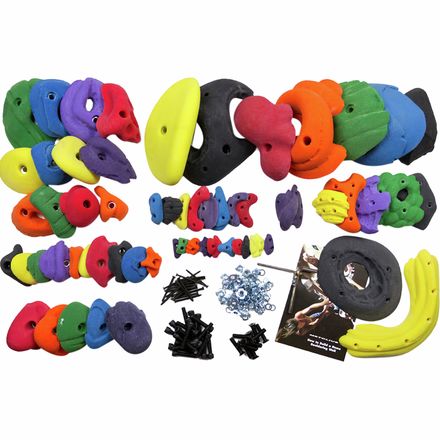 Colors

Community Images
Description
Variety.
With packages ranging from 30 to 60 holds, the Metolius Mega Sets have all you need to fill out your home climbing wall. Foot jibs, crimpers, slopers, massive jugs, screw-ons, bolt-ons—these sets dish out serious variety to keep you stoked on training. Whether you just started your wall or it's already taken over your entire garage, you'll get what you need form the Metolius Mega Hold Sets.
The 30-hold set does not include the Metolius Multi-Wrench
Great starter set
Familiarity:

I've put it through the wringer
Pretty good variety as long as you're building a vertical wall. I included a significant overhang and don't really have enough jugs for it. However, that's to be expected with a starter set - I'll just need to supplement with a couple jugs from somewhere. Plenty of hardware, lots of sizes, good color variety, great feeling holds. Definitely recommend!
They work
Familiarity:

I've put it through the wringer
They definitely do what I expected
Hi Looking to buy the 60 pack. I wanted to confirm that the tbolts are stainless steal. I am near the ocean and want to make sure they don't corrode. I also wanted to varify that the 60 pack with all the bolts is under 50 lbs (I know you said 35lbs before but I need confirmation so that a friend can bring them from the states to east africa. I also wanted to know how long till delivery if I order today. I need to confirm delivery by august 12 - is that even possible?

thanks
Jessica, just got off the phone with Metolius and the hardware is not stainless.



Feel free to hit me up at bporreca@backcountry.com or 801-736-6398.
One of the best values
Familiarity:

I've used it once or twice and have initial impressions
I just received the 60 hold set in the mail. Everything was great except one of the macro/roof jugs had a chip broken off near the bolt hole, likely from some point in the box's travels from factory to retailer to me. I emailed customer service at Metolius over the weekend, and on Monday morning I got an email that they'd be sending me a new hold- matching my broken one by my request.



Plus, they let me keep the broken hold, which may still be fine to climb on. They just needed pictures of the broken one for quality control and to match it. Metolius is an awesome company.



As for the use of this set, it's the foundation set of holds for my 12' by 8' 40 degree overhung home wall. The holds are plentiful and positive enough that just from this set I already have a few full-length routes on the wall. I'm supplementing this set with the Metolius 15 mini-jug set available from Backcountry, and I think this will provide enough positive holds that I can start getting in proper training sessions.
Metolius Mega Pack Hold Sets
Familiarity:

I've used it several times
This set is awesome ! Totally solid professional set for a set-up of a multitude of routes . well worth the money for the quality especially for your safety (nobody likes holds breaking on them) which won't be a problem with this set from Metolius.
Great video showing all holds before they are mounted on the home bouldering/training wall.



Enjoy and take it from us, this is worth the slightly extra cost than other holds on the market. They come with customer service, warranties, and a name you can trust!!!



I've used other companies in the past and they really let me down when it came to crappy holds and even worse customer service.



Get the best-buy from Metolius/backcountry.com!!!



(The video isn't self produced. I found it on YouTube. At the end it recommends purchasing from Amazon and this I DO NOT RECOMMEND because it doesn't come with backcountry.com's lower rates and customer service. Do yourself a favor and order from backcountry.)
Perfect for smaller home walls....
Familiarity:

I've used it several times
These mega packs come with a variety of holds in a variety of colors.



One thing I was particularly happy about was the fact Metolius includes holds that come in similar colors and styles so one can set problems color coded, thus no tape is necessary.



I also purchased the Macro holds from Metolius in green cobblestone and the mini roof jug sets in blue; it was perfect for my training cycle at home.



I recommend purchasing a couple additional sets of macro holds and mini jugs for variety, but otherwise this is a great place to start.



Great product and Metolius and backcountry stand by their products-do yourself a favor and pay a little extra for these holds that come equipped with hardware, holds you'll find in nearly EVERY gym across the country, and customer service you can't beat from both the manufacturer and backcountry alike.



See pics below of my home climbing wall and these holds+ the additional holds I ordered with the mega pack set. EPIC!
Can you give me a weight limit?? Curt
Can you give me a weight limit??

Curt
Best Answer
Contact Metolius customer support and here is there response:



Mega 30 pack - 15 lbs.

Mega 40 pack - 20 lbs.

Mega 50 pack - 30 lbs.

Mega 60 pack - 35 lbs.
If I upgrade from a 30 pack to a 40 pack...
If I upgrade from a 30 pack to a 40 pack will I get more jugs? I am doing a roof and need as many jugs as possible ? It doesn't say how many jugs come in a pack.


Jacki,



As you go up in size from 30 to 40 to 50 you will get a proportional increase in holds. So you will certainly get 1 and maybe even 2 additional jugs, but no more than that. If you are building up an overhang section of your wall I would recommend complementing the Metolius Mega Pack with some Metolius Roof Jug Hold Sets.
Why should you have a home climbing wall?

5-The only dude with his shirt off is you

4-Metallica's Ride the lightning at 11

3-you can eat and drink anywhere

2-waaaaaaay cheaper than the gym!

1-NO BIRTHDAY PARTIES!!!!
How would the holds and hardware do outside?...
How would the holds and hardware do outside? I'm considering a year round outside wall in the Midwest .
they will do fine sort of. the midwest can be a really chilly place. if you're trying to change your wall in the dead of winter, you may have trouble with tighter bolts. very cold holds would stand a better chance of breaking, but it shouldn't be commonplace. if you don't change your holds for years you may have rust issues. otherwise the holds and bolts will be fine outside.



the bigger concern is making sure you wall is built in a way that wont be affecting by thaw/freeze cycles
what is a total heavy for 50 pack? for a...
what is a total heavy for 50 pack? for a shipping
Its going to be right there at 35 lbs.
How large of an area would the 50 pack easily cover?
Hanging around downstairs
I see that some of these holds require...
I see that some of these holds require that you bolt them in to multiple Tnuts. If so, what is the standard spacing of one Tnut to the next in order that it will fit all of these holds? height, length?
Best Answer
The holds in this pack either take one Tnut, or multiple screws.
Can a climbing wall be installed on 2 x 8...
Can a climbing wall be installed on 2 x 8 plywood and then strapped to a tree? We live in the forest and I'd like to build the wall for my grandsons.
I don't see why not, as long as you anchor it very securely.
Best Answer
don't forget that there needs to be space between the plywood and anything behind it, otherwise you wont be able to screw in bolts. best bet is to use 2x4s or 6s and build a frame for the plywood to give you space and rigidity. then attach that to your tree.
I want to buy this set to build a children's...
I want to buy this set to build a children's wall. ages up to 13. can this set be any good for me?
This set is a decent option, but I would aim for primarily using jugs (large, deeply incut holds) http://rockymountainclimbinggear.com/
the 60 set has a lot of jugs, but quite a few holds that would probably be hard for young children. if you're building a low angle wall, this should be fine. vert or steeper, you'd probably want to supplement with more jugs.
Installing right now, the 60 piece set on an 8' x 10' wall. Seem to have plenty of hold. It came with a "How to build a climbing wall" book which has provided some helpful tips. One thing to note, they recommend 100 - 200 t-nut holes per 4x8 sheet of plywood for flexibly in route setting. The big 60 pack only comes with about 45 t-nuts though, plenty for the holds provided, but not nearly enough to fill the # of holes you should have. I am ordering and would recommend purchasing additional t-nuts when putting your wall together. Perfect selection for starting out a climbing wall though!