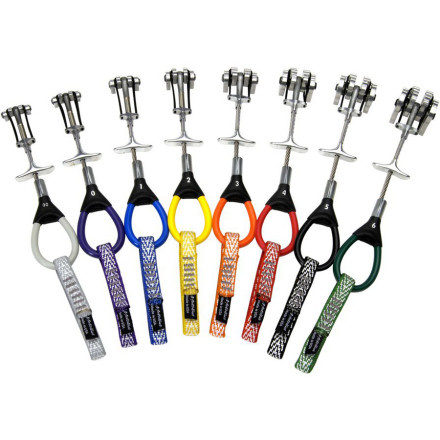 Videos

Community Images
No trad or aid rack is complete without a full set of time-tested Metolius Master Cams. CNC machined from high-grade aluminum for maximum precision, Master Cams utilize an optimized camming angle for greater holding power and have an integrated range finder that quickly tells you if you've chosen the right cam size for the placement.

CNC machined from 7075-T6 aluminum for maximum strength and precision
Set of 8 camming devices covers a range between 0.34 and 1.89 inches
Flexible single stem design and narrow head width make the Master Cam ideal for a wide range of placements
Integrated range finder allows you to quickly see if you've chosen the right cam for the placement
Optimized cam angle provides greater holding power
Slung with 13mm Monster slings (combination of nylon and Dyneema)
Color-coded slings and tubing allow for quick size identification when you're pumping out
Inspected, tested, and built by hand in Bend, Oregon
My Preferred Cam
Familiarity:

I've put it through the wringer
My Master Cams have become my Cams of choice. If I am hitting an alpine route or opting to carry as few cams as possible, I try to carry just my Master Cams and supplement with as few C4's as possible. Don't get me wrong, C4's are nice in the bigger sizes, but the smaller Master Cams are money compared to C4's.

Durability:
They're American Made and incredibly durable. I've never had a problem with these but am constantly seeing people have issues with their BD X4's either breaking or distorting in shape. My Master Cams don't distort or have issues at all.

Sizing:
I love my #3 Master Cam more than any other piece I own. I can find a spot so much more frequently than any other piece. I try to use my #00 and #0 for anchor only but will place the #0 as a piece to fall on. All sizes are great and easy to place.

Stem Flexibility:
The biggest complaint among Master Cam users is that the #5 and #6 Master Cams are a bit too flexible due to the thickness of the stem. But the rest of the cams are perfect.

Range of Lobes:
This is where the cams shine. I find the range of these is far better than that of C4's or X4's. The range on other cams is much smaller (for optimal range).

Sling:
I like that these slings are not bulky...one of my biggest complaints on the wide slings you find on the C4's. The length is great and they're highly durable.

Thumb Loop:
I'm not crazy about thumb loops on cams since I don't aid climb. But these thumb loops are highly durable and not too big and not too small.

American Made:
Yup, the good folks at Metolius make these in Bend, Oregon. So you know you're getting a well made, high quality, long lasting product.

Shoot me an email anytime you have questions about these cams or any other gear!

Jared D.
Expert Gearhead
801.736.4336
jdowns@backcountry.com
Easiest cam to place hands-down.
Familiarity:

I've put it through the wringer
Yup, dorky pun intended. I've tried every cam from here to Amsterdam, including the beloved Black Diamonds, Wild Country, and CCH/Aliens. I have big hands for a lady, usually a men's size medium glove, and in BD's, the hand-jam thickness of a red cam. My first encounter with these Metolius cams changed everything. I like to place cams as deep in the crack as possible, and with these long fingers, that's about 10 inches, however, the way most single-stem cams work, my hands get in the way. The Metolius Master allows my to keep my hand pretty flat while pulling the trigger, so deep cracks, here we come. See photos. The color coding was great too, since I could be sure that anyone using my rack will place them dead right. Its a rare experience to be following a new climber and feeling confident in their gear placement! Last thing: the trigger pull on these cams is sweet and smooth, and feels like a million bucks in my hand every time, meaning I place gear faster and with more confidence. The one thing we love our cams for: confidence.
A strong contender
Familiarity:

I've put it through the wringer
When things get thin... real thin... the mastercam fills the void formerly left by the beloved alien. I still prefer the mastercam for most things. While it lacks the legendary low-profile of the alien, it has cam stops. I've never actually placed a cam that NEEDED those cam stops, but they make me happy.



The trigger cables are kevlar, which is brilliant because I'm one to stuff my gear into my backpack and throw a couple beers on top for good measure. As a result, I've replaced a few trigger wires.



Placement is easy due to the excellent ergonomics. I feel like Nurse Ratchet giving Tonto a lethal injection with one of these. And the tape sling gives a little extra room to girth hitch a sling for stubborn shallow placements.



Now here's what I don't like about them. I've taken a few falls on the larger pieces. The slight kink in the main stem has a strange effect on the cam lobes. Thoey get all katiwompus, one side is perpendicular to the stem while the other set of lobes is rotated at a 30 degree angle. No other cam seems to have this problem, and I notice it's much more prevalent on the larger sizes (red and up.)



I also don't appreciate the solid lobes. Getting those stubborn pieces out sometimes requires a little finesse with the ol' nut tool. With no 'speed holes' to hook into, extracting someone else's booty can be a bit of a chore.



The useless 'rangefinder' feature features pretty colors, which is fun to look at while you come to the terrifying realization that a rangefinder doesn't make up for the fact that you have no clue what you're doing placing gear in the first place.



Overall, these make up the majority of my gear under Camalot c4 .75. I use them, I swear by them, and I swear at some of the larger pieces on occasion.



If you're rich, buy the x4s. If you're a regular joe, pick up some of these and maybe a blue alien for street cred.
These are the perfect compliment to a package of BD's C4's.



At times I've found a C4 either to be too big or too small for a certain placement. When this happens I always turn to my Master Cams and every time, the Master Cam has fit the crack absolutely perfectly.



Jared D.

Expert Gearhead

800.409.4502 ext 4055

jdowns@backcountry.com
A little flex in the #6 Master Cam
I love these cams, the only negative is the flex I some times get in the #6



For this photo I just forced it to flex to demonstrate what occasionally happens. The stem on the #6 could be a little shorter in my opinion.



Jared D.

Expert Gearhead

800.409.4502 ext 4055

jdowns@backcountry.com
Great Small Crack Cam
Familiarity:

I've used it several times
I am building up my rack and recently purchased this set to compliment my C4s and my partners TCUs. I love placing these cams, especially the yellow through red. They are solid, place easily, fit into awkward and small spots and fill in the gaps well where the smaller C4s don't quite work. The flexible stem is fantastic on every piece but the 6. It's floppy and really awkward to place.
Ok, I'm finally getting the funds to build...
Ok, I'm finally getting the funds to build my own rack, the first thing I went for was two sets of nuts, then the C4 camalots for the large to mid range cams, but for the small cams im torn on what to get. Whats better for the smaller cracks and which do you use more often, the x4's, c3's, or metolius mastercams (what worries me about the mastercams is they dont have the beads over the cable like the x4's and may wear out faster)?
Best Answer
I recently had the same dilemma. I had narrowed it down to fixe aliens or x4s due to the flexible stem and "short head". I ended up going with the x4s and I I'm very satisfied with the choice. I must add, however, that I do not place my cams over edges or in "tricky spots" like I had imagined I might - although the flexible/sheathed stem inspires confidence and provides more dynamic placement options, its not exactly a "durability" issue. I can't say I won't double up on x4s in the near future, as I already see a need, but I have considered filling out the space in my rack with cheaper and only slightly less versitile master cams. The gear struggle never ends my friend, but why should I complain - first wold problems are so tough? Good luck my man!
Great Cam
Familiarity:

I've put it through the wringer
Bought the 0, 1, and 2 to compliment my BD C3's and it was a good decision. Metolius makes some killer cams. If you buy this package, you'll be very happy!
Metolius Master Cam - Package