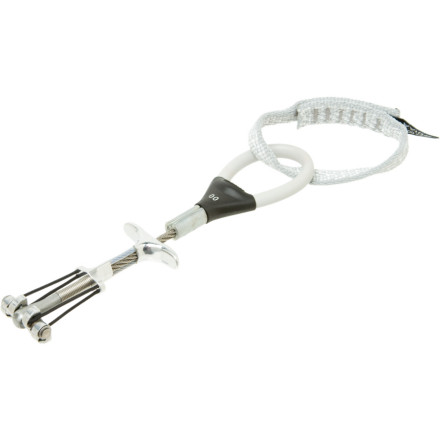 Colors

Detail Images

Videos

Community Images
Description
Gear that goes in and stays in.
Metolius built the Master Cam with a flexible single-stem design and narrow head profile to get it into the smallest, weirdest pods and pin scars, and to give it purchase once it's in there. CNC-machined cam stops provide extra passive strength if this cam tips out once it's inside a crack, so you don't have to stress your placement when you're making the crux moves 20 feet above. Metolius also added a large thumb loop to give aid climbers a short clip-in point and help trad climbers fire in gear quickly when they need to.
Narrow head fits in small placements where dual-stem cams do not fit
Flexible stem won't lever your cam out of horizontal placements
Once in, the range finder indicates if your placement is good or warns of over-camming
Thumb loop provides a high clip-in point for aid climbing
Cam stops add security to tipped-out placements
CNC machining and ultralight materials keep weight to a minimum
Slings and tubing are color-coded for quick identification
Click sizing chart link for specifics on range, strength, and weight
Hand-built, inspected, and proof-tested in Bend, Oregon
Great in smaller sizes
Familiarity:

I've put it through the wringer
I mostly climb in LCC here in Utah. For small pieces I have a mix of the C3's by BD and the small master cams. Anything bigger than the orange or red I find that the cam lobes weigh too much for the thin cable and it makes them really floppy. That being said for the smaller sizes the thin cable offers an advantage over the bulky C3's. Everyone has a different opinion on what is the "best" cam and I am not here to answer that question, all I can say is that these are definitely in the running, at least in the smaller sizes.
My favourite for finger sized cams
Familiarity:

I've put it through the wringer
I bought blue though red for my finger sized gear and i couldn't be happier. For anything under a .5 c4, I think this is the best cam I've used. Flexible and they seem to work better than the x4s or c4s in pods, and they don't seem to walk very easily. I've taken quite a few big falls onto the yellow one (why always yellow?) and Its always stopped me. The sizes above Red seem to be a little bit floppy, i don't have experience using them but its pretty hard to beat the C4s for anything larger anyways.
when will #4 be back in stock
We do have some on order as of 08/05/15 they should be arriving within three weeks, possibly sooner.
Size 4 and below are bomber
Familiarity:

I've put it through the wringer
I've only used these cams in granite but they have been absolutely bomber. They seem to walk less than the equivalent BD cam. My biggest complaint is with the size 5 and 6 cams which are quite floppy and I find they don't generally fit quite as well as the BD equivalent.
My Preferred Cam
Familiarity:

I've put it through the wringer
My Master Cams have become my Cams of choice. If I am hitting an alpine route or opting to carry as few cams as possible, I try to carry just my Master Cams and supplement with as few C4's as possible. Don't get me wrong, C4's are nice in the bigger sizes, but the smaller Master Cams are money compared to C4's.

Durability:
They're American Made and incredibly durable. I've never had a problem with these but am constantly seeing people have issues with their BD X4's either breaking or distorting in shape. My Master Cams don't distort or have issues at all.

Sizing:
I love my #3 Master Cam more than any other piece I own. I can find a spot so much more frequently than any other piece. I try to use my #00 and #0 for anchor only but will place the #0 as a piece to fall on. All sizes are great and easy to place.

Stem Flexibility:
The biggest complaint among Master Cam users is that the #5 and #6 Master Cams are a bit too flexible due to the thickness of the stem. But the rest of the cams are perfect.

Range of Lobes:
This is where the cams shine. I find the range of these is far better than that of C4's or X4's. The range on other cams is much smaller (for optimal range).

Sling:
I like that these slings are not bulky...one of my biggest complaints on the wide slings you find on the C4's. The length is great and they're highly durable.

Thumb Loop:
I'm not crazy about thumb loops on cams since I don't aid climb. But these thumb loops are highly durable and not too big and not too small.

American Made:
Yup, the good folks at Metolius make these in Bend, Oregon. So you know you're getting a well made, high quality, long lasting product.

Shoot me an email anytime you have questions about these cams or any other gear!

Jared D.
Expert Gearhead
801.736.4336
jdowns@backcountry.com
when will #3 be back in stock?
Hi Ryan,



Looks like we have some of these on order in size #3, although the arrival dates are not set it stone, we should be getting them in sometime in early July.



Matthew Pizza

Expert Gearhead

mpizza@backcountry.com

801.736.5363
Small Sizes are where the money is
Familiarity:

I've put it through the wringer
There is no perfect cam (other than the original solid-stemmed friend. Those were perfect and there have been no worthwhile improvements since then.) That being said, every cam pretty much offers you something. While the Mastercams don't have the same expansion range as the comparable C4s, the narrow head width is really nice, especially in the smaller sizes (3 and down). The action is smooth and unit is as light as can be. I have had some problems with the spacer wire rubbing against the rock and moving, but i've been able to shove it back in place. I've also had the heads bend a little bit on two cams when rope drag has loaded them awkwardly, but the deflection wasn't too far and I was able to bend then back into place with some pliers. That's sort of what you get when you have something this light. For the new generation of mastercams (as yet unreleased, probably early 2016) the 5 and 6 have had the stems noticeably stiffer but until then, I would avoid buying the 5 or 6 mastercam as the stems are too floopy to place confidently in high placements.

Short version is, you won't be dissapointed in these, and any time I grab the 1, 2 or 3, I'm happy I have them.
fast and secure placement.
Started with the yellow...
Familiarity:

I've used it once or twice and have initial impressions
I'm just getting into trad and starting to build my rack. I plan on adding the purple, blue and orange (maybe red) to my yellow to round out my smaller cams. I've used friends master cams and really like them. They feel really good in my hands and have a really smooth action. Like others have said, the fact that these are made in the US of A makes me happy to support this company.
My got to cams
Familiarity:

I've put it through the wringer
Whenever I place these cams I am never worried about them walking and I have taken some pretty good falls on the smaller sizes, they have never moved. +10 for being made in the U.S.
Kind of long but pretty cool to see how its done.
DON'T GET JUST ONE!



These are the perfect compliment to a package of BD's C4's.



At times I've found a C4 either to be too big or too small for a certain placement. When this happens I always turn to my Master Cams and every time, the Master Cam has fit the crack absolutely perfectly.



Jared D.

Expert Gearhead

800.409.4502 ext 4055

jdowns@backcountry.com
A little flex in the #6 Master Cam
I love these cams, the only negative is the flex I some times get in the #6



For this photo I just forced it to flex to demonstrate what occasionally happens. The stem on the #6 could be a little shorter in my opinion.



Jared D.

Expert Gearhead

800.409.4502 ext 4055

jdowns@backcountry.com
Great cams
Familiarity:

I've used it several times
really smooth and narrow heads.

from 0 to 3 works well as complement to.

bd x4 .2 to .5