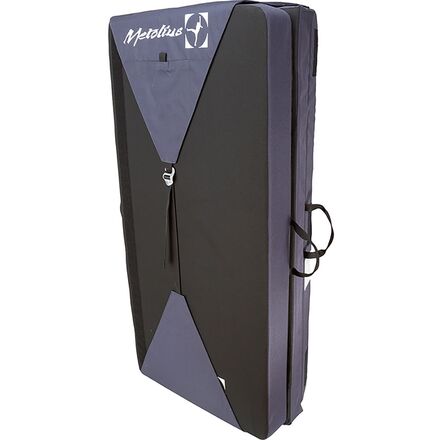 Detail Images

Videos

Community Images
Description
Crash off your next challenging problem, or crash for nap time.
As you edge your toe out onto a nickel-sized feature, your knuckles are white with crimping force as you hover over the safety of your Metolius Magnum Crash Pad. After the glorious top out, you plummet nine feet back to earth and decide to take a nap. After all, the Magnum's closed-cell padding and open-cell core make this Metolius mattress a worthy crag bed. When beer-thirty calls, and your buddies manage to drag you from a pleasant slumber, clip the rugged, aluminum buckles and sling this pad over your back for the trek to camp.
This thing is huge. We have used it as a bouldering pad and a sleeping pad and it is awesome. Like Roger said, the folded width is super narrow so nice for tighter approaches.
Solid pad
Familiarity:

I've used it once or twice and have initial impressions
I've only had the chance to use this pad once outside (though as a mattress it's been used a bit more) and I'm very happy with my purchase. I wasn't sure that I wanted such a large pad, but having the increased landing space makes me feel a lot safer, and for something so large, it's really easy to move. It fits in the trunk of my friend's car, and doesn't take up too much space in our room. My dog also digs it as a bed, and I've slept on it a few times. I haven't tried carrying gear in it, and can imagine it isn't a great backpack, but it's easy to carry on its own and I don't see it being a huge deal. If there are long approaches it may become more frustrating.

Overall, I'm really excited to get outside more and put this thing to the test. Would recommend!


Huge size, well designed.
Familiarity:

I've put it through the wringer
This pad is awesome!

The obvious benefit is the size - it is easily large enough to provide pretty comfortable protection by itself for most boulder problems. If you are looking for a stand-alone crash pad, this one is definitely as good as it gets.

The three panel design is the next piece of brilliance, and the benefits are a little less obvious than the pad's sheer surface area. First off, having the double fold allows you to position this pad over small rocks/roots/etc (See Jane's photo in the review below) without having to flip the pad as you would with a single-fold crash pad. This gives a ton of versatility with positioning. The other major advantage of the three-panel design is how compact the pad is once folded. For how huge this pad is, it's truly remarkable just how narrow it is when it's folded up. This translates into a much easier approach, as the pad doesn't really extend beyond the width of your shoulders when packing it in. [My usual bouldering partner has a Black Diamond Mondo (also a super, super cool pad), which has a single fold, meaning it is significantly wider when folded and on your back. The two of us frequently marvel at how much easier navigating approaches is with the slimmer packed design of the Magnum.]

The only (very minor) lack I see with this pad is that it is a little softer than some pads (like the Mondo), and feels like it would be a little easier to bottom out on from high falls. I don't really see this as being an issue, at the end of day, because any problem that presents the possibility of bottoming out on this pad is one I would want extra coverage on, anyways. So, all in all, it's kind of a non-issue.

This pad is killer; if you decide to buy it, I promise you won't be disappointed.
the Magnum pad (the one in the back) + the Recon pad (under me) = safe bouldering
Magnum P.A.D (pun of Magnum PI)
Familiarity:

I've put it through the wringer
What an awesome pad. Sure it's huge and might be heavier than your average pad but honestly your ankles are worth it! I love the tri-fold design and the pockets to carry things so you don't have to fold them up on your pad thus making it bulky. If you don't own an SUV or a car that had fold-down seats I wouldn't suggest this pad as it is both wide and long. BUT like I said I love it and I will probably use it til it's dead then turn it into a sleeping pad LOL! Great for high ball problems or projecting big moves. It covers a huge amount of space so really it's the most ideal for bouldering outside besides bringing gym pads. So! If you are looking for the most bang for your buck get this pad!
Great Crash Pad
Familiarity:

I've put it through the wringer
This is the larger of the two Metolius crash pads I own, and it's my favorite. It's a little on the heavy size, but the padding and the amount of ground it covers definitely make it worth carrying. It also folds up pretty nicely. My other crash pad is the Boss Hog and this is only a little bit bigger when folded. I would say it's probably one of my better investments.
awesome camp bed and crash pad
Familiarity:

I've used it several times
First, this pad is 6ft long, which makes it an absolutely perfect camp bed. It exactly fits inside my marmot limelight 2p. Second, this pad covers a lot of square feet, giving you the confidence you need to go climb high problems without worrying about missing the pad upon a fall. Third, the foam seems really good. It is definitely on the stiff side, which is ideal for mid to high ball problems, not really ideal for low problems, but that is fine with me. THe carrying capacity does suck a bit, but you can mostly get around it by using the closure flaps and strapping stuff to it with some quick draws. Overall, I have had this pad for four weeks no, about 14 or so boulder sessions and a couple nights of camping, and I absolutely love it. It just barely fits in the trunk of my subaru outback, I dont even have to put the seats down.
BEASTLY Pad
Familiarity:

I've put it through the wringer
The Magnum is exactly what the name suggests: BIG. I've used this over a few sessions and it's a godsend for those who have small groups but still want protection. Of course it's heavier, but you're getting two normal sized pads out, so it's quite understandable. The closure system is also quite acceptable and prevents loss of gear while hiking out.
Good for outdoor woodie
Familiarity:

I've used it several times
We're currently using this crash pad on our outside 12 foot high wall. While it is a bit stiff it's made well and covers a large area. It's large but easy to transport outside and provides extra safety for fall protection on top of rubber mulch we also installed in the fall zone
Metolius Magnum Crash Pad
Such a great pad. I finally got to use it today. It was very cumbersome but the surface area is more than worth the work. Also makes a great couch or bed.
I absolutely love this crash pad!
Familiarity:

I've put it through the wringer
I not only use this baby to soften my fall while bouldering... but it doubles as a great bed! I put it under my futon for extra height off the floor and for storage. I also use it to sleep on when car camping... fits 2 people nicely. ;)
Huge landing
Gender:

Male

Familiarity:

I've put it through the wringer
I have owned this pad twice now and have been very happy with it both times. I traded the first one for a couple of cams before moving to Europe, but once I arrived and started bouldering I decided to replace it. The pad is intelligently designed and easy to adjust due to the numerous handles. The tri fold is not significantly more cumbersome to carry than most other pads I have used. I especially like that this one is narrower, making it easier to carry through dense forests in Germany.



The one downside I would point out is with the combination of stiff foam and the top and bottom closure system it is hard to secure extra gear (shoes, bucket, snacks) in between the folds.



(Here is a photo of it in my Renault Kangoo, prefect camping system)
Very excellent crashpad. I have been using it for 2 months and have been completely satisfied with this purchase. Huge coverage area!! it's a bit cumbersome to carry but that is to be expected with a tri-folding pad. It has two velcro pockets, one large and one small. My only concern is that the material might not be as durable as the mondo. However, I have put it down on lots of sharp rocks and awkward spots and it appears to be fine!