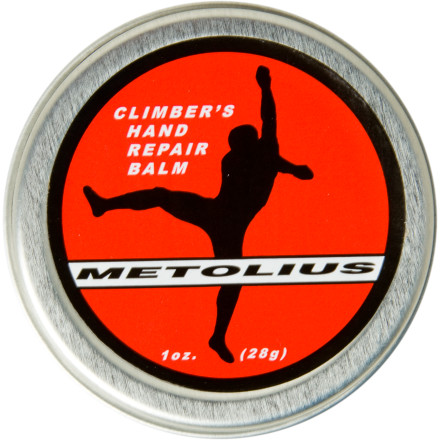 Colors

Detail Images

Community Images
Description
Maybe you better just stick to the fist-pound for a week or so.
When you flash your next big-time project, be sure to have some Metolius Hand Repair Balm nearby to expedite your recovery after. Then the congratulatory high-fives won't be as painful.
Magic healing balm!
Familiarity:

I've put it through the wringer
Excellent for places like Smith Rock and Joshua Tree where your hands are going to get eaten alive by the rock. Apply a little after the climb, and then a good dollop as you get into your sleeping bag and it restores you enough to get back out and get more climbing in. Not as greasy as the Joshua Tree stuff (although that seems a little more potent for the recovery factor) and absorbs quicker
I've been to the point on a wall were I needed matches to start the JetBoil due to raw finger tips. Don't let that happen to you.

Metolius Hand Repair Balm works so GOOD and won't grease up your hands, making it super ideal on climbing trips when you'll be back at it in the morning. 1/2oz container is a great pocket size and seems to last forever
Helps Your Hands
Familiarity:

I've put it through the wringer
I have a tin of this in my gym bag, crag bag as well as my desk at work! (see photo) It works great to cure dry skin as well as prevent painful cracking that will keep you off the wall. The beeswax and nut oils really penetrate your skin. The tin container is the perfect size with a 2 inch diameter and 3/4 inch depth. The screw top lid prevents oozing when the temps get hot.



If you have questions about this climbing accoutrement or any of our climbing gear feel free to contact me!

M-F 8-4 MST Office: 801.736.4347

I check email regularly: ledlund@backcountry.com
Living here in Utah, I already am prone to lizard skin hands in the winter. And to top it off, I love my chalk- it just wreaks a bit of havoc. I am a firm believer in lotion, but it doesn't quite do it for the wicked dry climbing hands. And soooo, the Metolius Hand Repair Balm comes to the rescue! I love the way it feels, it truly does help repair the dry hands, as well as help take care of the calluses without destroying the hard work. Not to mention, it smells awesome. It does take a few minutes to soak in, but not as long as I would have thought. Overall, killer product- good for any climber, I keep it on me at all times!
This Stuff is the Balm!
Familiarity:

I've put it through the wringer
I have a curse of always chalking my hands,then re-chalking them, and then re-chalking them again, generally 4 or 5 times before every climb. This habit has forced me to begin to use lotions and balms for my hands as they were always dry and cracked, but no longer. With the Metolius Hand Repair Balm I can climb and chalk up as much as I want to and never have to worry about my hands drying out. Generally I will use it every time or every other time after I go for a climb and it works wonders! It keeps my skin feeling nice and can be used nicely in conjunction with things like the Metolius Gripsaver Plus to keep your hands and tendons feeling smooth, healthy, and ready for another adventure. If you haven't used this balm before, definitely check it out, you won't regret it!
Great hand balm
Gender:

Male

Familiarity:

I've put it through the wringer
After weekend climbing trips I would come home and lather my hands with Burt's Bees hand salve. It was okay, but would make my hands super greasy and wasn't very pleasant. I knew for this summer trip I would need something new.

I got 2 little tins of Metolius Hand Balm and took it with us. With chalk on our hands every day it didn't take long to get dried out. So at night I'd apply a fair amount and it worked good! Healthy hand protection but not over greasy, so you can continue on with your day. Here's some specs from Metolius' site.



-Specifically formulated for climbers' dry, chapped hands and fingers

-Antiseptic blend speeds healing and promotes new skin growth

-Can be applied directly to cuts, scrapes, sun burns, bug bites and chapped lips

-Available in 0.5oz (14 g) or 1 oz. (28 g) screw-top tins

-Made in Oregon of natural, organic ingredients: Beeswax, Almond oil, Apricot oil, Shea butter, Cocoa butter, Mango butter, St. John's Wort, Calendula, Chamomile, Chickweed, Plantain, Comfrey leaf, Olive oil, Aloe vera, Jojoba, Wheat germ, and a blend of Tea Tree and Lavender essential oils. Prepared exclusively for Metolius by Miller Creek Farms.
Great stuff!
Gender:

Female

Familiarity:

I've used it several times
I bought this stuff to use after a hard day of climbing, but I've found that it is just great for all-around use. Particularly after splitting wood or coming home from fire assignments. My hands get torn up from all sorts of things and this stuff is magical! Does melt at high temperatures.
If you climb, you need this.
Familiarity:

I've put it through the wringer
I climb at least once a week indoors and live in CO where it is dry, dry, dry. I also use a lot of chalk. I have tried several lotion brands but still had a lot of soreness and problems healing any tears or blisters. Until I started using this stuff! It does take a bit of work to warm it up in the tin but the stuff works!
makes a huge difference
Familiarity:

I've put it through the wringer
I am climbing indoor during the week and outdoor on most weekends, I have dry skin as it is and this stuff SAVES my hands! It has stopped my hands from stinging and definitely helps my skin heal faster. I apply it after every climbing session and even on rest days.
Great stuff
Familiarity:

I've put it through the wringer
Helps heal your hands quickly so you can get back out on the rocks.

My hands would get dry, chapped, and blistered, but not any more thanks to Metolius Hand Repair Balm.
Great for a newcomer
Familiarity:

I've put it through the wringer
Almost necessary for new climbers.



Stops blisters/cuts from stinging. Healing catalyst. Promotes callous formation. Smells good.



Using this product frequently (I apply multiple times a day) will really allow you to climb multiple times a week and stop because your muscles are sore, not because your hands sting.



Even the girls in my office use it!
recent appreciation
Familiarity:

I've used it several times
New to climbing consistently this has been really nice to have and a good suggestion from a friend. Several blisters, and torn up hands appreciate this after every climb. Hands have stayed respectable and still recognizable as hands. important quality
I don't know how this stuff works but it does! price may seem high for such a small container (1/2 oz.) but it will last you a long time. you need it on a trip or if your fingers are just worn out from training.
Gobies enemy
Familiarity:

I've put it through the wringer
If you like to climb cracks in the desert or any abrasive rock in that matter, this is the product you want to have. It smells awesome, heals your wounds quickly and keeps your hand from drying out. If you're an avid climber you need this balm.
Are you a climber? If so, then you need this. Period.



I don't believe in magic... but this stuff is kind of magical in its hand-fixing ability.
Really good hand balm!
Gender:

Male

Familiarity:

I've used it several times
Let me start by saying I'm not a climber. I'm a window washer that works outside in Utah (very dry) weather almost year round. As you can guess, this wreaks havoc on my hands. My fingers were so bad they were splitting along my finger print. I complained about my inability to find a good moisturizer to a friend (climber) and he recommended this product.



The hand balm is wonderful. It's basically unscented. You have to work it a bit in the container with your fingers to get it warmed up and then rub it in. It instantly helps with those cuticle cracks and splits under the finger nails. (I hear climbers have the same problem areas) I find it to be a little greasy until its absorbed but that usually only takes a few minutes.



The only reason I gave it a 4 instead of a 5 is because I like Climb On! bar more. But that product is also harder to find so I often end up buying this one.