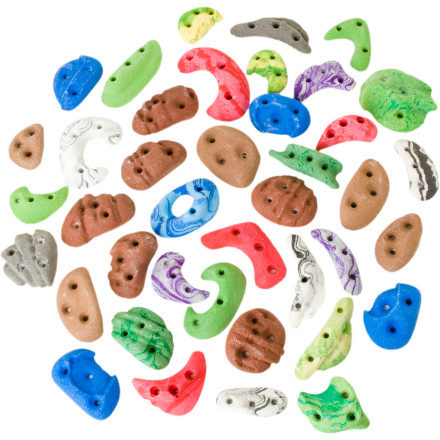 Community Images
Description
Pull plastic, get strong, dominate when spring rolls in.
Empty the Metolius Greatest Chips Screw On 40pk. onto your garage floor. Proceed to create diabolically challenging indoor climbing route. And prepare for your house to become ground zero for couch surfers and chalk dust explosions. Packing a variety of foot holds, hand holds, plates, rails, modulars, and corners, you'll have everything you need to recreate your favorite sending spots. Metolius even included mounting hardware so you won't have to wander aimlessly through the hardware store pretending to know where the wood screws are.
Smaller than I thought.
Familiarity:

I've put it through the wringer
Great price for 40 holds, but they were a little smaller than expected. I'd say 15 were barely OK for my teenage girls to use as hand holds. I guess they'll just have to learn quicker. Most of them we set up between t-nut holes to help fill foot hold voids and that has worked out quite well. I did put a few right next to jug hand holds so there was an option if we want to test our skills a bit. No problems with the quality. Did not crack any during installation. Also if you just want your wall to look really cool and full of holds this is a great way to go:)
Small and shallow grips
Familiarity:

I've used it several times
I attached these to a big tree. They are small and the grip parts are very shallow so I won't put them up high. Suitable for angled climbs perhaps but not for vertical. I don't feel safe to send the kids up to a higher level with these, they don't have enough grip/hold.
Works Great on Playset (too)
Familiarity:

I've used it several times
Following the suggestion of another reviewer, I predrilled all of the holes (mounting on pressure treated lumber as part of a playset) then used electric drill with torque set fairly low so I wouldn't bust any of them. Took a while to complete installing all of them, but worked perfectly. The holds are quite a bit smaller than the holds sold for a swingset, but at this price I was able to put a LOT more holds on the playset. My 3 year was able to climb instantly.
Holds for Various Applications/Abilities
Familiarity:

I've used it several times
I have a small training area that I set up and this pack offers plenty of variety to duplicate entire projects or cruxes so I can train at home. Right now I have it set up for Gastons, pockets and smaller pinches. This pack has quite a nice selection though there are several holds that I can only use as footholds. Having ample screws included for this price, well that is one of the reasons I've bought so many Metolius products. I would like to repeat the advice I've seen in other reviews, there are a couple of holds that are just too fragile to hold up when attached with an impact driver. I shattered the thinner parts of two holds, so use caution. This should be seen as a simple warning to be careful, not something to dissuade someone looking to put together a training/climbing wall. This is a good pack for someone looking to improve their contact strength and climbing technique regardless of climbing level, because of the variety of sizes and shapes of the holds.
What is the average dimensions for most...
What is the average dimensions for most of these? From the picture it is hard to tell if they are small holds or not. I read one review saying that if your wall is sloped you may get mostly foot holds. But are they good for foot holds if you have a high angle wall? I am in the planning process to build a climbing wall in my attic and was not sure if I should even bother getting these.
These holds are really small. to put it in perspective those holes you see in the holds are just big enough to sit your standard drywall screw through. I would bother getting these because if you are only climbing on jugs then your footwork is going to be shot, get some footchips so you can get some practice some technical foot placement.
average dimension is about 2.5" x 1.5" average depth is maybe a half pad to 3/4 pad. some are a full pad crimp. i had maybe 10 incut crimps.
you ever been setting and thought "damn, i wish there was a bolt hole right here!"? that's why we have screw on holds. the pack has a great assortment of hand holds and foot holds. certainly no roof jugs though. and if all you got is a 45 wall, you'll probably mostly get feet out of this. it's easy enough to over torque these and split 'em (especially with an impact driver), so be careful.
Is it hard enough for ya?
Familiarity:

I've put it through the wringer
I bought these for our local climbing gym in Kyrgyzstan. Up until that time, they had never had holds that small. We immediately had diabolical crimper routes all over the place. Don't buy these if you are looking for massive jugs. These are for the tougher guys (and gals).
Do you need to buy T-nuts or screws with...
Do you need to buy T-nuts or screws with this or does the package come with them?
Best Answer
comes with everything you need except plywood.
Nice Crimpers, many similars
Gender:

Male

Familiarity:

I've used it several times
I like the holds a lot. They are great for setting sexy crimper routes. The only issue I have is that a lot of them are pretty much the same hold over and over. I was hoping for more variety in the actual hold design, especially among the blue and yellow colored holds. I have 5 yellow holds that are exactly the same thing. I have 7 blue holds that are very very similar to each other.

Other than that the pack really is a lot of holds for the money. I bought the Metolious 60 pack (it included a lot of jugs and bigger holds) for $120 so it was nice getting 40 more hold for only $35.
Hi there! Do you have the dimensions of...
Hi there! Do you have the dimensions of these individual holds? 'bout how many inches tall and wide are they? Thanks!
We are turning a room in our house into a bouldering pit, and these just add to the fun. They are really, really small, but will be great for crimping, or for foot holds. pictures to come soon on this project!
Great Addition to a home climbing wall
I got these for my garage bouldering wall and they are exactly what I wanted and needed. There were a few places I could not put t nuts but wanted some foot holds and also a few spots i wanted some micro crips. These were perfect. Awesome product comes with everything you need.
can this holds work for children up to 13...
can this holds work for children up to 13 years?
These holds are very small. They'll work for kids up to 13, if those kids have some massive finger strength. I would sugest some larger holds for children.
Does this pack come with all the pieces...
Does this pack come with all the pieces shown? I want to make a climbing wall in my garage (2car, 25ft. high) and was wondering if this would be enough or if I should buy more? Also, do I need special boards or if I can simply screw them into the studs in the wall?
Thanks:)
Best Answer
Yeah, but these are pretty small holds. Unless you want to make a mad awesome crimp wall, I suggest picking up some jugs and larger stuff (though, they're way more expensive). I think the best way to do it is to throw in a frame of 2x4s and slap on 3/4 inch plywood (real stuff, not particle board). Happy climbing! I hope your gym turns out well :)