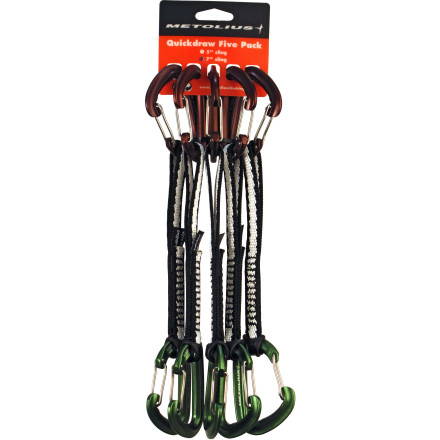 Time to relegate the moldy, ratty old draws to chew toys for your dog or rustic wall decorations. The Metolius Full Strength Mini Quickdraw Set combines Metolius' wildly popular mini full-strength carabiners with Monster slings composed of both Dyneema and nylon for low weight and extra resilience. Cut back on rack weight without sacrificing strength or reliability, and mini-clip your way to the top of your next project.
What do you think about this product?
Have questions about this product?
I have normal sized hands
I was skeptical of these at first but they have have actually worked out well for me for trad climbing. The small size isn't as big of a problem as you might think and they are a great way to cut down on bulk and weight.
These biners seem plausible ONLY for the tiny hands skit from SNL. Thankfully I don't own them, but I have used them. I primarily ice climb, and with gloves, it's hard to even grip these things. When you're pumped and just placed your screw, why would you want to spend time trying to get the #?!@ rope in there?!
there's such a thing as too small
maybe some people like these, but based on the lack of reviews, i'm guessing not. as the name implies, these biners are tiny. to me, it makes it miserable when trying to clip: there's just not enough space. it's like typing on a smartphone, i bet you make some mistakes too. not much worse than fumbling every clip on your project. also, both biners are notched wire gates. so not only is there barely enough biner to unclip from the bolt, but it keeps getting caught too.