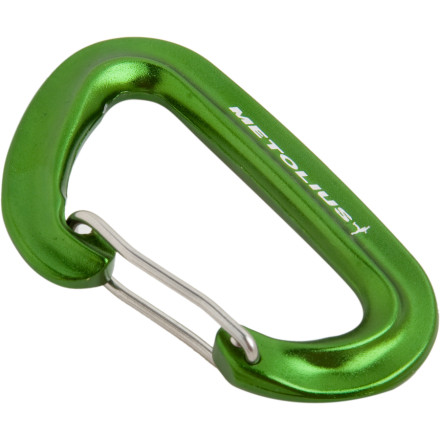 Detail Images
Metolius Full Strength Mini Carabiner
Familiarity:

I've put it through the wringer
Perfect for racking your #4 and 5 Camalots. Lighweight addition for already heavy gear.
Love this thing. very high quality. however i don't use it for climbing mountains or rocks...just when i climb telephone poles i used it to hold a shiht load lol
Niche biner that has its place
These little things are perfect for SPECIFIC climbing applications I have found. Examples include - biners for bolts on an anchor set up, nut tool, pack biner, shoe biner, crevasse rescue kit for ski mountaineering, extra biners for alpine climbing. I would not recommend it as your workhorse clipping biner, but you can get by using them if you have to. Try not to set them up on the rope end of things, but on gear or bolt sides, and you won't have any trouble (and I have HUGE meaty hands). Enjoy the lightness and size reduction of your kit with these biners!
I picked up about a dozen of these for racking gear. They are nice little biners - lightweight and sturdy.

The drawback is if you have meaty hands or do any climbing in winter then these can be difficult to handle because of their small overall size and small gate opening. And if I try to use them for rope clipping they will work but I'm not able to open the gate when my middle finger is inside the biner... so the technique I use to clip them is limited. If you have large hands or wear gloves I definitely don't recommend them... My second did a fair amount of cursing when cleaning gear with these biners.

I found other lightweight biners to be a better value. Their slightly larger size is just enough to overcome the issues I have with the FS Mini.

Overall these biners are good and I am glad I have them but will only be using them for racking gear or for the bolt side of quick draws.
I bought several of these for racking cams on my trad rack. I wanted a different compact carabiner so I could quickly identify certain pieces and settled on these. They work well and I have no problem clipping a rope or sling to them. However, if you have "meaty" gear loops on your sling or harness, they can be a little "sticky" to get un-clip.
Nice for racking single pieces
I bought one just to see... liked them and got twenty more. Just 17mm gate clearance, which seems to be just enough to work with, but not much more. 78mm long, 45mm wide. Rope bearing surface is 8mm wide at large end, 7.5mm wide at thin end.